Transitioning your decor from summer to fall is a delightful way to embrace the changing seasons and infuse your home with cozy, autumnal vibes. As the weather cools and the leaves begin to turn, you can create a warm and inviting atmosphere that reflects the beauty and charm of fall. In this post we'll explore various tips and ideas to help you seamlessly shift your decor from the bright and airy tones of summer to the rich and earthy hues of autumn. Whether you're looking to make subtle changes or go all out with a complete seasonal makeover, we've got you covered! Get ready to welcome fall into your home with a beautifully transformed living space.
Add a Fall Wreath
Your door is the first welcome for those coming to your home, so greet visitors and fall with a new autumnal wreath. Swap out citrus colors and summer brights with earthy tones and fall foliage. Of course, wreaths aren't just for the front door, as you can place them on the mantle, in the kitchen, or any place that needs a touch of autumn. Here are some DIY fall wreath ideas to help get the creative juices flowing!
This adorable pillow wreath is a great stash buster that uses Poly-Fil Fiber Fill to give it the perfect volume and shape.
Pull all the autumn colors from your fabric stash to make this gorgeous fall wreath DIY.
This easy to make wreath is a fun way to incorporate the fabric pumpkin tutorials listed below!
Replace Summer Flowers with Fall Foliage
An easy way to transition your decor from summer to fall is to change your floral arrangements and potted plants to seasonal varieties. If you have artificial flowers in arrangments, pack up the bright summer blooms and bring out your fall florals. For patios and porches, start replacing your annuals as they die out with pretty autumn plants. Some great options for fall include mums, succulents, pansies, and even cabbages! For smaller spaces you can put in tiny air plants nestled in terrariums filled with Poly-Pellets Weighted Stuffing Beads.
Tablescapes for Fall
Another way to bring fall into your home is to rethink your table decor! Set the stage for autumn with fall themed table runners, placemats, and more.
These beautiful DIY coasters will protect your tables thanks to the hidden layer of Shield Liner Fabric, which creates a moisture and allergen barrier!
Oly*Fun Fall Table Runner and Napkin Rings
Create a stunning table setting when you craft with Oly-Fun Rose Gold Metallic Fabric. This non-fraying fabric is outstanding for no-sew projects like this one.
Nothing says fall like pumpkins! This cute project can be used the whole season, from September till Thanksgiving! Low loft batting paired with Shield Liner Fabric ensures that this DIY summer to fall project is washable and durable.
Pack Up Summer Pillows & Add Fall Warmth
A tried and true method for changing your decor every season is to change out your accent pillows! I like to stock up on a variety of sizes of pillow inserts so that I can just swap out the pillow covers every season. My favorite inserts for porch and patio pillows are Weather Soft™ pillow inserts, because they have a water repellant shell.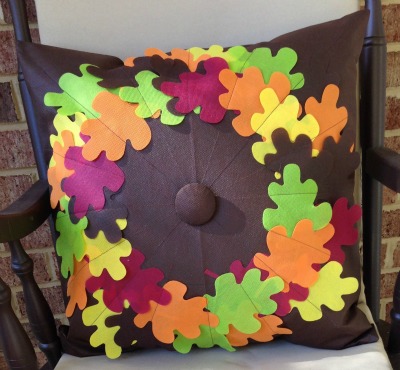 This pretty pillow is a great way to bring beautiful fall colors to any space.
This cute idea is perfect for your front door seating area.
Create your own cozy pumpkin patch by filling a bench or couch with these adorable pumpkin pillows!
Add a Cozy Throw or Quilt
Create a warm atmosphere for when temps drop this fall by adding throws and quilts to your decor!
Everyone will be fighting over this luxuriously soft hand knit blanket!
While the design on this project is Halloween, you can change the fabric and pattern to make it more of an overall fall themed quilt.
Change Cushions to Transition from Summer to Fall
Porch and patio cushions take a beating in the summer heat and sun! Give them a fresh new look for fall by replacing your bench and chair cushions. It's easier than you think! Choose a fall fabric that you love and grab the perfect cushion foam to get started. These tutorials will show you how to make three different kinds of projects:
Decorate with Faux Pumpkins
Last but not least, fill your indoor and outdoor spaces with lots of pumpkins! Create your own pumpkin patch at home with these delightful DIY projects. These handcrafted pumpkins will instantly transform any space from summer to fall.
Transitioning your decor from summer to fall is a creative process that allows you to celebrate the changing seasons within the comfort of your own home. Remember, the key to a successful transition is to focus on elements like color, texture, and accessories. Incorporate earthy tones, cozy textiles, and seasonal decorations like pumpkins, gourds, and fall foliage to bring the spirit of autumn indoors. Don't forget to embrace the scents of fall through candles and potpourri, which can add an extra layer of ambiance to your space.
Ultimately, the goal is to create a home environment that not only reflects the beauty of fall but also provides a sense of comfort and warmth as the days grow shorter and the temperatures drop. Let your creativity flow and enjoy the process of transforming your home into a cozy autumn retreat. Happy decorating!