The temperatures are dropping, but the designers at Fairfield World are staying cozy and warm thanks to these handmade projects! With Fairfield World products at the heart of your projects, you can rest assured that the end product will be much loved and well used.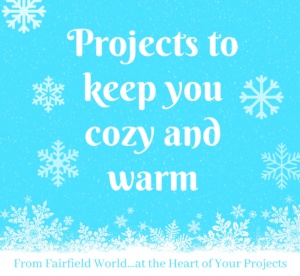 Blankets
Faux Fur Throw: What could be cozier this winter than a blanket made with faux fur? Nature Fil Bamboo batting is paired with denim and fabulous faux Yak fur to create this fun piece.
Life Proof Blanket:  This nifty blanket is perfect for keeping warm in the car and on the go.  Thanks to  Shield Liner Fabric, anything that gets spilled on the blanket will not seep through.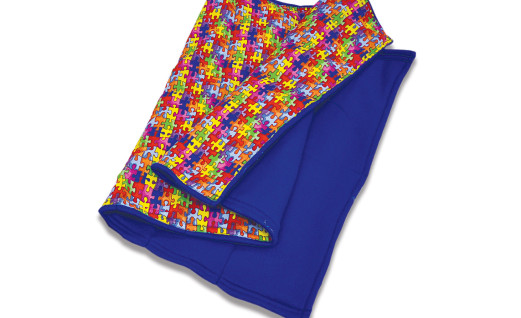 Sensory Weighted Blanket:  This weighted blanket will ensure that those with sensory issues can sleep or relax well.  Poly-Pellets weighted stuffing beads help you customize the blanket as needed.
Quilts
Polar Bear Baby Quilt: This quilt is going to a new baby in northern Alaska, so  wool batting is the perfect choice for ensuring warmth.  We love how the combination of wool batting and the Cuddle® backing combined to really show off the quilting.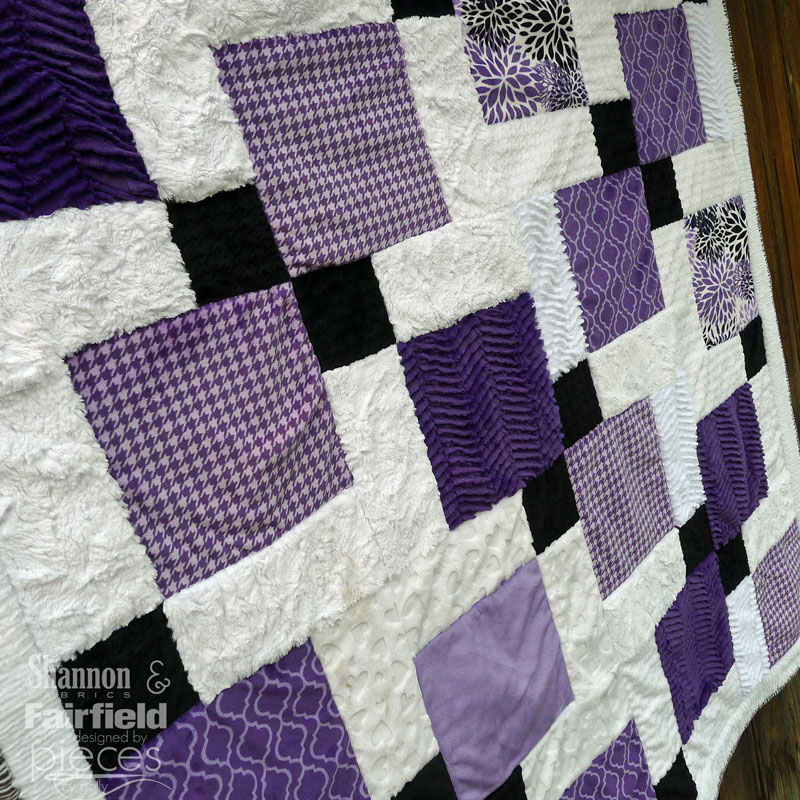 Disappearing Nine Patch Cuddle Quilt:  The bold colors and soft cuddle fabric make this quilt the perfect solution for dark, dreary winter days.  Nature-Fil™ Bamboo Blend Batting 60″ X 60″ is perfect for this quick project!
Rainbow I-Spy Quilt:  Keep kids from getting bored while you keep them warm, all in one quilt!  This fun design will keep little ones entertained for hours.
Wonky Nine Patch Quilt:  Our designer used Soft & Toasty Natural Cotton Batting to make this fun, quick quilt project.
Accesories
Patchwork Scarf:  Keep warm with this soft scarf project.   Poly-Fil Low-Loft Quilt Batting is perfect for crafts like this one!
Nursing Scarf and Cover:  Make sure you and your little one stay warm when you are out and about by making this nursing cover.  It can even double as a blanket in a pinch.
Espadrille Boots: My toes feel warm just looking at this project! You'll be amazed at how easy it can be to make your own boots.
Other Projects
Bean Bag Chair:  Use Poly-Fil Bean Bag Filler and some fabric paint revitalized a worn out bean bag.  This will be your teen or tween's favorite place to curl up during snow days.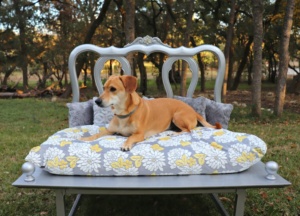 Elegant Pet Bed:  Keep your furry friends cozy and warm with this plush pet bed that you can make.  Project Foam wrapped in batting make a great base for the bed cushion, and the addition of Poly-Fil Premium Fiber Fill ensures that your pet will have a cloud like surface to recline and stay warm on.
Crochet Pillow:  Add warmth to any space this winter with this cozy crochet pillow.  The Crafter's Choice® 12″ x 12″ Pillow is easy to remove so you can wash the cover after a spill or change it seasonally.
Furry Lounge Chair: Create your own cozy nook with this DIY lounge chair.  The 24″ Poly-Fil Pillow Insert  combined with two Soft Touch Neck Roll Pillows form the base for this trendy project.
Which of these projects will be first on your list of things to make?