Whether you're rooting for your favorite team or just love parties, the Super Bowl gives us all reasons to celebrate. Gathering with friends and family to watch the game, commercials, and half time show is a beloved annual tradition for many. These Super Bowl party decorating ideas will help you set the scene for your celebration.
The fastest way to create vibrant, sturdy Super Bowl party decor is with Oly-Fun Fabric. This innovative textile is weather proof, doesn't fray and you don't need to wash it before working with it. You can sew with it or use adhesive on it, which is what Atta Girl Says opted to do with this project. Her tutorial includes templates you can use to cut out your pennants.
I also used Oly-Fun Fabric to quickly create football party decor for my own Super Bowl party a few years ago. Use stencils with paint markers to turn the fabric into a football field and three dimensional footballs for a banner! I actually got to teach how to make this project on a local morning television show, and some otters from a local zoo were on set to "predict" the Super Bowl winner. At the last minute we decided to use my table runner as a field for the otters to play on, and it was a riot! This decor was a hit with party goers and wildlife. LOL!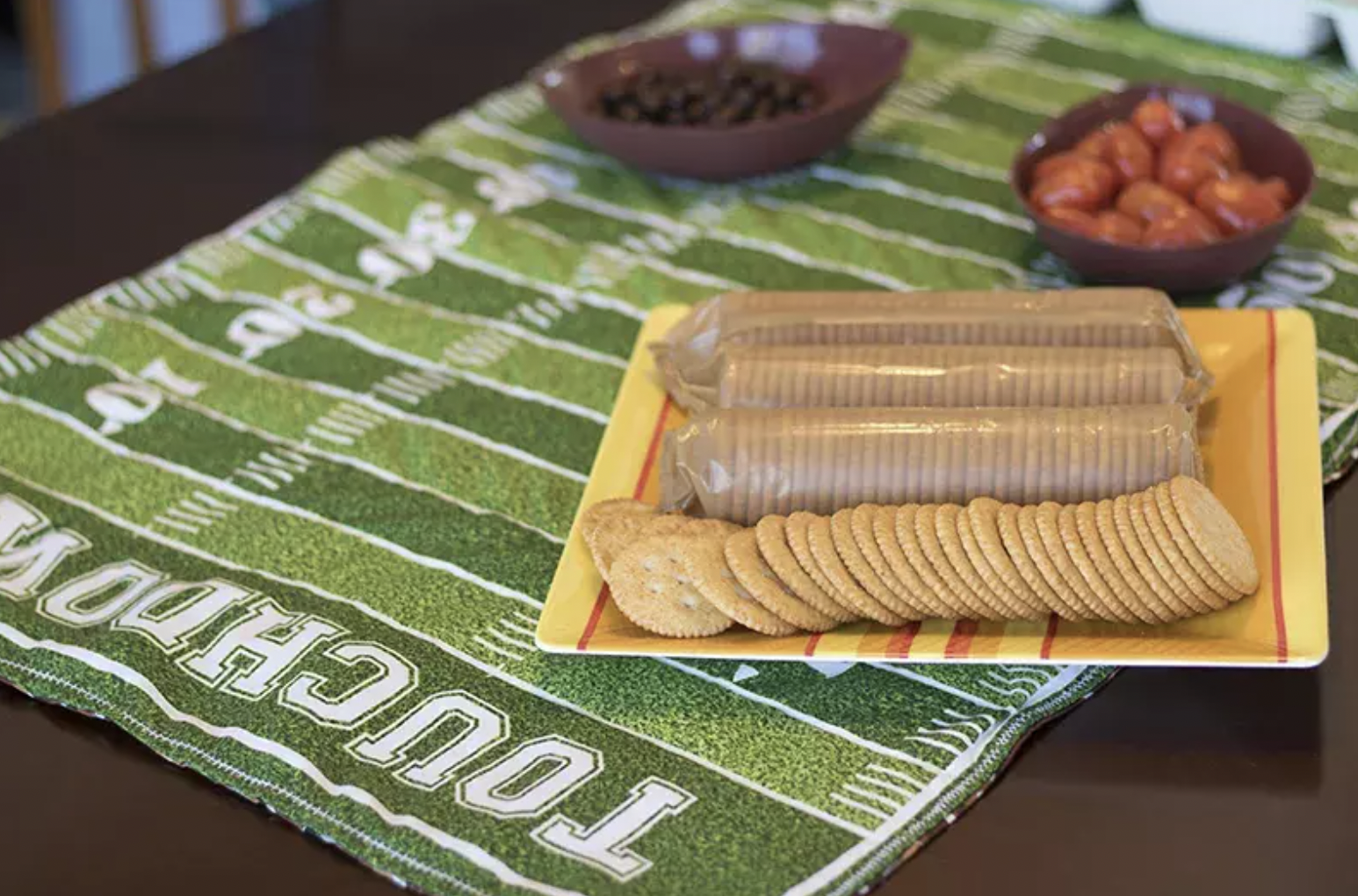 Make a fun football table runner to serve tasty snacks on during your Big Game party. Use football themed fabric to create a colorful and attractive piece of table decor that is reversible! Smooth™ Fusible Fleece Interfacing is perfect for this project. It's a low-loft fusible fleece that makes projects stable and smooth, which is exactly what you'll need for a table runner.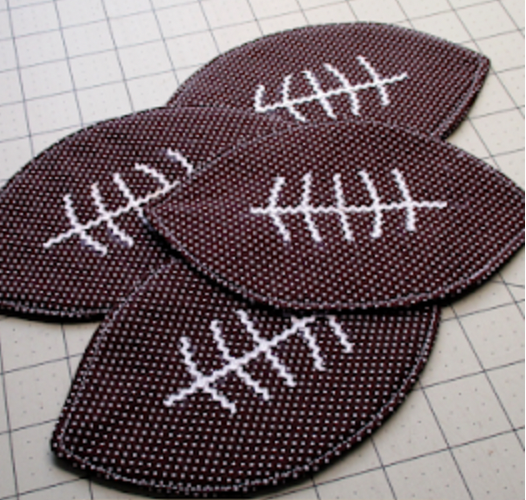 Coasters are a quick project that you can make in lots of fun shapes, like footballs! You can protect your table tops while decorating at the same time. Washable, reusable coasters are more eco-friendly than flimsy coasters you'll toss in the trash later. This tutorial from Deb's Days uses cotton batting, but you could also add Solarize Liner Fabric (available in craft packs) to insulate your coasters.
This giant football pillow will be fun to toss around while you wait for the big game to start! Make a few to decorate your movie room or living room for your football loving fans. Poly-Fil Fiber Fill makes these DIY pillows soft and cushiony. If you're not a fan of video tutorials, we have a similar squishy football pillow tutorial available.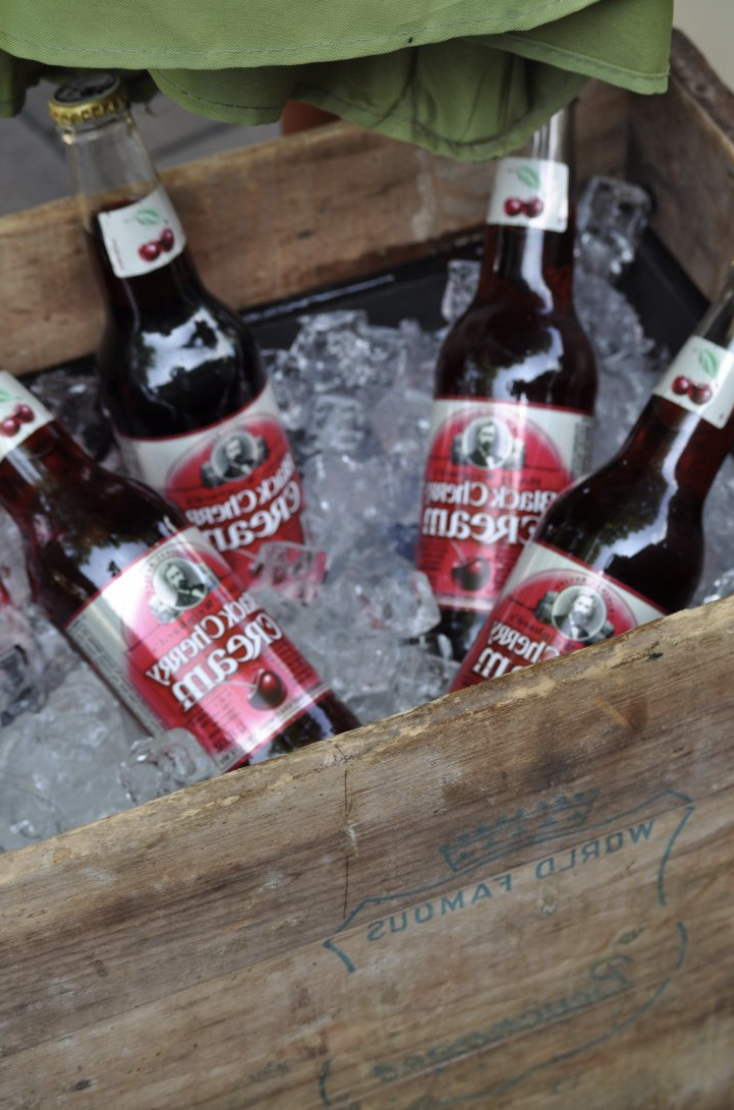 Every party needs a cooler! Grab a crate and stencil your team logo onto it to prep it for your Super Bowl party. Once the paint has dried use Solarize Liner Fabric to line the crate and turn it into a cooler. Check out my tutorial using a boat shaped box to learn how to use Solarize with waterproof fabric to make a DIY cooler for your party.
Teens and kids love to lounge on the floor while the game is on, so give them a soft place to land! Oversized team pillows are comfy and they help show your team spirit. The key is to GO BIG with a large pillow insert, like the Soft Touch® 30″ x 30″ Pillow. This idea could be adapted for any team logo:  zoom in on a characteristic piece of the logo and enlarge it.
Here's a fun throwback craft: pillow wreaths! These are easy to make and a great way to use jelly rolls. Pair some licensed team logo fabric with coordinating colored fabric to create a fun, vibrant piece of football decor. This step-by-step tutorial from Crafting Cheerfully is made using Poly-Fil Fiber Fill.
These Super Bowl party decorating ideas will help everyone feel comfy while celebrating their favorite team! For more DIY party project ideas, check out our top picks for BBQ Sewing Ideas for Your Next Party