DIY Antique Crate Drink Cooler
School is out, and so is the sun! I'm not sure about you, but when I think of summer, parties and barbecues come to mind. An outdoor party isn't complete without drinks. Am I right? I wanted a drink cooler that could make a statement at my outdoor festivities, and this DIY antique crate drink cooler will do just that!
I am big into antiques. I love the one of a kind character each antique has. I knew I wanted to create a piece that had antique components. A crate was the perfect solution! I needed to make this crate into a functional and beautiful drink cooler. This DIY project came together like a dream! This antique drink cooler turned out even better than I could have hoped.
Is it sturdy enough to do the job? Absolutely!! It holds water great and is completely waterproof (we did the testing).
You'll only need a handful of supplies to get this job done. You can accomplish this project with a really handy Fairfield World material to have on hand. I can always come up with uses for this stuff. What is this magic product? Household Utility Foam. It's thin and waterproof. Perfect for a little drink crate.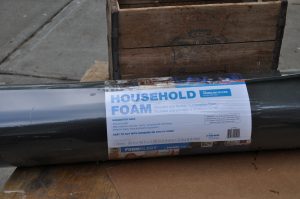 For step by step photos, visit our little home on the internet called Clover Lane Blog. While you are waiting for your foam to arrive, go hunting to all of your favorite antique spots for the perfect crate! What should you look for in a crate? You want one deep enough to hold drinks and ice….AND a crate that is structurally sound. If you'll notice below, our crate needed a new bottom to be more solid. We added a few wood planks and it did the job!
Happy crafting friends!
What you need to make this project
Materials
Supplies

Black silicone
Razor blade
Tape measure