Summer's in full swing, and it's the perfect time to gather friends and family for an informal outdoor get together. Everyone loves a backyard barbecue, and we've got some fantastic ideas to help make yours one to remember. These BBQ sewing & craft ideas will help  you decorate for your event and keep your guests comfy.
Decor
This DIY apron is perfect for summer barbecues! The hamburger appliqué is colorful and adds humor to the festivities. We All Sew has the pattern with all the free appliqué pieces. Stick Double Sided Fusible Interfacing is my go-to adhesive for appliqué projects, because it's so light and easy to use.
A grilling tool roll makes it easy for the grill master to have all the tools they need right where they need them. Modern Handcraft shares a tutorial for how to make your own using fusible fleece interfacing. This handy project also adds style and color to the grilling station!
Go green and set the party table with colorful, eco-friendly cloth napkins. I love the vibrant patterns and colors that C&Z used for their napkin tutorial! You can choose colors and patterns that match your decor and enjoy these cloth napkins all summer long. (Fun fact: Fairfield World loves to recycle, and Poly-Fil is made with recycled bottles!)
Outdoor Living Space
After the food, the next most important thing for any backyard BBQ is ample comfy seating for all guests! Create the perfect outdoor living space by sewing your own bench and chair cushions! Fairfield World offers a massive selection of foam in different sizes and for different uses for all your project needs. NuFoam is a great option for open air spaces because it is mildew resistant and won't disintegrate.
Once you've created comfy seating, decorate it with beautiful pillows! This easy to follow tutorial from Polka Dot Chair shows you how simple it is to make durable outdoor pillow covers. Protect your pillow inserts and make your project last longer with Shield Pillow Protectors. These zippered covers will protect your outdoor pillows from moisture and allergens.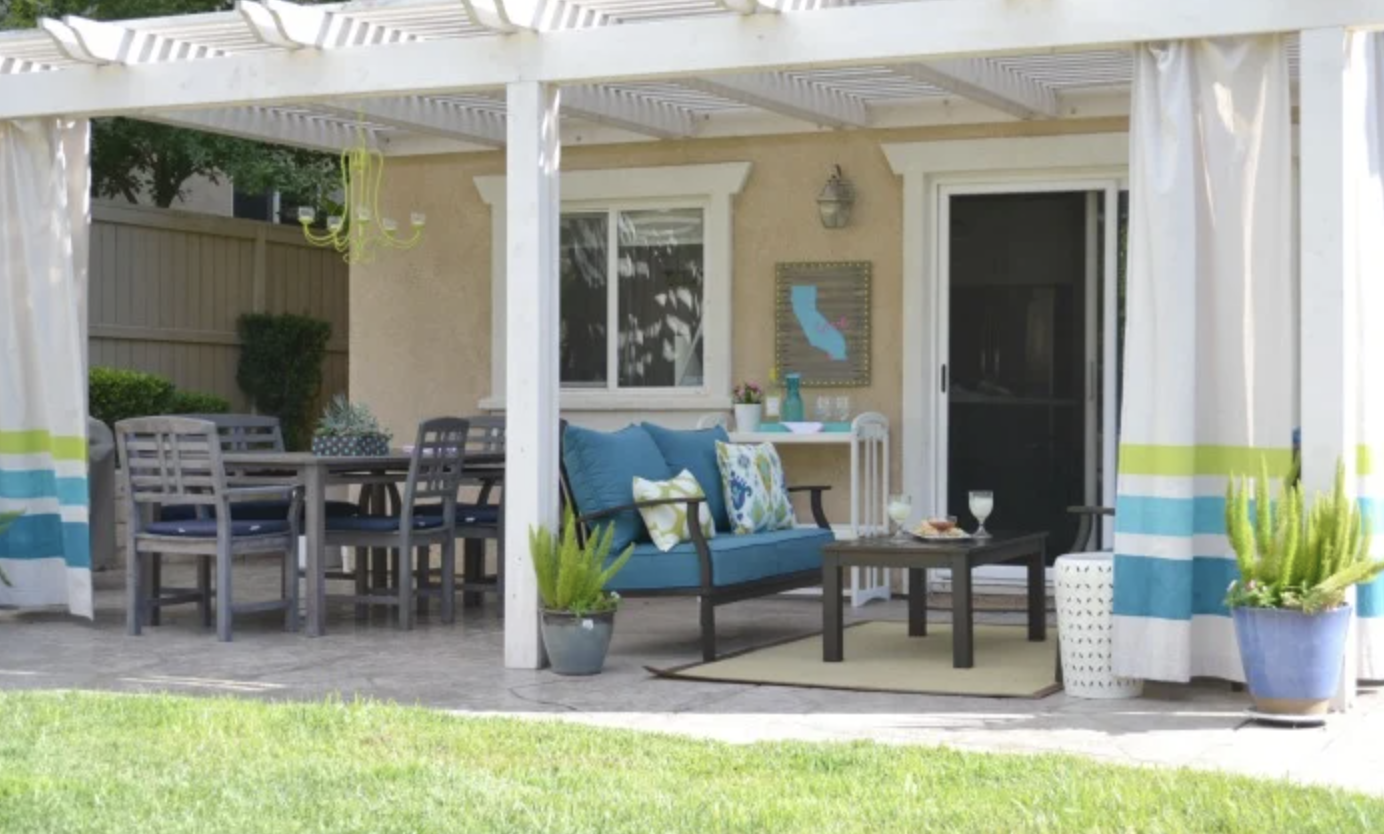 Instantly transform any outdoor space into a posh outdoor living room by adding curtains! Hey There Home has a budget friendly tutorial to show you how to easily create your own outdoor curtains. Oly-Fun Fabric by the bolt is another great option for making party curtains!
Food & Drink Sewing Projects
Dining outdoors means dealing with all the elements that are outside. Keep pesky insects and other unwanted airborne items off your food dishes with colorful DIY fabric bowl colors. Add Solarize Liner to keep hot dishes hot and cool desserts chilled while you wait for guests to arrive.
If your BBQ isn't in your backyard, or if you just want to keep dishes protected and heated for as long as possible, make a casserole carrier to cradle your food in! I'm partial to this carrier with a utensil holder because it helps keep everything you need in one place.
Chilled drinks are a must for any outdoor gathering, and this is one of my favorite party coolers! Several years ago I turned a decorative chest into a functional drink cooler, and it's a hit every time we use it. Solarize Liner plus utility foam are the "secret ingredients" for this DIY drink cooler.
As summer eases into fall, switch from BBQ sewing ideas to wine tasting parties with these elegant decorating ideas. Have fun crafting & creating with Fairfield World at the heart of your projects!