The bewitching season is upon us, and you've suddenly found yourself hosting a last-minute Halloween party. There's no need to stress! While it may feel like the clock is ticking ominously, we've got you covered with some wickedly creative DIY decor ideas that will transform your space into a haunted haven in no time. Whether you're a procrastinator by nature or your Halloween plans were a recent surprise, these quick and easy last minute Halloween party decor DIY projects are designed to summon the spirit of Halloween into your home.
Cobwebs instantly transform any space into a spooky setting! Create big, beautiful spider webs in minutes by using Poly-Fil Extra Loft Batting. This last minute Halloween party decor idea is easy to create and to set up: drape the batting and then pull it slightly to create rips and tears where you want them. As an added bonus, these "webs" are very easy to clean up!
Creepy Eyeball Roses Halloween Floral Arrangement
This hauntingly beautiful floral arrangement is quick to create with Oly-Fun Fabric and a die cutting machine. (You can also hand cut the petals if you don't have a flower die.) These arrangements will up the spooky factor on any table when you use them as a centerpiece!
You just can't go wrong with Oly-Fun Fabric and last minute party DIYs! This innovative fabric can be manipulated like paper but is durable like fabric, so your party crafts will look polished and will last longer. Grab a few bolts or yards in Halloween colors (like Orange Crush, Jelly, and Kiwi) to use for last minute Halloween party decor projects like this banner and much more!
These cute mini cauldrons would make great food labels or place card holders! You could paint the words on the cauldron, then fill the little bowl with a bit of Poly-Fil Fluffy Snow to create the illusion of billowing smoke. You can even tint the Poly Fil (as you'll see in the next project!)
Another cute way to decorate tables and counters with for your Halloween party is to create faux smoke bomb pumpkins. Choose any size pumpkin and use permanent markers to add a face. Then color and attach Poly-Fil Fiber Fill to make it look like the pumpkins are blowing colorful smoke! Check out the tutorial to learn how to make the Poly-Fil Fiber Fill so bright and colorful!
This project is similar to the mini version above, but large enough to hold candy or other items! You can also add lights to the base of the cauldron before you add the Poly-Fil Fiber Fill to give your "potion" an eerie glow!
Add some pops of color to your walls with this easy to make Halloween garland. Oly-Fun Fabric is perfect for last minute party projects like this one because you can cut without worrying about fraying fabric ends! You can even use a die cutting machine to cut out spooky shapes to add to your Halloween garland.
OlyFun Halloween Pumpkin Wall Art
These fun and colorful Oly-Fun Fabric  pumpkins will pair nicely with the vintage Halloween garland. Use them to brighten up the walls of your party room, or add them as a backdrop to create a cute and colorful photo booth for your guests.
These adorable little ghosts will look boo-tiful as party decor! Use a bit of Poly-Fil Fiber Fill with white fabric (or even some Poly-Fil Extra Loft Batting) to create cute ghosts in minutes. These sweet little specters would make fun party favors, too!
Giant Spiders Made with Poly-Fil Dark
I made these giant spiders to decorate my home for Halloween last year, but the project can easily be sized down to make smaller house spiders. Pack black panty-hose with Poly-Fil Fiber Fill to quickly create spooky spiders that you can hang all around your house before the party starts!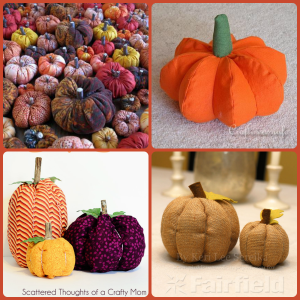 There are dozens of ways to make fabric pumpkins, and the easiest, quickest way to make one is to pair fabric with Poly-Fil Fiber Fill and some twine. We've got a round up of several different ways to make fabric pumpkins so you can choose your own DIY adventure. Add several fabric pumpkins to your home to quickly create Halloween party decor!
This project takes minutes to make and your guests will love it! I made this one the morning before my party and set it in the guest bathroom. My party guests all had a good giggle when they saw this spooky cute light glowing in the dark! If you don't have a toy bath tub just grab any round container you can find to create a "bubble bath" with Poly-Fil Fiber Fill and Biggie Bean Bag Filler.
Here's one more Oly-Fun Fabric project that is perfect for party decorating! These cute DIY pumpkins make great decor.
This last minute Halloween party decor project can be adapted so you can make any size you need. Grab some sticks and whip up several colorful fabric brooms! This tutorial uses tulle but Oly-Fun Fabric would be perfect for making witch brooms with, also.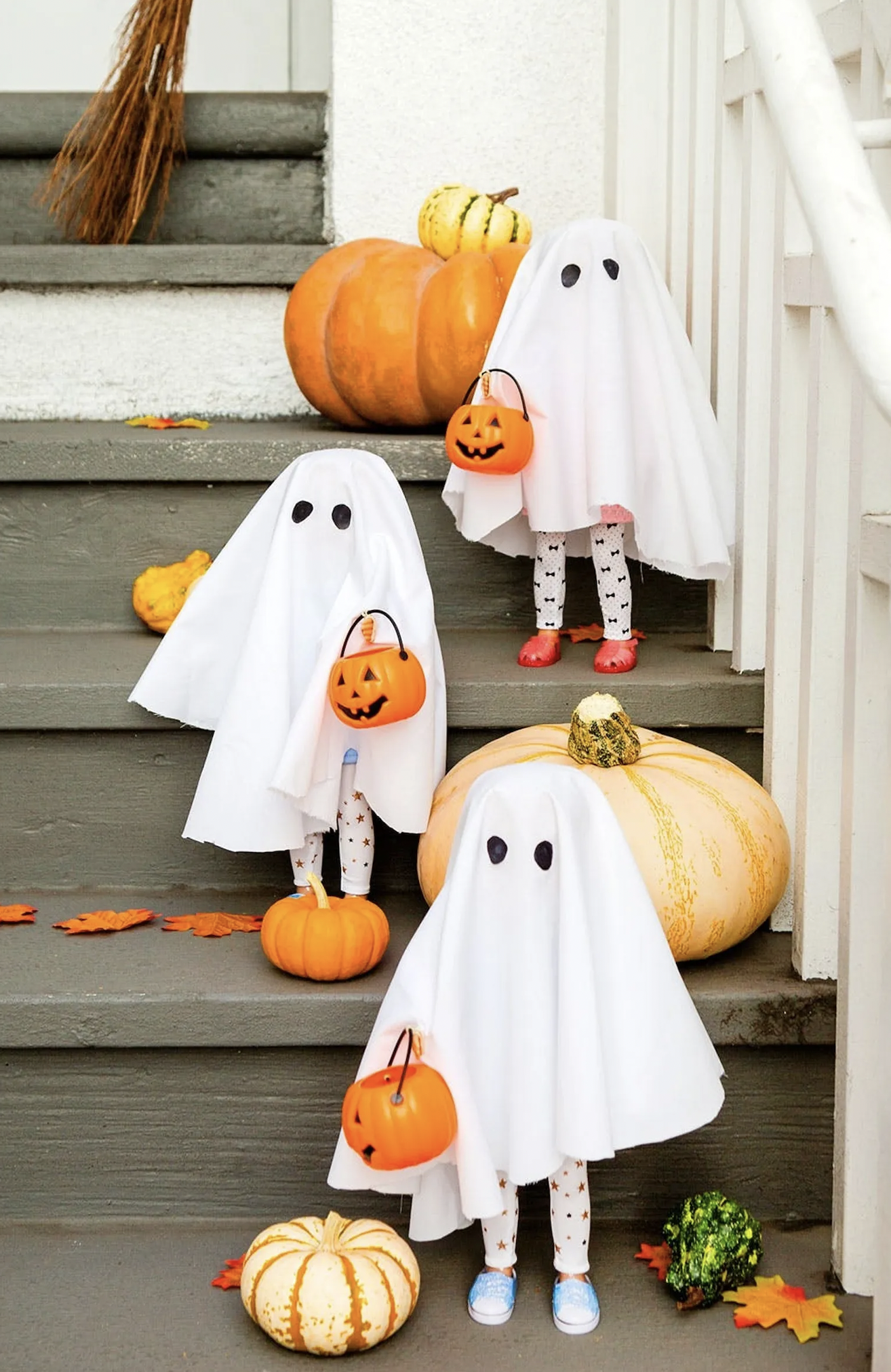 This idea is super simple and spooky cute! Grab a few dolls and some fabric (or even bright white batting!) to make adorable trick or treating ghosts to decorate your party with.
Here's one last quick project for your Halloween party: ghost lights! Kids can help make this one. Grab that Oly-Fun Fabric and some glue to quickly transform plain string lights into bootiful party decor!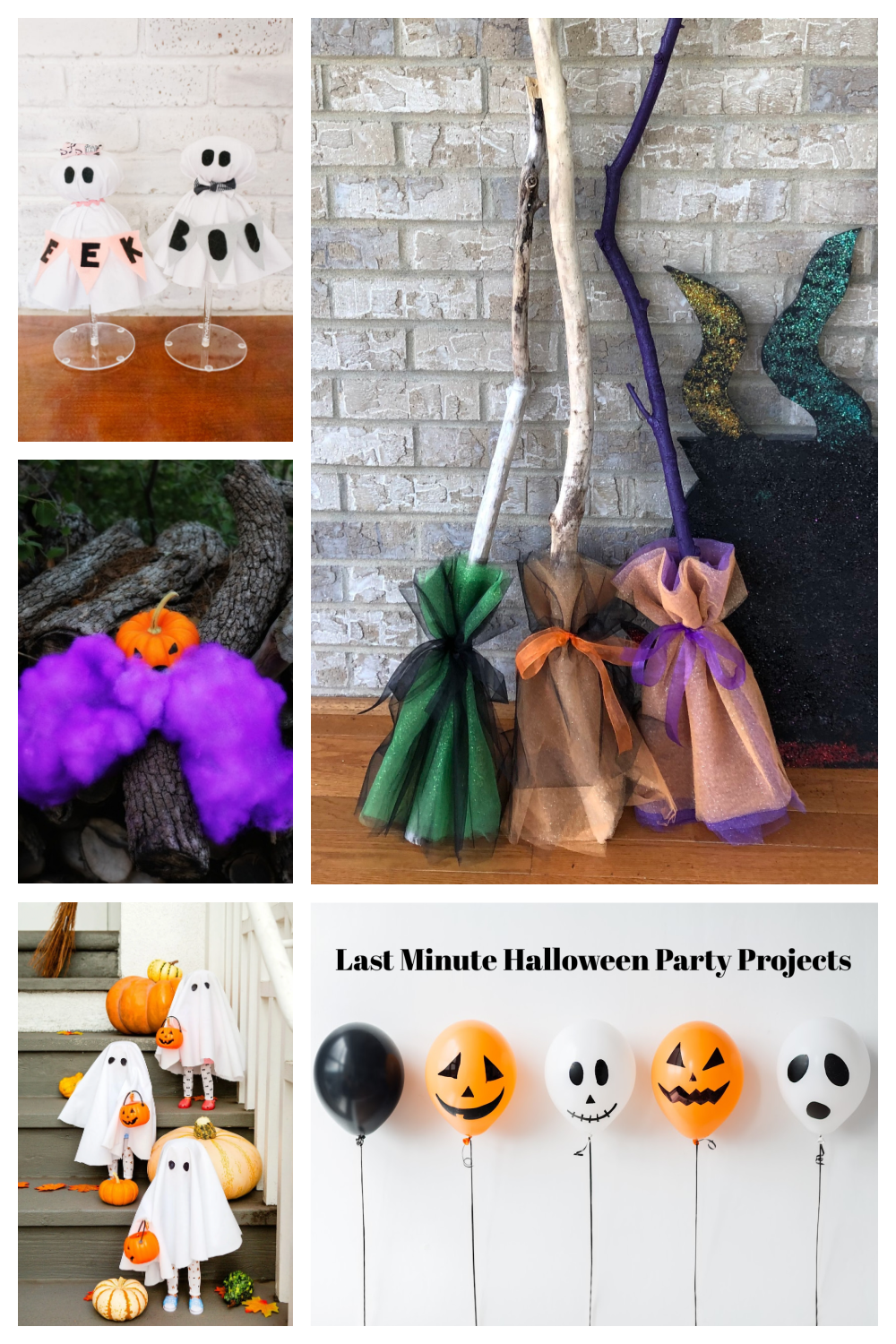 Which of these spooktacular projects will you craft first for your last-minute Halloween bash?