Are you ready to get creative with your little ones this Thanksgiving season? Thanksgiving crafts are a wonderful way to engage kids in the spirit of gratitude and togetherness while also letting their imaginations run wild. Whether you're looking to keep them entertained while the turkey roasts or hoping to bond over a fun family activity, we've got you covered with a fantastic array of Thanksgiving crafts that kids will absolutely love. From colorful Oly-Fun fabric turkeys to heartfelt gratitude trees, this blog post is your one-stop destination for delightful DIY projects that will make this Thanksgiving extra special. Roll up your sleeves, gather your crafting supplies, and let's dive into a world of creative possibilities that your kids will cherish for years to come.
While several of these tutorials call for paper or felt, we love to use Oly-Fun fabric for our kids crafts! This unique non-fraying fabric is colorful and durable, making it perfect for kids to work with. They can cut and glue or sew it easily to make several of the Thanksgiving crafts listed below.
This adorable plush turkey is a great project to keep kids busy with! Little ones can use fabric glue to hold their project together, while older kids can sew it. Poly-Fil Fiber Fill will give this plush project the soft core that it needs!
These adorable party favors are made using Oly-Fun fabric in fun, fall colors! Kids can cut and trace the shapes onto the Oly-Fun fabric sheets to cut themselves, or you can pre-cut the pieces and let kids assemble the favors while they wait for the real turkey to be served!
This cuddly little turkey will keep kids entertained! Use Poly-Fil Fiber Fill to stuff a sock to create the base of this no-sew Thanksgiving kids project. Then use Oly-Fun to make the colorful turkey tail!
Not only can kids help you make pie for your Thanksgiving feast, they can make decor for the meal while the pie bakes! Let the kids use Oly-Fun fabric to make a colorful garland that's inspired by pumpkin pie!
This precious little turkey is just the right size to use as table decor, place card holders, or even to hang as an ornament on a gratitude tree! Poly-Fil  helps round out this pudgy little turkey plushie.
Pilgrim hats are a cute, quick project that kids can make using paint, construction paper, or Oly-Fun! How cute would these look on the Thanksgiving table? You could also flip them upside down and fill them with treats to create Thanksgiving themed party favors.
Kids will get a kick out of this three dimensional project! Make several to string together to create a colorful fall garland. You could even turn them into little lights by placing a battery operated tea light inside them. To avoid the frustration of ripped construction paper when gluing these 3D pumpkins together you should use Oly-Fun fabric instead!
This sweet project is a great way for kids to have fun crafting while expressing what they are grateful for this Thanksgiving! Feathers can be hard to glue onto bags, so instead of risking it with hot glue guns around little fingers, cut feathers from Oly-Fun fabric instead and use school glue. You can use paper cutting dies to cut the fabric, or let kids trace and cut their own unique tail feathers for this paper bag turkey craft.
A thankfulness tree is a meaningful project that the whole family can craft together. It's a great opportunity to both create and reflect on the many things we have to be thankful for! You can write on Oly-Fun fabric, and the vibrant color options are perfect for this fall tree craft project.
This is a classic Thanksgiving project that introduces kids to the basics of weaving. Your child's woven placemat will withstand spills and last longer when you use Oly-Fun fabric instead of paper for this craft!
When you're tired of turkey, try making this owl that's a hoot! This feathered friend is a great fall craft, especially when you use Oly-Fun in autumnal colors.
DIY pumpkin pouches are perfect for placing favors in! Kids can also make these and fill them with notes of gratitude that can be read together. You could also have kids make these to fill with fall treats to deliver to neighbors.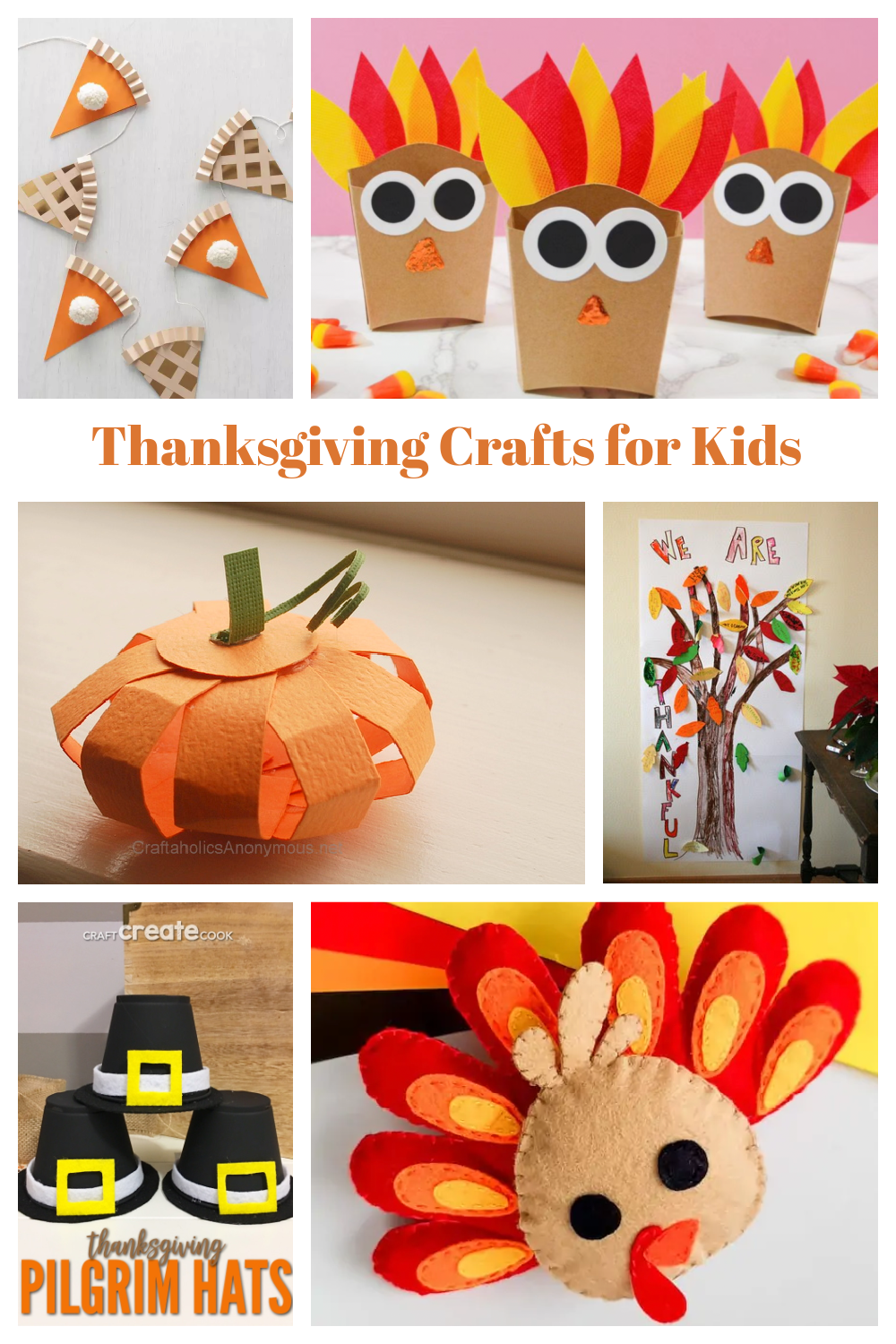 As we wrap up this blog post on Thanksgiving crafts for kids, we hope you've been inspired by the wonderful world of creativity and togetherness that these projects can offer. Crafting with children not only encourages their imagination and fine motor skills but also provides an opportunity to teach them about the values of gratitude, family, and giving thanks. From fabric turkeys to colorful owls, we've explored a variety of ideas that can bring joy and a sense of accomplishment to your little ones. It's these shared moments and handmade treasures that truly make Thanksgiving a memorable and meaningful holiday for your family.
Remember that the true essence of Thanksgiving lies in the bonds we share and the love we express for one another. Whichever project you choose to make with your kids, we hope these activities serve as a reminder of the importance of gratitude and giving back! We hope you and your children have a fantastic time creating these crafts and, more importantly, that you have a warm and joyful Thanksgiving celebration filled with love, laughter, and the precious memories you've created together. Happy Thanksgiving!