"When happiness pours out of your heart, good pours out into the world." – Gillian Duce.
If you're having a bad day, these heartwarming stories will change your mood! Many makers know how personally therapeutic sewing and crafting can be, and several take the healing power of handmade a step further by donating what they make. Fairfield World calls this "making for good", and we celebrate the generosity of those who use their skills to shower love and care on those in need.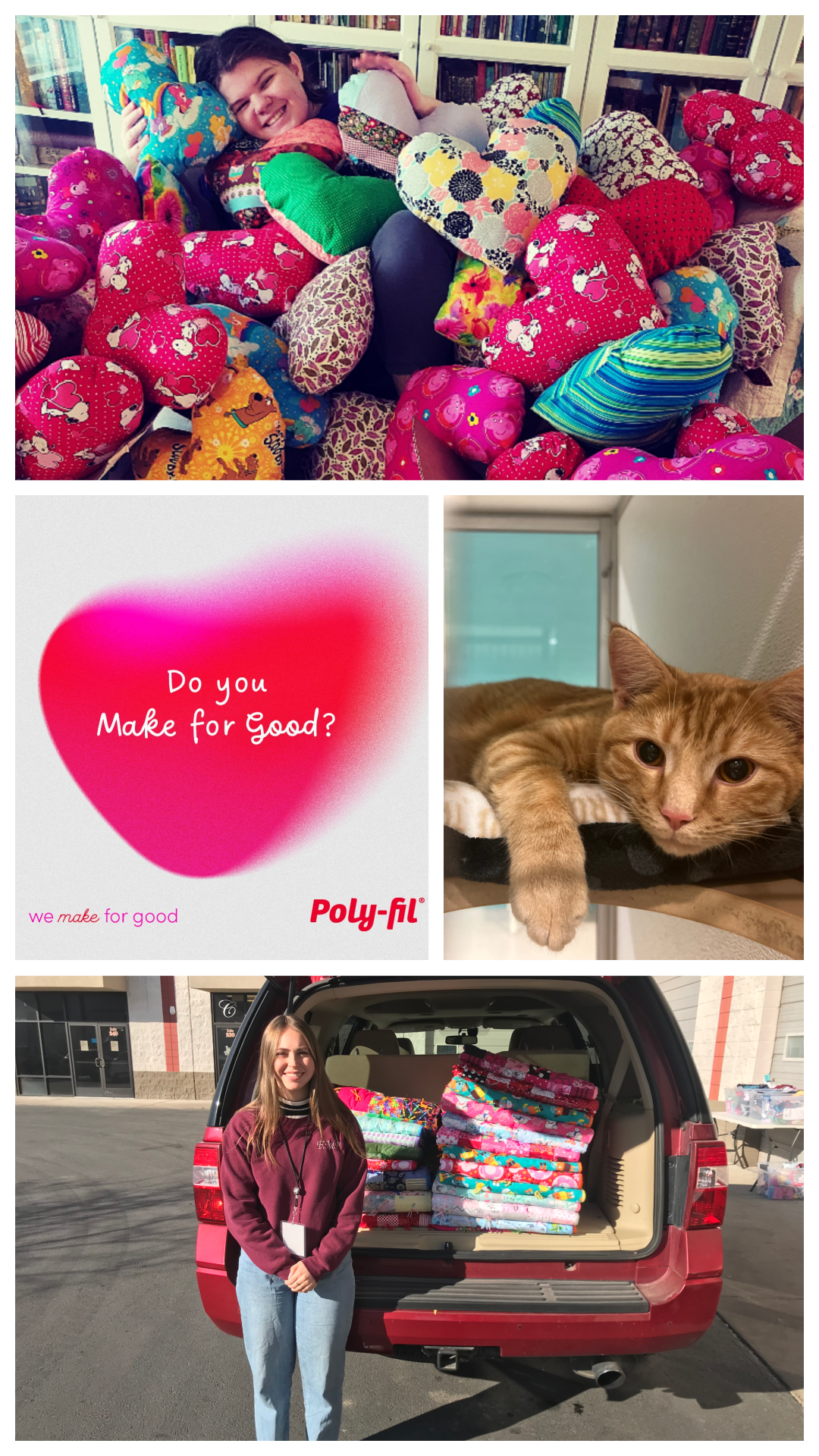 Fairfield World products provide comfort, warmth, softness, and support. We are thrilled that sewists and crafters use our thoughtfully designed products at the heart of their projects, and we want to support and encourage these makers in their charitable endeavors. The We Make for Good initiative is one way that Fairfield World provides product assistance to those who help others. Here are the stories of three We Make for Good grant recipients who use the healing power of handmade to bring comfort and support to their communities.
Many children in foster care show up at their new homes with little to nothing. The executive director of Little Lambs Foundation for Kids grew up with foster siblings, many who arrived with their belongings in trash bags or just the clothes on their backs. These experiences led him to his life mission: to ensure that children in Utah's foster care system each receive a comfort kit with a quilt or blanket included.
Little Lambs Foundation for Kids has provided comfort kits to children transitioning into foster care since 2014. Their team of volunteers put in over 5,000 hours last year to make hundreds of quilts for children who need all the love and comfort they can get. A significant part of their program is quilt making for baby and toddler comfort kids, which go to kids ranging in age from newborn to 3 years old. Fairfield World is pleased to contribute quilt batting to help Little Lambs Foundation for Kids Make for Good. Together, we can help ease these little one's transition to a new home by wrapping them in a quilt that has been made with love.
Cushioned Cat Beds for Animal Welfare League of Trumbull County 
Animal lover Catena Shortreed started volunteering at the Animal Welfare League of Trumbull County to return the love and care her own pets have given her throughout her life. To support the shelter's mission of caring and socializing pets for new homes, she started reading about how to better the animal's living conditions to improve mental health. After learning that soft fabric bedding can benefit cats, she taught herself how to sew a cat blanket. Using old plush blankets and Poly-Fil Fiber Fill, she made a cushion to furnish a cat condo. It was a smashing success so she set out to make more.
Seeing as the cats in their care absolutely love the cushiony cat beds, a group formed to collect material so that Catena could make more cat beds. To date, she has made over 50 beds for the cats who come through the shelter. The cats are less stressed in their enclosures now that they can "make dough" on their comfy blanket beds. This activity helps the cats stay calmer and mentally healthy, which makes it more likely they can be adopted to a loving home. A ten pound bag of Poly-FIl is ample enough to make 20 well filled beds, which Fairfield World is proud to contribute to this worthy project.
Big-hearted Lucy was just 9 years old when she started her project to help families struggling with homelessness. She decided to help by sewing quilts and stuffed animals to give to families in need. By the age of 14 she had donated over 2000 handmade items! She has since expanded her recipient list to include patients at her local hospital as well as foster kids who have experienced trauma.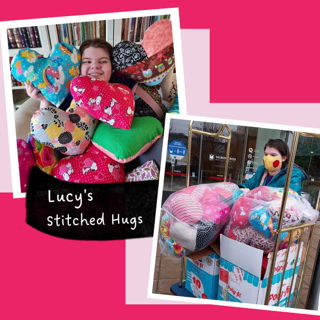 Lucy has spent time in a hospital herself, and she knows all too well how scary that experience can be, especially for kids. "Lucy's Stitched Hugs" are crafted with the goal of making the recipient feel like they are getting a hug. She donates an astonishingly generous amount of stuffed animals(about 400 per year), all handmade and lovingly stuffed with Poly-Fil. Fairfield World is happy to help this altruistic young person continue to make for good.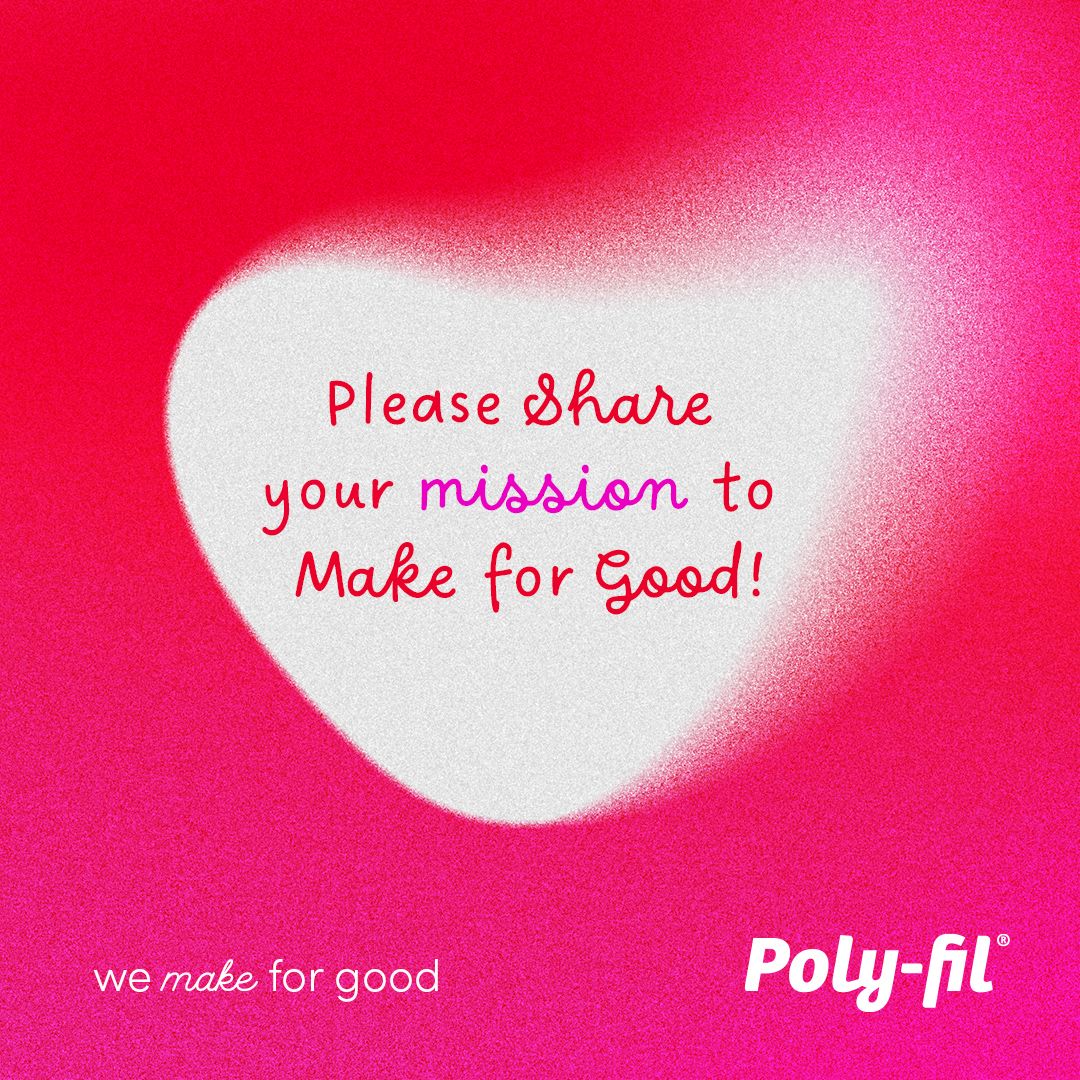 We love to hear stories of people who create items to donate to various causes. To share a good story or to apply for a grant from Fairfield World, please visit the We Make for Good page. Thank you for helping us share the happiness and healing power of the handmade movement!