Welcome to the wonderful world of  oly*fun one of the newest products from Fairfield Processing.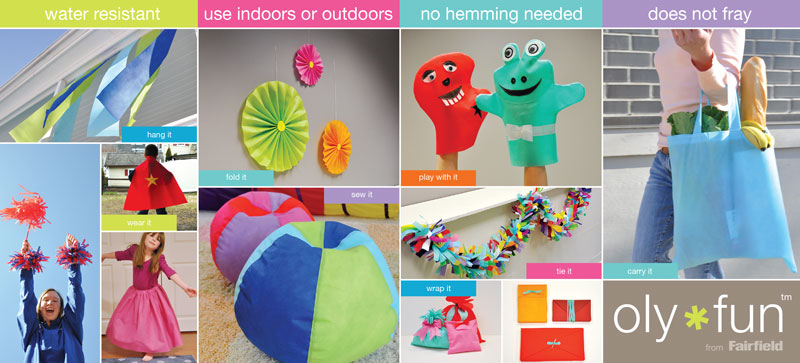 Introducing Oly*Fun – "The everything material"
This is one of the easiest, most versatile materials you will ever find. You can sew it, glue it, staple it, pin it or tie it
You can write on it, paint it, embellish it, stamp it or stencil it
You can scissor, rotary, or die cut it
You can use it as fabric or use it as paper
You can use it indoors and outdoors
The only thing it won't do is fray, tear, or fade so don't bother hemming it.
SOLID COLOR THROUGHOUT
Use both the front and back – no white core or back side
GREAT VALUE
A good value solution for holiday and event decorating, costumes, kids projects and activities

NO FRAYING
Easy sew, no hemming required
WATER RESISTANT
Ideal for a variety of indoor and outdoor uses
Project and Content Creation Ideas:
Works inside and out and is very economical, so it's a great alternative for PARTY CRAFTING – and can be used instead of paper or tissue for many projects. It's more durable than papers – wont crease, wrinkle or tear quickly in wind or from hyper kids – and it won't disintegrate when in contact with water.
CREATIVE GIFT WRAPPING – To sew or not to sew – that is your question – use basic folding and wrapping techniques or more complicated origami to create beautiful, unique and durable gift wrapping. Vibrant colors can be used as is, or can be stamped, stenciled, or painted on with a variety of materials. If you can make it in Felt, you can make it in Oly*Fun – but it will be more weather and water resistant with a more tailored look and feel.
Easy to die cut for Bulletin Board art, school projects, and all sorts of teacher / student projects.
Easy to sew – this is a great material for beginner sewing – there is no grain, no selvedge, no sizing, no fraying…. Just so easy.
Essentially all school spirit color combinations are included in the 18 color palette of Oly*Fun – make spirit pom-poms, spirit cuff bracelets, bleacher cushions, ponchos, etc for your students and community. Can make a great fundraiser – easy to make by kids and families – reasonable cost and lots of value when sold before a big game!
What exactly IS oly*fun? oly*fun is a specially engineered material that features some of the best things about fabrics AND papers.
How do I sew it? Very easily! There is no grain to oly*fun, so you can cut it any which way you want. There is no need to pre-wash, as there is no sizing or shrinkage. Use a simple stitch to attach pieces together, and hem only if you want. oly*fun will not fray.
Do I need to pre-wash it? There is no sizing in oly*fun, so there is no need to prewash.
When it needs cleaning, how should I wash it? It's best to wash on gentle cycle and air dry.
Can I iron it? Yes, but carefully. Use only a cool or low iron with a pressing cloth.
Can I use it outside? Absolutely! oly*fun is weather resistant –so water rolls right off.
Can I glue it? Yes! oly*fun glues best with Fabric Glue such as FabricTac or Aleene's Tacky Glue. A hot Glue gun works great too. It's best to test the glues before kicking off a big project.
Can I diecut it? Yes! oly-*fun runs through any pressure style diecutters like Sizzix, or Accu-cut. It will work with a digital diecutter if a stabilizer is used.
What other ways can I cut it? Use scissors, rotary cutters or paper cutters with a rotary style blade. It's best to test before kicking off a big project.
Is it flammable? No. oly*fun is not flammable, it will melt if exposed to flame.
How is oly*fun sold? oly*fun is sold on bolts and in quick grab and go packages. The bolted material is 60 inches wide and can be cut to whatever length you like. The grab and go package is 20 inches wide and includes 3 yards of material.
How many colors does it come in? oly*fun comes in a rainbow of 18 vibrant solid colors. The colors can be mixed and matched to create projects for any holiday or season, and almost any sports team or school!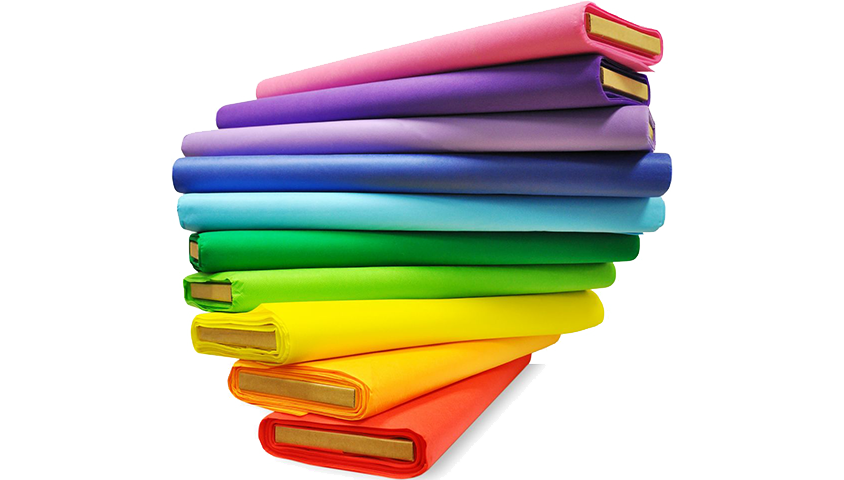 The Olyfun is now available by bolt at Joann.com
You can also find it at various other brick and mortar outlets and online in our Grab and Go packaging.