It's almost that time of year. The cool crisp air, autumn colors, leaves crunching under your feet, and pumpkins, pumpkins, pumpkins. Here are some fun colorful pumpkin projects and patterns for you to enjoy this Holiday season. Just click on the photos for all the directions.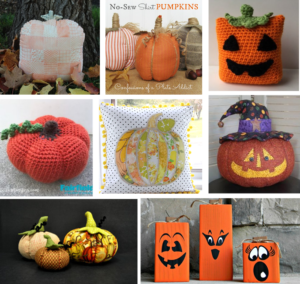 This Faux Quilted Pumpkins Pillow would be a great addition to your fall home decor.  Bonus…it is quick and easy to make too!
There aren't many things more representative of Halloween than a Jack o' Lantern and here is a cute crocheted version that you can use to decorate your house for Halloween or it can be a fun little stuffed toy for kids.
We found these 4×4 2-Sided Pumpkins by Leanne of Organize and Decorate Everything. They will make fun decorations for both Halloween and Thanksgiving.
Got an old shirt and some twine? Then you've got almost everything you need to make these pumpkins…and you don't have to be able to sew! They are a fun little addition to your fall decor! We found them at confessionsofaplateaddict.com.
This Halloween Jack is  an easy pattern that will add whimsy to your fall décor. It is also a great gift for your friends and family.
Made out of your favorite fabrics (and scraps) these soft stuffed pumpkins make great decor or gifts.
This Pretty Fall Pumpkin Pillow at flamingotoes.com is just perfect for adding a little touch of Fall to your sofa.
Designer Erica Dietz wanted to make a large pumpkin so decided to use a super bulky yarn for this crochet pumpkin. She loves to use bulky yarns for fall projects. Click on the picture for all the instructions.