Some of my favorite childhood memories are about sewing with my mother.  My mother is a seamstress by trade, and as I was growing up she made all my special occasion clothes, as well as lots of mother/daughter matching outfits.  I mainly made clothes for my Barbies.  I remember sewing alongside her, my child size sewing machine close by her sewing machine.  We'd go shopping for fabric and patterns together.  It was a wonderful activity for us to share!  I strongly encourage you to share your craft with the little ones in your life, whether they're your children, grandchildren or family friends.  Don't be intimidated by the idea of teaching children to sew!  Here are several tips for getting started.
Sewing Pledge
Before you even get started, you (and the child, if they are old enough) should read this "Learn to Sew" pledge from Crazy Little Projects.  It's a serious yet fun reminder to relax, be patient with yourself, and remember that practice makes perfect  us better.
Lace Up Cards
Lacing cards are a wonderful way for very young children to master the simple act of moving thread up and down.  You can buy wood  lace up cards at most toy store or education shops, or you can make your own.  There are multiple free printables online for lacing cards, like this adorable cow from Activity Village.  Print the image on cardstock, cut it out, laminate it, and punch holes with a hole puncher.  Use shoelaces or yarn to "sew" the image.  You'll be surprised at how long this activity will keep little ones entertained!  For more lace up card ideas, visit Mom's Best.
Hand sewing
Once kids are ready to take a needle to fabric, you can start introducing basic hand sewing techniques.  It's a good idea to start with a basic running stitch, and there are many fun projects which allow kids to practice this technique.  Finger puppets are an excellent first sewing project because they are small and not time consuming to make, so little ones won't get discouraged.  To simplify the process as much as possible, use a non-fraying fabric like Oly*Fun.  You'll love the hand puppets and Minion finger puppets that are shared in this post.  Older kids who  want to sew something they can use every day might enjoy making this simple bean bag device holder.
The Sewing Machine
Once your child has expressed an interest in sewing and is ready to do more, you may want to invest in a sewing machine.  Your time and money will be better spent on an actual sewing machine made for kids, and not the flimsy craft store kid's sewing machines.  Many sewists recommend Janome sewing machines, and the Hello Kitty machine is popular with lots of young girls.  Before you begin using the machine, you'll want to walk your novice sewist through the basic parts of the machine.  Crazy Little Projects has an excellent pictorial guide that will help guide you should you need help.
Just like with hand sewing, start sewing basic straight lines first.  Let the child practice on scrap fabric to get used to feeding the fabric and keeping as straight a line as possible.  Once that's mastered, a fun first project is a basic tote bag.  Again, Oly*Fun is a great fabric medium to learn sewing with because it won't fray.  Children can cut and start sewing without worrying about messy edges.  This tote bag would be fun for kids and adults to make together…the child can make the tote while the adult adds the appliqué design.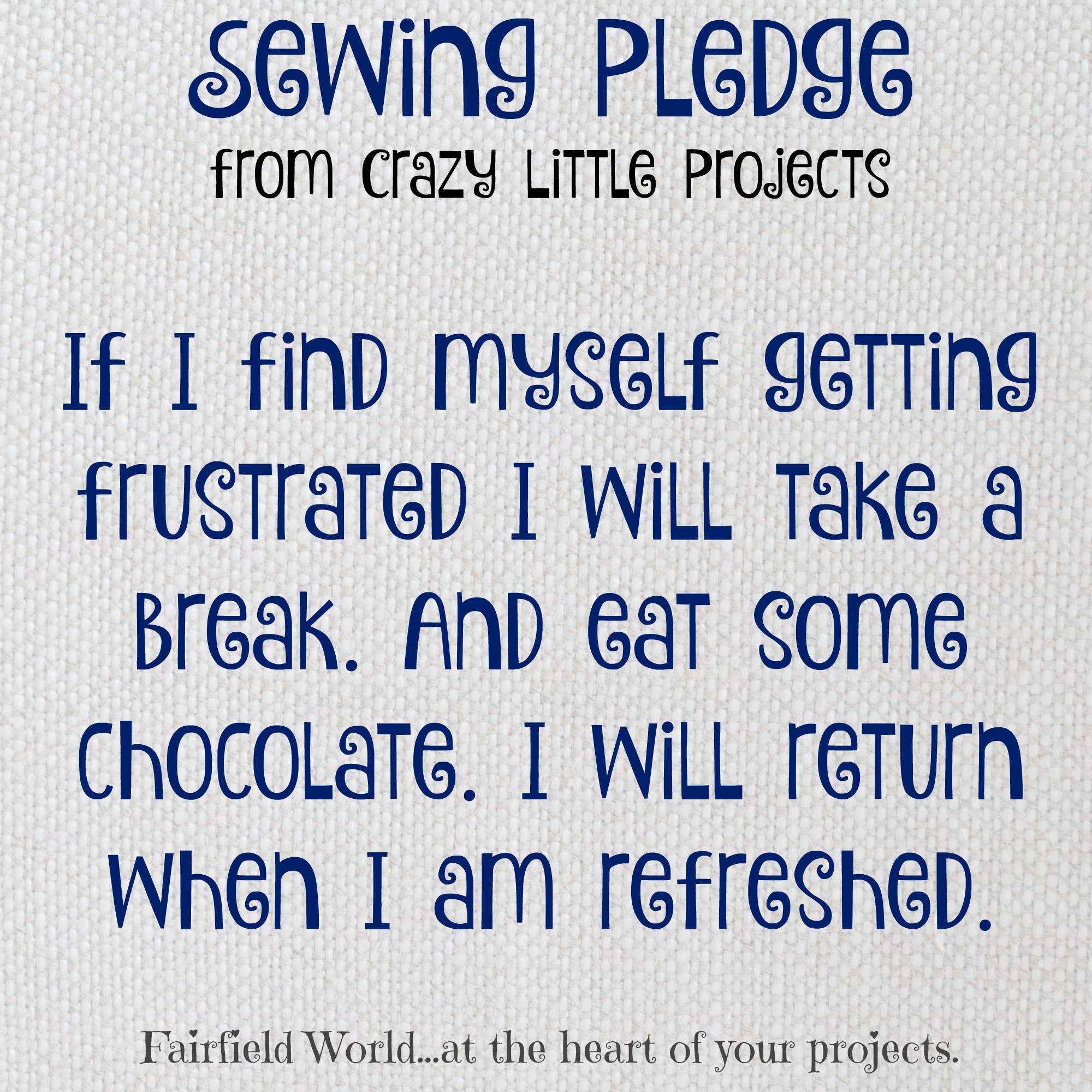 Once your child has caught the "sewing bug" you can explore the Fairfield World site for inspiration for your next project to make together!  You can filter the projects by material (here are the Oly*Fun projects) or by skill level (here are the beginner projects).  What will you and your little sewist create together?