The cares of the world seem to fade away when you're swaying in a hammock. Cool breezes and eyes focused on the sky give you an opportunity to unplug and unwind from the day's stresses. Forget benches and lawn chairs…hammocks are so well loved that they get their own day! Celebrate the most relaxing seating ever invented on July 22nd, National Hammock Day. These project ideas will help you add your signature DIY touch to the festivities!
If you love hammocks, odds are that you already have one. Give your well-loved hammock a facelift when you sew a slipcover for it! Lorine Mason used Poly-Fil Batting, outdoor fabric in fun colors, and velcro to make a cozy slipcover for her hammock. Another added bonus to this project is you can easily remove the cover and wash it as needed!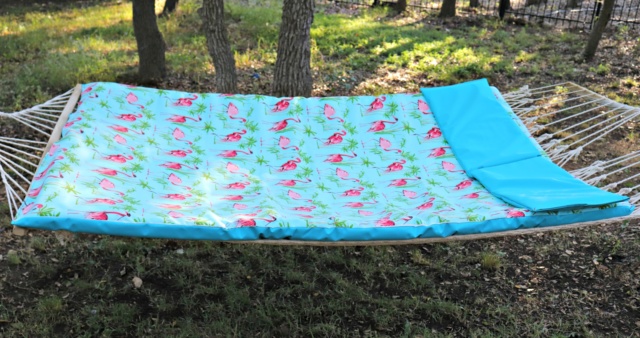 With four kids, I needed an extra wide hammock. Unfortunately, the spaces in the rope hammock I purchased were too large and my little ones' limbs kept falling through them when they tried to come in. To solve this problem, I used my favorite outdoor cushion foam to make the cozies hammock cushion! NuFoam is made with densified polyester batting (making it mildew resistant) so you can leave this cushion out all summer long.
If you're looking for a quicker project, tie dye is a fun way to add lots of color to a faded or neutral colored hammock. I used one-step dye that doesn't require hot water, and this allowed my kids to join in on this crafty project. It does get messy, so head outside for this DIY! While you're at it, use this unique glue resist technique to tie dye some pillows for your hammock.
This modern twist on a hammock places one end higher than the other to create a swinging outdoor hammock chair! Brit+Co used canvas cloth with fabric paint to make her chair. You could also use outdoor fabric in a print you love paired with batting to skip the painting and make a softer hammock chair.
Not enough trees on your property? No problem! You can build your own hammock stand on a budget. When the DIYers at See Girls Blog realized their trees were too far apart to hang their new hammock, they busted out the power tools and got to work. With this DIY hammock stand you can now sway almost anywhere in your yard on National Hammock Day!
This tutorial is perfect if you don't have any trees on your lot or if your trees are still young and too small to support a hammock. Anika's DIY Life has the complete tutorial for a hammock stand that you can use anywhere: in the yard, on the patio, etc. She said it only took a few hours to make, so you can build it and then relax in your hammock all on the same day!
While hammocks technically don't need pillows, I always like to add at least one. I love a pretty pillow because it instantly adds interest and personality to any space. Miss Lovie used sturdy duck canvas to make pillows for her hammock. Fairfield World has a massive variety of options for filling your pillows, or you can also use NuFoam since these pillows will be outside all summer.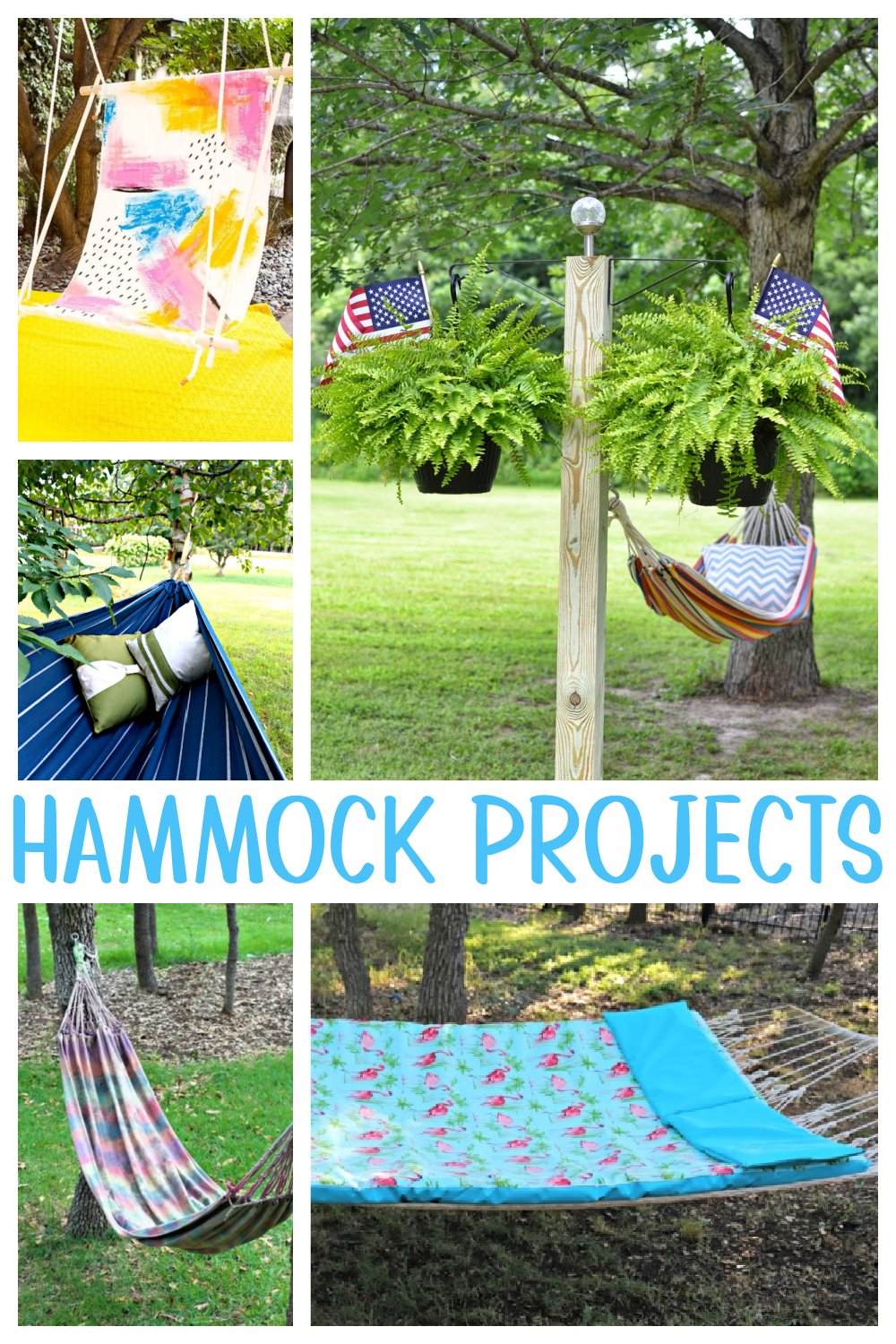 If you start one of these projects now then you'll be set for National Hammock Day on July 22. I know I can't wait to read a book and daydream while relaxing in my hammock. For more fun outdoor entertaining ideas, check out these DIY projects for family fun!