In years past, sewing and quilting were crafts that were passed from mother to daughter.  Women in families spent a great deal of time working together and teaching younger family members their crafts. Many of you may have acquired your own quilting skills from a beloved mother, grandmother, or aunt.  Handicrafts are such a wonderful way to spend time with loved ones and to learn from each other.  With mother's day on the horizon, we are taking a look at several mother-daughter quilting duos.  We will also share a few fun mother-daughter quilts you may enjoy working on with your own mother or daughter!
Sue Nickels has been teaching quilting for over 30 years.  Her daughter, Ashley Nickels, learned from her mother and inherited her talent.  The pair collaborates often, teaching quilting via video classes at Creativebug. You can watch the short video above to learn more about this fun mother-daughter quilting team.
Sue's style is more traditional, and she finds her inspiration by studying classic quilts.  Ashley has a modern aesthetic, finding inspiration from the world around her.  The pair teams up regularly to share their love for their art with quilters of all levels.
Eleanor Coonts and her daughter Mary Utt are the only mother-daughter duo in their Log Cabin Quilter's Guild in West Virginia.  They were selected to be the featured quilters for the Mountain State Forest Festival's Quilt Show two years ago.  Eleanor started sewing in the 1930s, and taught her daughter to sew as a child.  In the 1980s or 90s both women began quilting independently.  They would call on each other for assistance or when one needed a particular color of fabric.  Eleanor's quilts, made for her children and grandchildren, are considered utility quilts, whereas her daughter focuses on art quilts.
Louise and Cami are a mother/daughter quilting team who work together as professional machine quilters.  They have their own business that they operate together, All About Quilting and Design. The mother/daughter team provides their customers with machine quilting and finishing services.  Their  longarm machine is a Gammill Supreme augmented with a Statler Stitcher computer system. Isn't it wonderful that these two talented women could turn their skills into a business they could enjoy together?
Now that we've met some wonderful mother/daughter quilting teams, let's check out some beautiful projects that will be perfect for pairs to make together.  Here are some of our favorite mother and daughter quilt patterns.
This mother and daughter quilt pattern shows a tender scene of a mother and her child playing cat's cradle together.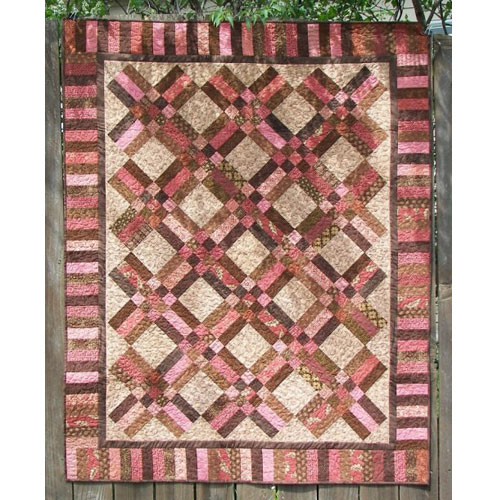 Mothers and daughters quilt for the cure was designed by Tara Lynn Darr as a fundraiser for breast cancer research.
These two quilts were created by a mother/daughter team using the same pattern, two of a kind, but each adding her own twist to the design.
Aren't these ideas lovely?  If you're a mother or mother figure interested in teaching your child to quilt, we have some tips to help you get started.  Read our suggestions for how to teach a child to sew. Follow those lessons up with these tips on how to teach children to quilt. These ideas will help you begin your own mother/daughter quilting tradition!