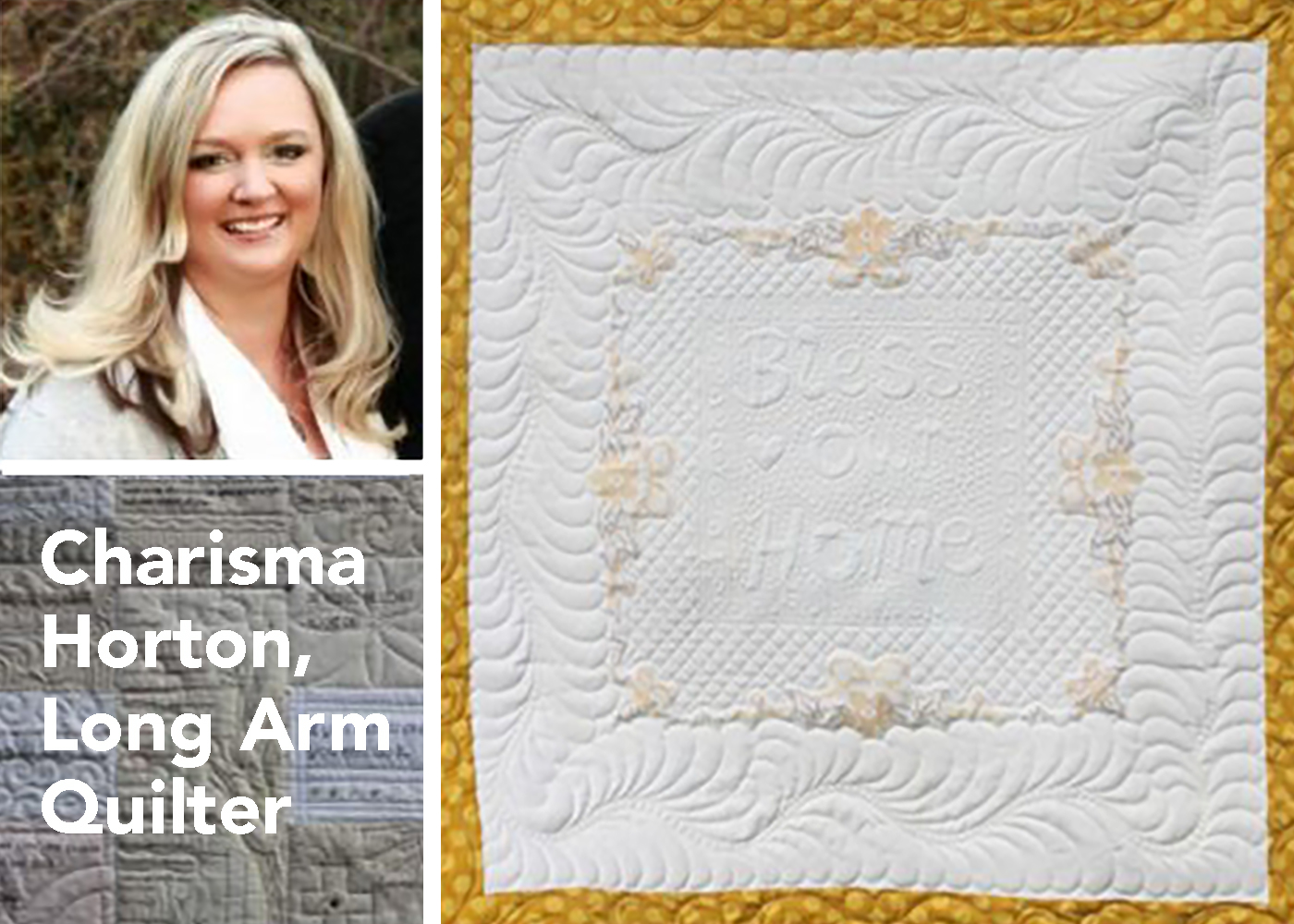 For this "Meet the Pro" segment, we are delighted to introduce you to one of our own Master Makers, Charisma Horton. Charisma is an extremely talented long arm quilter who is well versed in many different styles of quilting. In her own words, "My creative style when it comes to quilting is probably 'not a 1 trick pony'. I dabble in every style…traditional, modern, eclectic. I like to mix everything. I feel it adds interest."  
We certainly agree that her style adds interest to her work.  Check out one of our favorite pieces by Charisma, a quilted vintage tablecloth that she made over into a fabulous piece that is a work of art.  This piece, like all of Charisma's creations, showcases her skill, artistry, and passion for long arm quilting.
I had the opportunity to chat with Charisma recently, and she was kind enough to share a bit more about her work.
FFW:  What is your favorite project or tutorial that you've created?
Charisma:  My favorite project is always quilting. I am a longarm quilter and love the whole process. But I love quilting because I can see the quilt in my mind before it's finished. Quilting breathes life into a quilt. My favorite tutorial is actually on hand embroidery because that's my second passion.
FFW:  What would be your perfect crafternoon?
Charisma:  My perfect crafternoon would be sitting on a cozy couch on a rainy day….drinking some tea and hand stitching some wool.
FFW:  Do you have a favorite quote or inspirational phrase?
Charisma:  A favorite quote of mine is …I actually have a lot of favorite quotes. I made a huge quilt with several quilts I hand stitched. One of them is: "We are happy when we are growing." I think this is true in every aspect of my life. Crafting, physically, mentally or spiritually…whenever I am learning and growing I am happy.

To learn more about Charisma's work, please be sure to visit her at her website, Charisma's Corner or her Etsy Store. You can also find her on both Facebook and YouTube.  We think you will love her artistry as much as we do!