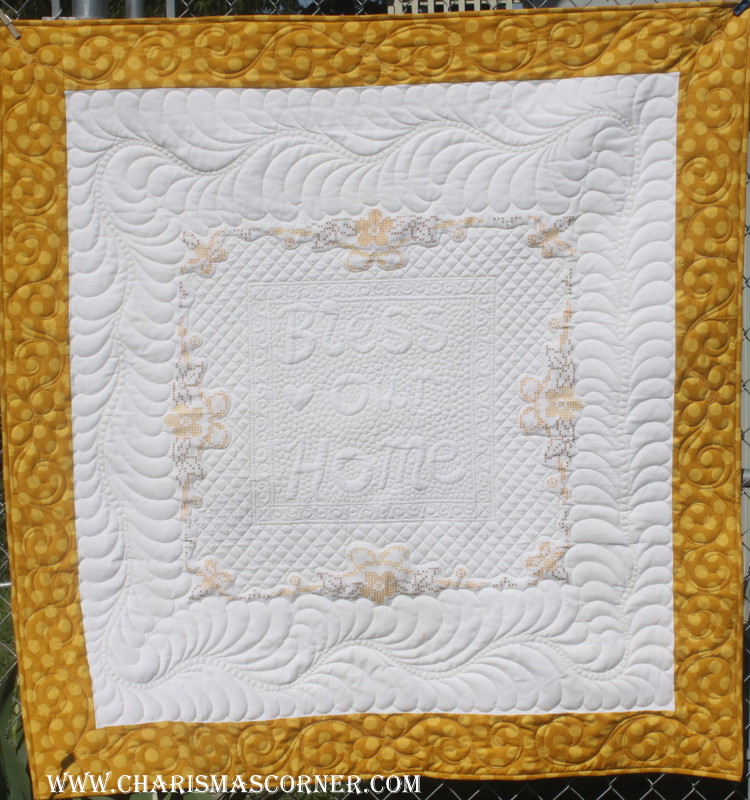 This is an unbelievable Quilted Vintage Tablecloth make over.
What you need for this Quilted Vintage Tablecloth project:
Vintage Linen
2 Layers of Batting ( Soft & Toasty and Wool)
Muslin Backing
2 Yards of Fabric for Border and Binding (Sub cut into five 5 inch strips and five 2.5 inch strips)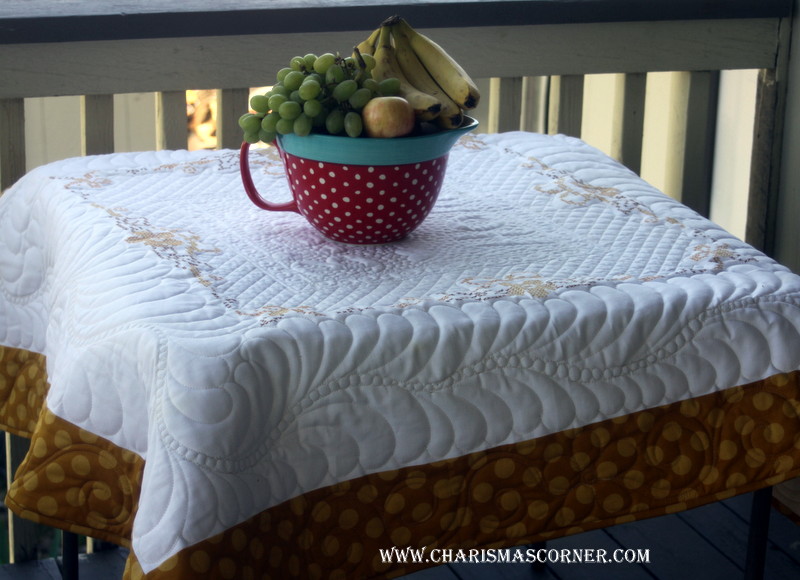 I love-love-love vintage linens and anything that speaks of days gone by. If it has any sewing or handwork by a previous maker it warms my heart even more.
I happened upon this vintage beauty at a church yard sale and I picked it up for 25 cents. I know. Amazing! I actually picked up all that they had. They will all eventually be quilts or in a quilt. I love that they get a new lease on life and I can add my own personal touch to them. I love that I get to collaborate on a project with someone I didn't know and add my own talents to a project.
This particular linen has been cross stitched by hand, here is a close up picture of the front & back: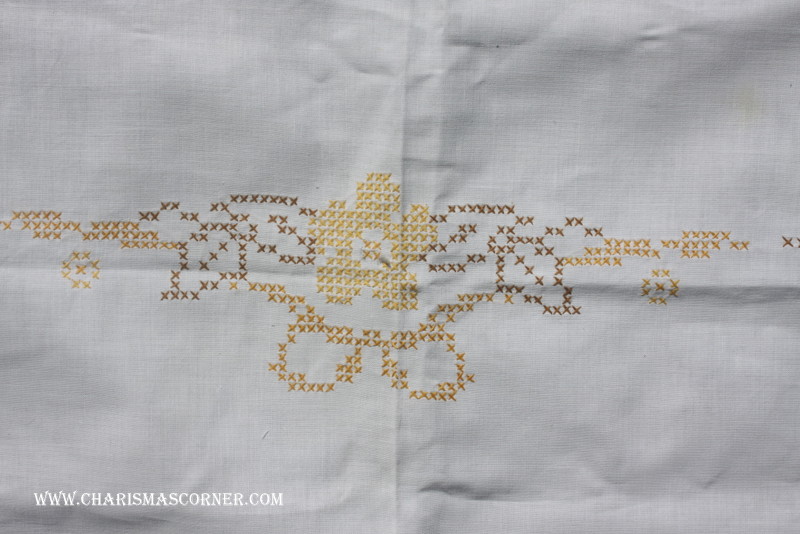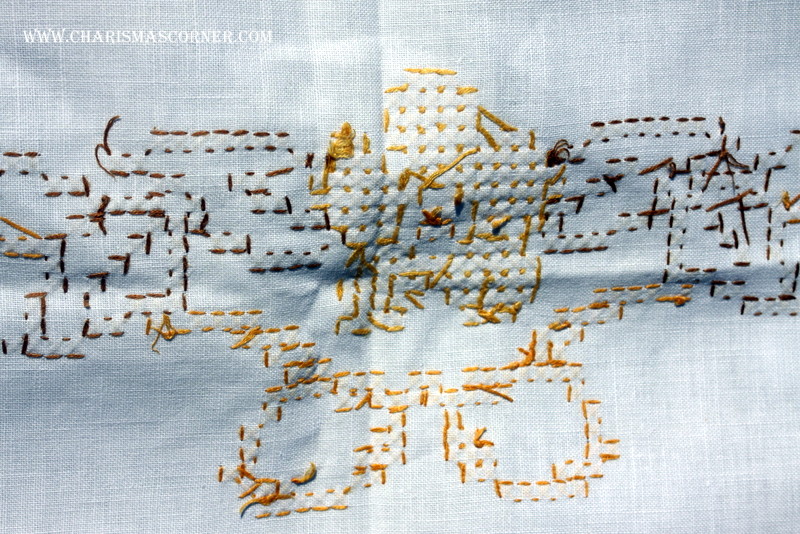 You can see that the yellow border was also added and stitched by hand. Tiny, tiny stitches that only a skilled sewer can do.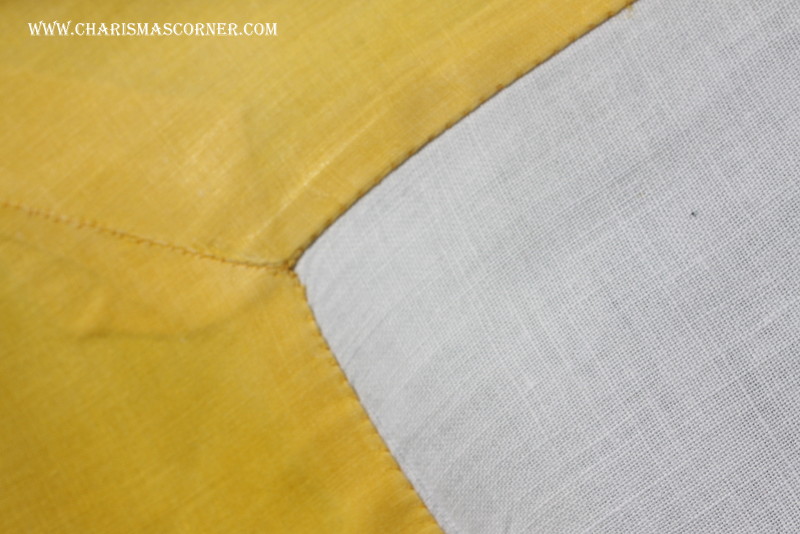 Mitered corners as well…..stitched by hand.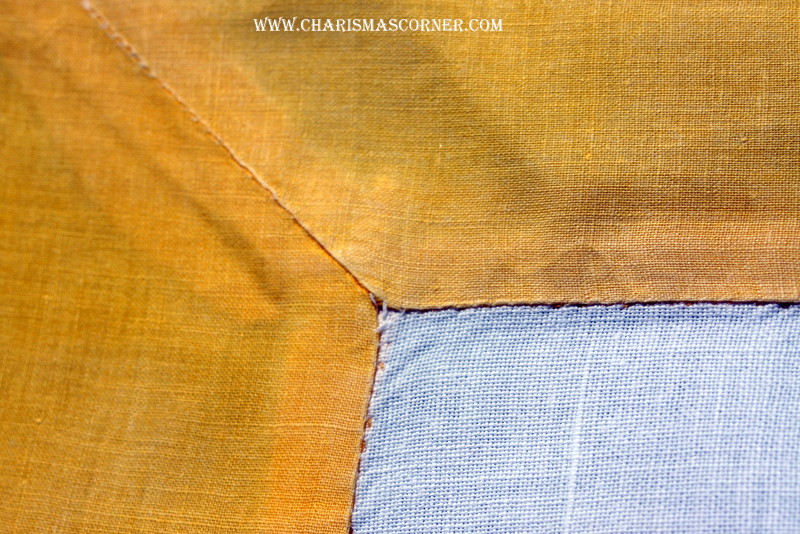 You can see from the pictures that this tablecloth isn't exactly square, so I had to make a judgement call and I decided to square it up. That meant that I was going to most likely have to cut off the yellow border. I was originally going to try to keep a bit of it (all of that hand stitching was a shame to waste) but I couldn't get it as square as I wanted without making the border to uneven. So it had to go. I added the large 5 inch polka dot border to give a bit of a modern feel, while also keeping the color scheme. After I added the border it was time to load it onto the frame and quilt it.
Before picture:

You will need to squaring up the Quilted Vintage Tablecloth:

I have made several of these Quilted Vintage Tablecloths and there are some tricks I have learned that I will share. I didn't have to do any repair work on this particular one. But sometimes you might find a hole or stain in some of the vintage tablecloths. Or they might be so worn out in places the integrity might be compromised while making them into a quilt. You can either applique something over or under the hole. Or use a little fusible interfacing on the damaged part under neath the hole with some fabric. If the linen is too thin or worn in spots you can use a layer of muslin under the top in between the batting or iron on interfacing to stabilize the fabric. I have used both with great results.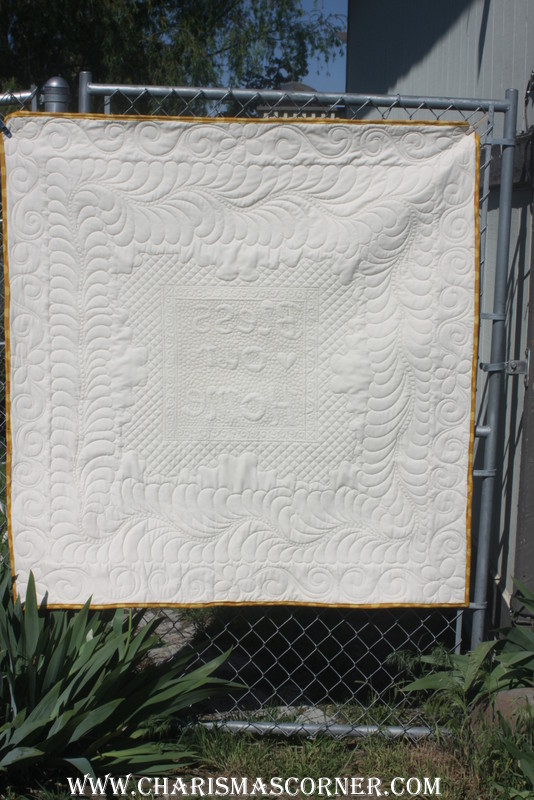 I chose a simple muslin backing. When quilting a project like this I like muslin for a few reasons:
It shows the quilting really well.
It fits the theme of the project.
Vintage quilts used muslin backings.
I also used 2 layers of batting. The bottom layer is Fairfield World's Soft & Toasty batting. The top layer is Fairfield World's Wool Batting
The reason for 2 layers of batting is to give it a bit more dimension with the quilting. I happened to use two natural fibers in this quilt, both battings are completely washable and will hold up well. Once this quilt is washed and dried it will get the vintage crinkly look. I tend to use natural fibers in my vintage quilts to maintain that vintage look.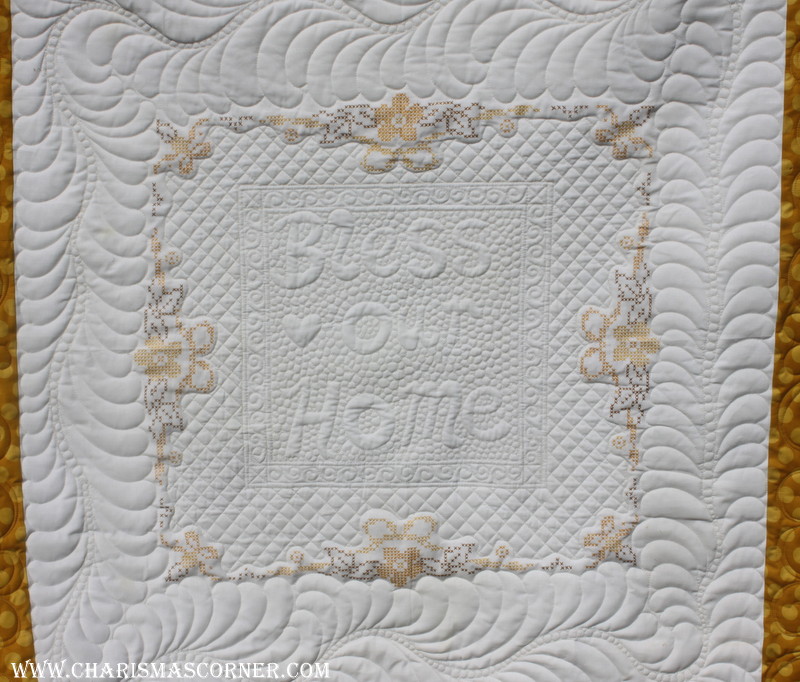 I decided to add a personal message in the center of the quilt with my stitching "Bless our Home" to create a focal point. I am a longarm quilter and the quilting is my favorite part of the process of creating a quilt. I really want my stitching to shine. I pebbled around the message and created a frame in the stitching in which to hold the personal message. It is reminiscent of a stitched embroidery in the center of my quilt, to keep with the vintage handwork theme. I just wanted to add it in my modern way. In the background behind the frame and inside the original gold and brown cross stitch work I added cross hatching. Cross hatching is a very traditional design. On the other side of the original cross stitch work I added a feather with a pebbled spine. In the outer polka dot border I added 5 petal flowers with ribbons to mimic the original cross stitch pattern.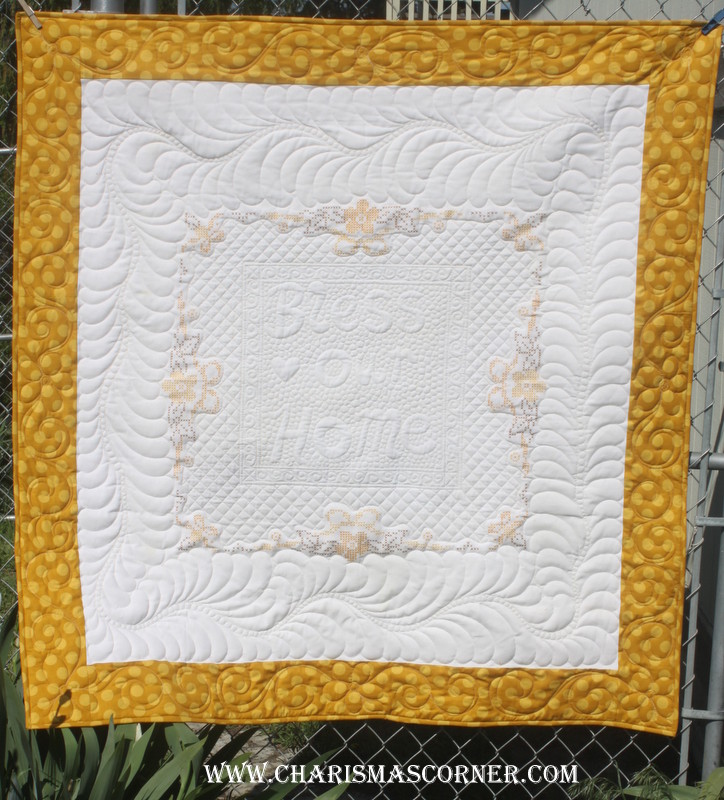 Then I used the 2.5 inch strips to bind it in your prefer method.
Viola! I quilted a tablecloth or wall hanging!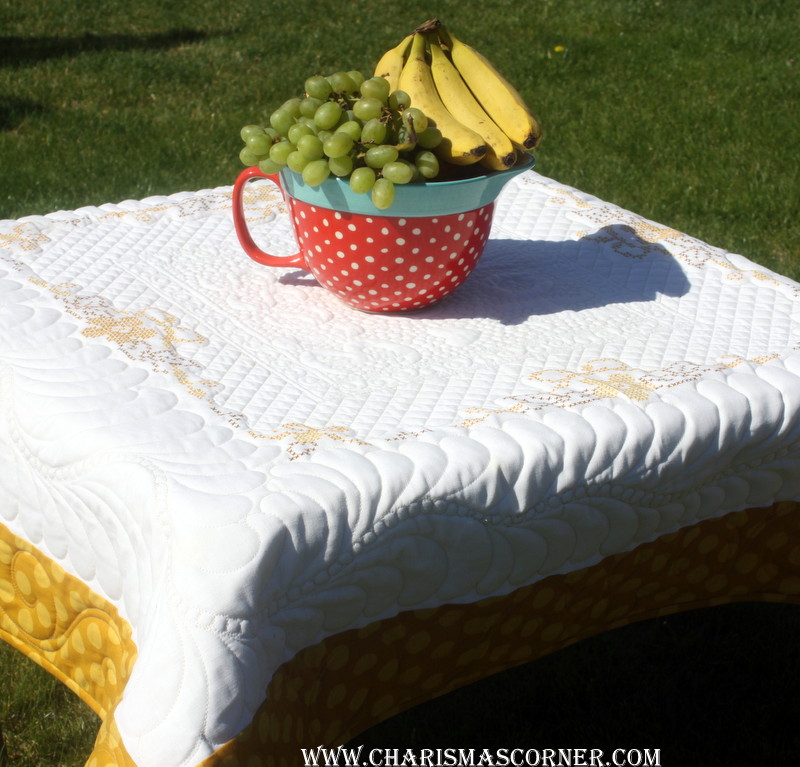 It's yard sale season now! I hope you find some treasures that you can convert. Please share your projects, I would love to see them!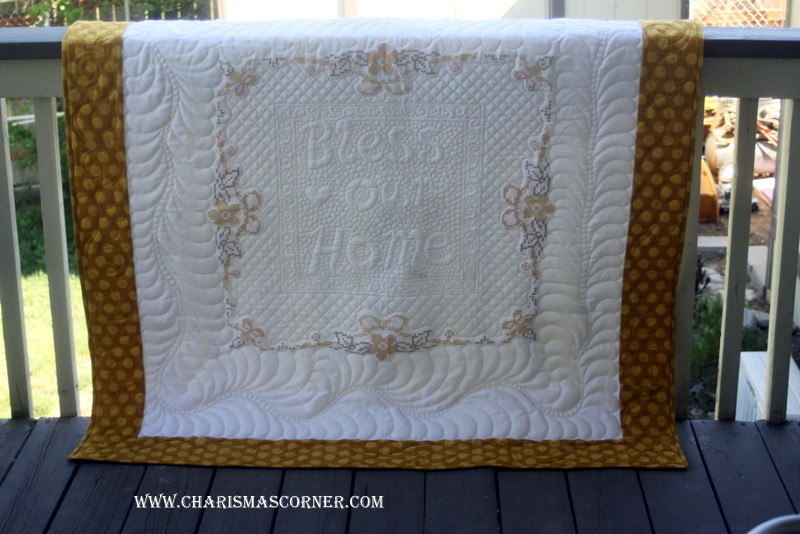 Charisma

Hope you love the Quilted Vintage Tablecloth makeover as much as I do.