We love making seeing all kinds of snow globes using a variety of our Fairfield World™ products.  Learn how to make Creative Snow Globes quickly and easily with Poly-Fil, Poly-Pellets, Fluffy Snow, Glasslets, and Batting. We are excited to share these inspirational projects with you!
12 Creative Snow Globes with Fairfield World
Creative Snow Globes with Poly-Pellets
Laura from Me and My INKlings uses Poly-Fil® Poly-Pellets® to create unique Snow Globes. Using a variety of clear containers to show how to make DIY Snow Globes. From a Gumball Machine to a Glass Jar, and even a Drink Pitcher.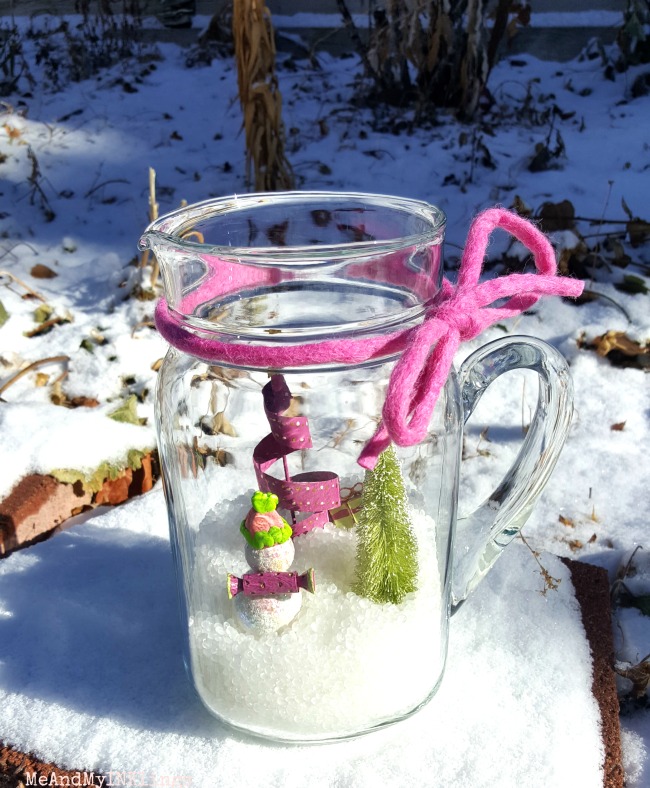 Beth, from Creatively Beth, is sharing an Easy Christmas Truck Snow Globe a 15 Minute DIY. For a filler, she used our Poly-Fil® Poly-Pellets®.   We love how Beth shows that snow globes can be made in any shape and size.
Morena from Morena's Corner is creating a trio of Miniature Snow Globes and we LOVE this cute as can be Snow Globe Necklace with a tiny bear with Poly-Fil® Poly Pellets®  Click through to see all three!
Laura also creates a Melted Snowman in a Jar with a FREE Printable Tag to download. Grab some Poly-Fil® Poly Pellets® a small jar with a lid and some clay to make the coal eyes and carrot nose. This is a fabulous idea for Valentine's Day.
Creative Snow Globes with Fluffy Snow
But don't stop at just creating globes for decor – you can also wear them!  Morena mixes the concept of a snow globe with that of an ugly sweater, creating this fun Snow Globe Sweater perfect for parties.  Using our Poly-Fil® Micro beads for filler and our Poly-Fil® Fluffy Snow for finishing the look, this is a great project for all crafters.
Morena also takes the Poly-Fil® Fluffy Snow and uses it as the base of her Gumball Machine Snow Globe, so that the Poly-Fil® Poly Pellets® won't fall down into the base – BRILLIANT idea!
Creative Snow Globes with Bean Bag Filler
Morena takes a cute clock and makes it even cuter as a snow globe!  We love how this craft stands the test of "time".  You can see all the details of this project and her shadow box snow globe video tutorial here.  She uses our Poly-Fil Mini Micro Bead Filler to create these great home decor pieces.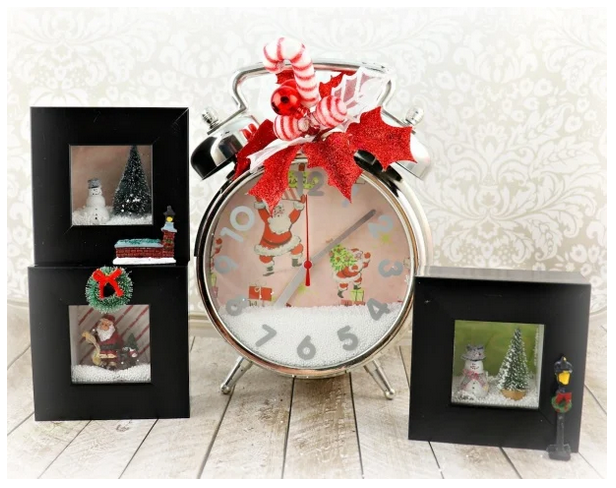 Laura from Me and My INKlings shares the different ways to use Fairfield fillers and make DIY Snow Globes on Fox News Denver! She always shares the best ideas for quick and easy crafting.
Creative Snow Globes with Poly-Fil® Glasslets
Lindsay with Artsy Fartsy Mama is sharing quick and easy ideas for a Creative Crafternoon complete with DIY Snow Globes using Poly-Fil® Glasslets and some little miniatures from Dollar Tree. Fun to make with your girlfriends on a wintery afternoon.
Laura from Me and My INKlings is sharing how to make a Vintage Gumball Machine Snow Globe in just two easy steps. Using Poly-Fil® Glasslets adds to the vintage feel and that deer is darling!
Beth with Creatively Beth is sharing a 5 Minute Snow Globe Ornament with our favorite Poly-Fil® Glasslets. Perfect for those ornament jars from the Dollar Tree, just add some trim and ribbon.
Creative Snow Globes Using Poly-Fil®
Laura from Me and My INKlings is always sharing such creative projects using our favorite Poly-Fil® Polyester Fiber Fill. Something we could never dream up is a DIY Felt Snow Globe Pillow! And it is INTERACTIVE, so the images can be moved around on the snow globe – BRILLIANT!
We hope that you have enjoyed this round-up of quick and easy Creative Snow Globes and you will use the fantastic variety of Fairfield™ products to make something this Winter season.
Sharing is caring! Too busy to make this right now? Pin it for later!  We'd love for you to pin this to your favorite craft board on Pinterest and then it'll be waiting for you when you're ready.
Want even more inspiration? Check out the Fairfield World Pillow Party 2021, or the Fairfield Pillow Party 2019 and the Fairfield Pillow Party 2020 for dozens of Last Minute Christmas Craft Ideas.
We love being at the heart of your projects for over 80 years!