We love making seeing all kinds of snow globes using a variety of our Fairfield World™ products.  And we are excited to share these with you!
Beth, from Creatively Beth, started with a jar and a red truck.  For a filler, she used our Poly-Fil® Poly-Pellets®.   We love how Beth shows that snow globes can be made in any shape and size.
But don't stop at just creating globes for decor – you can also wear them!  Morena mixed the concept of a snow globe with that of a ugly sweater, creating this fun sweater perfect for parties.  Using our Poly-Fil® Micro beads for filler and our Poly-Fil® Fluffy Snow for finishing the look, this is a great project for all crafters.
How about a rustic snow globe?  This delightful one, from Erin Reed Makes, using supplies from the Dollar Tree.  She uses a glass vase, gold tree, wood oval, twine, and floral spray), plus some Poly-Fil® Poly Pellets®, and a glue gun.  You can see her video tutorial here.
Morena takes a cute clock and makes it even cuter as a snow globe!  We love how this craft stands the test of "time".  You can see all the details of this project and her shadow box snowglobe video tutorial here.  She uses our Poly-Fil Mini Micro Bead Filler to create these great home decor pieces.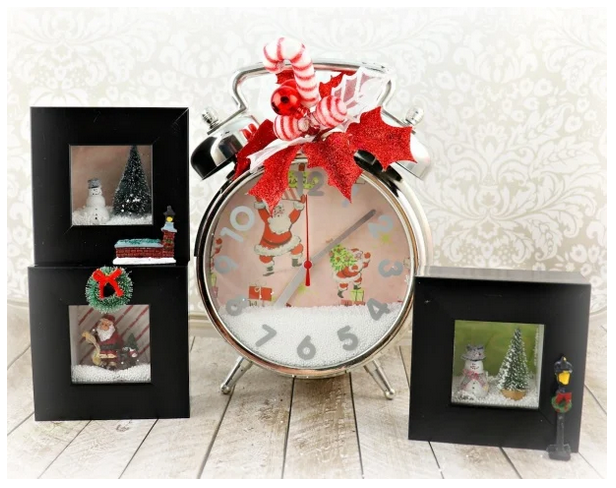 We hope you love these snow globe crafts and are excited to try them yourself.  We are always trying to provide you the best ideas and inspiration on how to create ideal projects using our wonderful products.