Super excited to be hosting the Fairfield Holiday Pillow Party 2021 with one of our favorite designers, Laura Kelly of Me and My Inklings. Pillows provide a fast and affordable way to update and decorate any room. So what better way to decorate for the Holidays than with some fun and festive pillow creations? We invited a group of talented designers to share their Holiday Pillows with us for the 2021 Fairfield Holiday Pillow Party!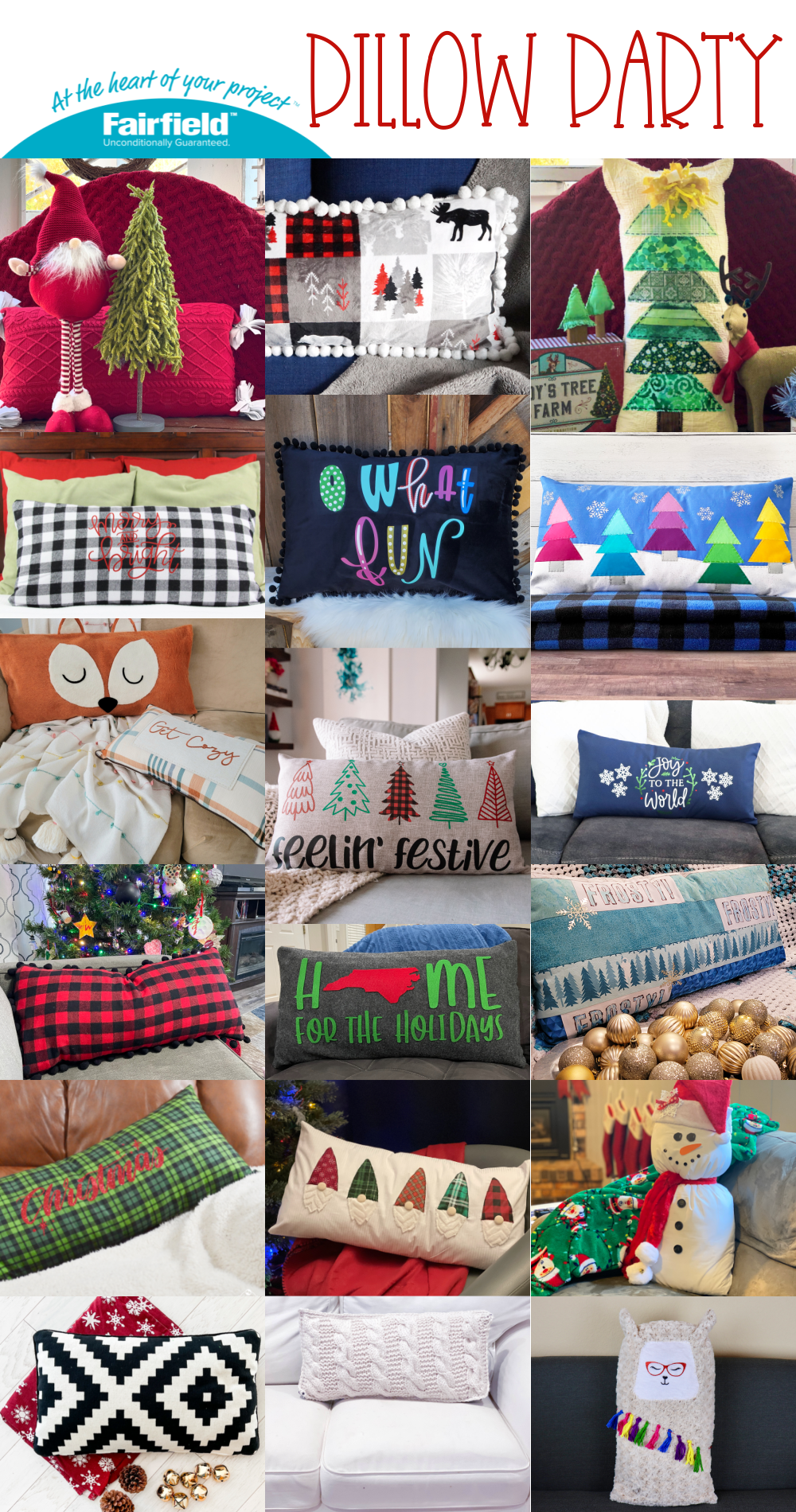 Meet Our Hostess
Laura Kelly Walters, Licensed Doodle Artist, FOX News Craft Expert, Project Designer, and owner of Laura Kelly Designs. Plus Me and My Inklings blog where messy meets adorable.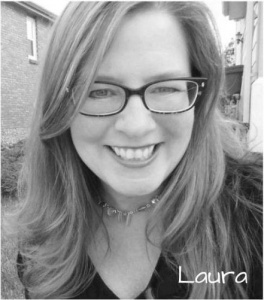 Laura is a licensed doodle artist, creating thematic collections for products in an array of industries. When she is not busy doodling away with her favorite markers. Then you will find her creating crafty projects in the studio, kitchen, and garden.
Laura's bright, energetic and creative style that appears in her designs mimics her personality.  She is always willing to jump in and try new things, share ideas and work collaboratively to create amazing results.  She faithfully volunteers in her local schools and in organizations all around the country to promote art, creativity, and kindness.
Fairfield Holiday Pillow Party
The fabulous round-up of pillows were all created using the 14″ by 28″ Poly-fil® Premier Lumbar Pillow insert, so they are soft and comfortable with just enough plumpness to showcase the gorgeous pillow designs.
Poly-Fil® Premier™ Pillows
Our ultra plush pillow inserts have the look and feel of down and are a favorite among designers, and crafters. They are filled with polyester fiberfill and feature a cotton/polyester, high-quality cover.
They are wonderful for a variety of uses around your home. Perfect for adding a splash of color or a cozy spot when placed in the corners of your couch. Brighten up a pillow scape in your bedroom while creating a soft comfortable feel. They offer the right combination of softness and support for a window seat or reading nook. Combine them with some outdoor fabrics for added design on your porch, deck, or lounge chairs.
A Creative Collection of Holiday Pillows
Laura of Me and My Inklings has created a cozy Cable Knit Sweater Pillow from a child's dress discovered at the thrift store. Complete with felt pom poms on the four corners.
Lindsay of Artsy Fartsy Mama is sharing a soft and snuggly Cozy Cabin Cuddle Pillow with minky fabric from our favorite Shannon Fabrics. The ball fringe accent trim is everything!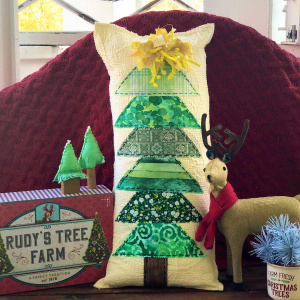 Beth of Creatively Beth has made an Upcycled Christmas Tree Pillow from a quilted pillow sham and a scrappy star up on the tippy top. Love the vintage feel of the fabric mix!
Morena of Morena's Corner is sharing THE CUTEST Llama Lumbar Pillow DIY from a fun textured fabric and rainbow tassel embellishments. We'd love to cuddle up with that sweet face!
Premier Lumber Pillow Inspiration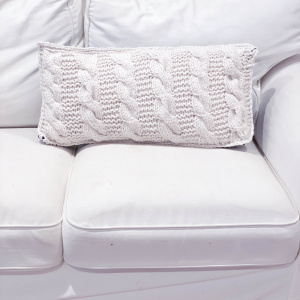 Smitha of Smiling Colors is sharing a Hand Knitted Cable Pattern Pillow that is an elegant accent to her cozy white sofa. The texture is amazing!
Susie of My Time 2 Play has created a Frosty Holiday Pillow with Sublimation with gorgeous shades of blue and metallic snowflakes. Perfect for a comfy Winter movie night!
Laura of Laura's Crafty Life has made a lovely Joy to the World Pillow on a rich navy pillow cover. Complete with a free SVG cut file!
Elise of Polka Dot Blue Jay is sharing a quick and easy Merry and Bright Pillow made from cozy flannel buffalo check with a super fun pop of red, and a free SVG cut file!
Cozy Holiday Pillow Party
Debra from Debra Quartermain Designs has created the most adorable Foxy Slumber Lumbar Pillow from cozy plush felt. Love that sweet sleeping fox face, and those ears!
Natalie of Doodle Craft has a bright and colorful style she is sharing on a Layered Iron-On Vinyl Pillow featuring a quote from Jingle Bells – O What Fun!
Teresa of Simply Made Fun has created a Feelin' Festive Christmas Tree Pillow with some funky doodle pattern trees and a free SVG cut file.
Katie of The Crafty Blog Stalker is sharing a snuggly Pillow Cover with Envelope Closure from red and black buffalo check plaid and festive jumbo ball fringe trim!
Wonderful Winter Pillow Party
Katie of A Sweet Berry Designs is sharing a Home for the Holidays Pillow created from felt and giving a huge shout-out to her home state of North Carolina!
Jenny of Jenny's Colorful Life has created a Bold Pattern Pillow for Holiday Decorating with a modern black and white color scheme, and gorgeously finished edges!
Chelly of We Can Make That is sharing a super cute No-Sew Snowman Pillow complete with a dapper Santa hat and bright red scarf. Love that carrot nose!
Erica of 5 Little Monsters has made a Five Little Gnomes Pillow with minky soft beards, festive plaid hats, and button noses. One gnome for each one of her kiddos!
Blanca of Creativities Galore is sharing a Warm and Cozy Christmas Pillow made from comfy flannel. Accented with a pop of red glitter heat transfer vinyl. Love that sparkle!
Kimberly of Crafting Cheerfully is sharing a colorful Ombre Christmas Tree Pillow with fun falling snowflakes. We would love to leave this bright pillow out all Winter long!
2021 Holiday Pillow Party with Fairfield
The 14″ x 28″ lumbar inserts are perfect throw pillows for any room in the house, the RV, and more. Whether you use them together or apart, they are the most versatile pillows you will find.
Have a Holiday pillow you want to share? Visit us on social media and tag us @fairfieldworld. Use hashtags #FFWpillowparty, #FFWHoliday, #Fairfield, #MadeWithFFW, #PolyFil along with your post.
Now it's Time for a GIVEAWAY!
Want even more inspiration? Check out the Fairfield Pillow Party 2019 and the Fairfield Pillow Party 2020 for dozens of ideas.
We love being at the heart of your projects for over 80 years!