Ten Beautiful Table Runner Tutorials for the Holidays you can recreate.  Fall and Christmas bring lots of opportunities for hosting events and dinners at home.  While you might be inclined to pull out your best linens at Thanksgiving, less formal occasions call for smaller items like table runners.  Here are ten beautiful projects to help you make your table look fabulous for any holiday or special occasion you pick.
Ten Beautiful Table Runner Tutorials for the Holidays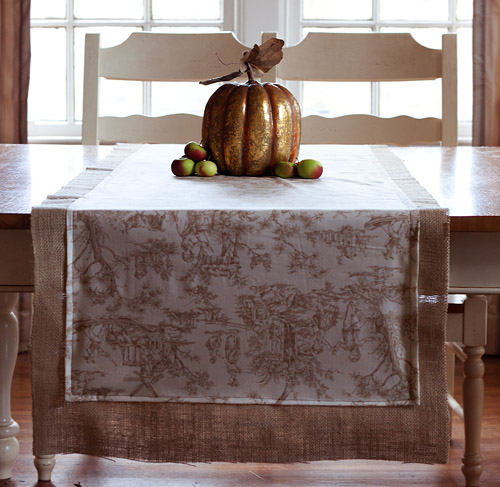 A Toile Table setting from Nesting Project Photography
The combination of burlap and toile is gorgeous and perfect for fall decorating. Toile is great for any season.
Polka Dot Table Runner from Craftinomicon
This project would be perfect for Oly-Fun Fabric!  Since it's non-fraying and available in tons of colors, you could make one for every season.
Hapy Hexagons by My Poppet
WOW!  The color and design of this quilted piece are simply stunning and can be used any time of the year.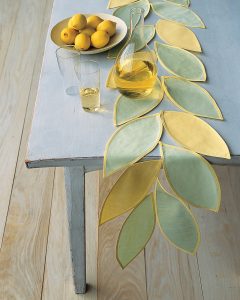 Leafy Adornment  from Martha Stewart
While the colors used in this photo are more summery, you could easily change the color scheme to create a leafy piece that is perfect for fall.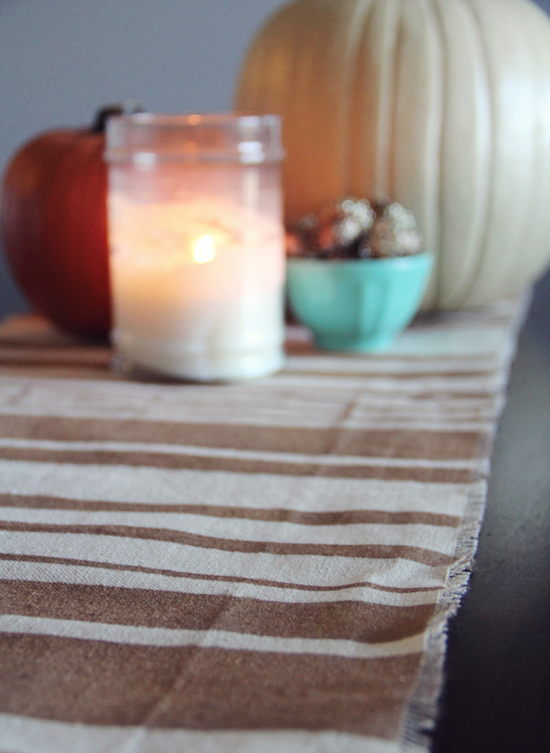 No Sew Style at Poppycock
If you can't find the perfect fabric, you can create your own, like she did with this simple yet elegant no sew project.
DIY Table Runner from Simply Darrling
Quilters will enjoy this project, which is basic enough for beginners to try.
Show off your Vintage Linen by Flamingo Toes
Use different colored linens to create a more autumnal look.  What a great way to recycle cherished linens!
Stack & Slash Table Runner from Samelia's Mum
Another great project idea for those who love to quilt.  It would be a great way to make use of remnants, too.
Herringbone Table Runner by Leigh Laurel Studios
What's not to love about herringbone?  This gorgeous table runner is sure to impress your guests.  Use your favorite color combination for each season.
No Sew Stenciled Burlap Runner from Morena's Corner
Use stencils to create your own design and make a table runner in a style that is uniquely yours.
If you've enjoyed these table runner ideas, you might also like our list of tutorials for casserole carriers you can make yourself.