You or someone special will love this Heart Cuddle Pillow for Valentine's Day.  It's simple to make and can be done in about half an hour.
No one can resist cuddly softness of minky, and using a Cuddle Cake pre-cuts from Shannon Fabrics, and a pillow insert from Fairfield make this a super fast project to put together.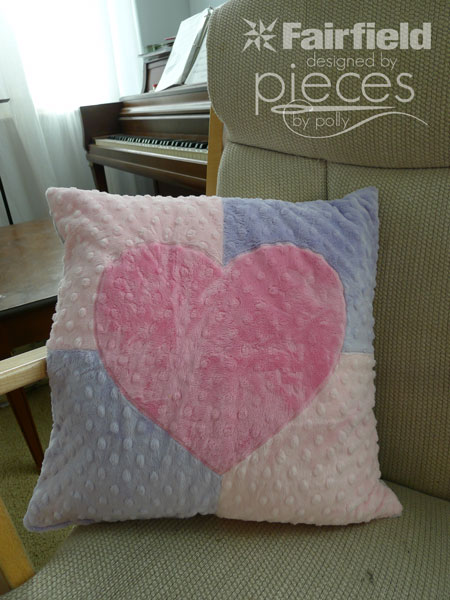 And as added motivation to make one of your own, Fairfield and Shannon Fabrics have teamed up to offer some great giveaways, so you can win your own Cuddle Cakes.  See this post for more details.
Materials:
1 – Cuddle Cake from Shannon Fabrics.  I used the Pretty Pastels with Dimple Finish.  The Pretty in Pink Cuddle Cake would also be super fun for this project.  My personal favorite minky is the flat finish, but this was for my daughter and she prefers the dimples.
Paper backed fusible webbing.
Thread to match the color of your heart.
Pins, sewing machine, basic sewing supplies, etc.
Instructions:
Choose the color you want for your heart, plus two background colors for the front of your pillow.  I chose the bright pink for the heart and the silver and white as my background colors.  You'll also need to choose two colors for the back of the pillow.  I chose light pink and purple for the back.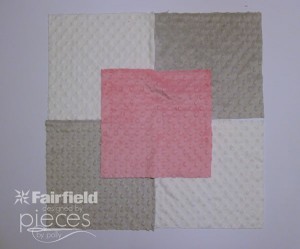 Sew your four squares together to make the front of your pillow.  Repeat for the back.  If you've never sewn with Cuddle Fabrics before, be sure to read the Cuddle tips on the Shannon Fabrics Website before you start.  The basics are that you need to pin A LOT especially with the dimple fabric.  Use a walking foot if you've got one, and I sewed with a 3/8 inch seam.
Cut out 2 of the heart template from your paper-backed fusible webbing.
Iron on to the BACK of your heart fabric.  Cut out your heart.
Peel off the paper backing.
Iron onto your pieced pillow front.  I fount it really helpful to use a ruler to make sure it was centered.  
Sew with a tight zigzag or satin stitch around the edge of your heart.
DON'T backstitch at the beginning and end or you will end up with extra heaving looking stitching.  Instead, LEAVE YOUR THREAD TAILS LONG, and pull them through to the back side of your fabric.  Then tie a secure double knot on the back.
Repeat for the back of your pillow.
Trim your front and back pieces to fit the size of your pillow insert.  I was using a 16-inch pillow insert, so I trimmed mine down to 17-inch squares to allow for a 1/2 inch seam allowance on each side.
Once your front and back are finished it's time to finish up the pillow.  Pin REALLY WELL around all four sides of your pillow.
Stitch with a 1/2 inch seam leaving a large opening on the bottom of the pillow so you can add your pillow insert.
Trim the corners.
Turn right side out.
Add your pillow insert.
Pin the opening closed really well.
Stitch closed.  You could stitch it by hand, so the stitching is invisible, but I wanted a quick project and I just sewed it closed with my machine.
And that's it.  My daughter loves her cuddle pillow so much that she carries it all over the house to snuggle.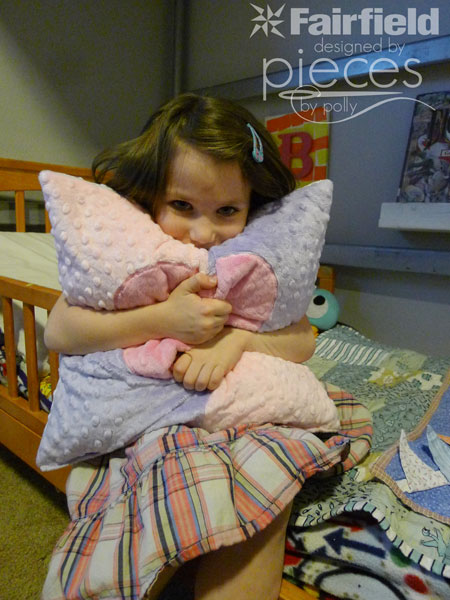 Happy Valentine's Day…and Happy Pillow Making.
And don't forget to go here to find out how to enter the Anniversary giveaway from Fairfield and Shannon Fabrics for your own Cuddle Cakes.
~Polly from Pieces by Polly