Superheros need to protect their identities – whether it is a day of saving stuffed animals, or just an afternoon trip to the grocery store, you can help your little super hero protect their identity with this fast and simple superhero mask!  The mask makes a great stocking stuffer for your creative kid.  In fact they are so quick and easy you could make them with your child to give to their friends as a present.  You can have them help you with different steps depending on their age and skill set.
To make your superhero mask, you'll need:
Oly*fun in color of your choice
Scissors
Superhero Mask template
Print and cut out your mask template. Cut out a long strip of Oly*fun. Place the template on the strip.
You can pin the template in place, or just hold it in place, and cut all the way around. Make sure to extend the end to make nice long ties.
Cut out the eye holes as well.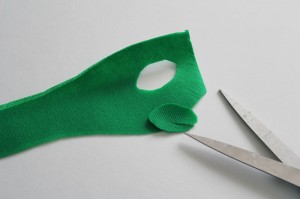 Your mask is complete! In just a few minutes!
Tie on to your favorite super hero!
Oly*fun is the perfect material for making your simple superhero mask. It is lightweight, soft, and very flexible. It doesn't need any hemming or glue to prevent fraying. Just cut and you're all done – ready for whatever superhero duties call your name!
These masks make great party favors for a super-hero themed party. You can add paint or rhinestones to decorate them, or leave them plain. The possibilities are endless with this basic superhero mask!