Use these sewing room organizing tips to get your creative space ready for the new year!
Many of our creative spaces look like a total disaster after the holidays. The rush to make gifts leaves sewing and craft rooms looking like Santa's Workshop on Christmas Eve! This somewhat quiet time between the winter holidays and Valentine's Day is the perfect chance to clean and reorganize your creative space. Here are some of our favorite sewing room organizing ideas to help you create a space that is a joy to work in.
Fabric
One can never have too much fabric, can they? These ideas will help you keep your fabric organized so it's easy to find the right color and pattern when you need it for a project:
Poly-Fil Fiber Fill
The best way to buy Poly-Fil Fiber Fill is in five pound, 10 lb. and 20 pound boxes, so you will always have enough for your projects. That said, once you open the box, it's often challenging to get it all back in! These tips will help you keep your Poly-Fil Fiber Fill neatly stored and easy to access:
Use large decorative tote bags to store fiber fill. Grab clearance beach totes, or find baskets and bags in colors and styles that complement your work space.
Cut a hole in the box instead of opening it! Some of our customers have shared that rather than opening the entire box, they simply cut a hole in the box and bag so they can pull out just the amount they need. This way your fiber fill stays neatly in the box until you need it.
Use large plastic bins. Clear bins are perfect so you can see exactly what's inside them.
Store the excess in giant pillows or bean bags. I recently opened two 10 pound boxes of Poly-Fil, and what I couldn't fit back in the box was stored in the large pillow-case like form I made for this project. The result is giant cushy pillow in my workspace that visitors can lounge on if they want to.
Poly Pellets, Buttons, and More
Smaller items, like spools, buttons, and Poly-Pellets, are fun to organize because they can double as decor. Here are just a few ways you can creatively arrange and display the smaller supplies in your sewing room:
Batting & Interfacing
Many of the ideas for organizing fabric will also work with batting and interfacing, with a few exceptions. You typically won't display these items, and you'll want them clearly organized so you aren't digging through bins for the correct loft. Some ways you can keep your batting and interfacing accessible and organized are: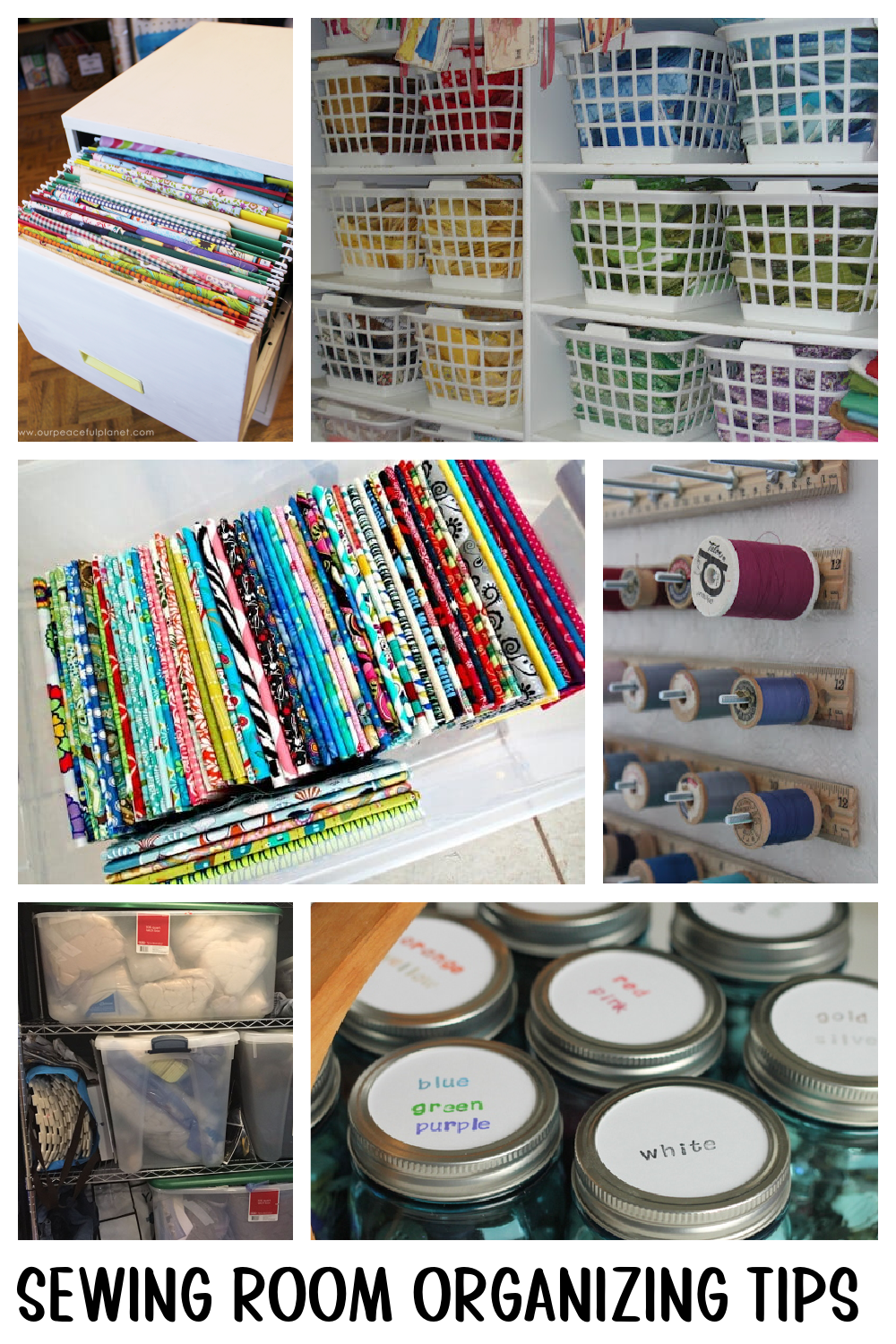 We hope these ideas will help you get your creative space organized. The less time you spend looking for stuff means you'll have more time to create! For more storage and organizing tips, see our list of  sewing room cleaning and organizing tips.