I don't think anyone loves Valentine's day more than school aged children do. This holiday was originally intended for adults, but kids have fully embraced this once-a-year opportunity to show others how much they care (and get a ton of candy!) Choosing, addressing, and delivering Valentines to friends and classmates is a memory many of us cherish. Why not make this special day even more special by hand creating your goodies? These school Valentine projects will help you get an early start on your sewing and crafting!
Valentines to Make & Give
Help kids deliver something special and unique at their class party! These handmade Valentine ideas vary in difficulty, so there's something for everyone to try!
These pocket sized softies make adorable Valentine gifts, and they are perfect for young sewists to make. Stuff each kitten plush with a little Poly-Fil Fiber Fill to create a cuddly Valentine the recipient will treasure long after February 14th has passed.
These kawaii cute fortune cookie plushies will make everyone in the class squeal with delight! This project is simple enough that you can make several very quickly. The tutorial comes with a free pattern and complete instructions.
Repurpose scraps to create beautiful handmade cards with fabric faux quilted hearts on them. Use fusible interfacing to piece the fabric scraps together before cutting out the shapes and stitching them to the card front.
Find a fabric with a design that you love to make Valentine cards that will last forever! Instead of cardboard or cardstock paper, these sewn cards get their stability from a stabilizer like Support Soft Foam Stabilizer. This will give the card structure that you can sew through.
No Sew Fabric Scrap Heart Valentines
For smaller kids, or when time is of the essence, this no sew Valentine is a great option! Cut squares of fabric that can be arranged to looks like a geometric heart shape. To prevent fraying, use an innovative fabric alternative like Oly-Fun.
For a fun DIY Valentine gift, make crunchy putty! The store bought slime Valentine gifts tend to dry out quickly. This project will be a hit with the kids because it uses Poly-Fil® Micro Beads to make a wildly fun slime with lots of texture.
Card Boxes
Creating and decorating bags and boxes for class parties is a rite of passage for many schoolchildren. It's fun to craft a unique Valentine card box that highlights the child's interests and stands out from the rest.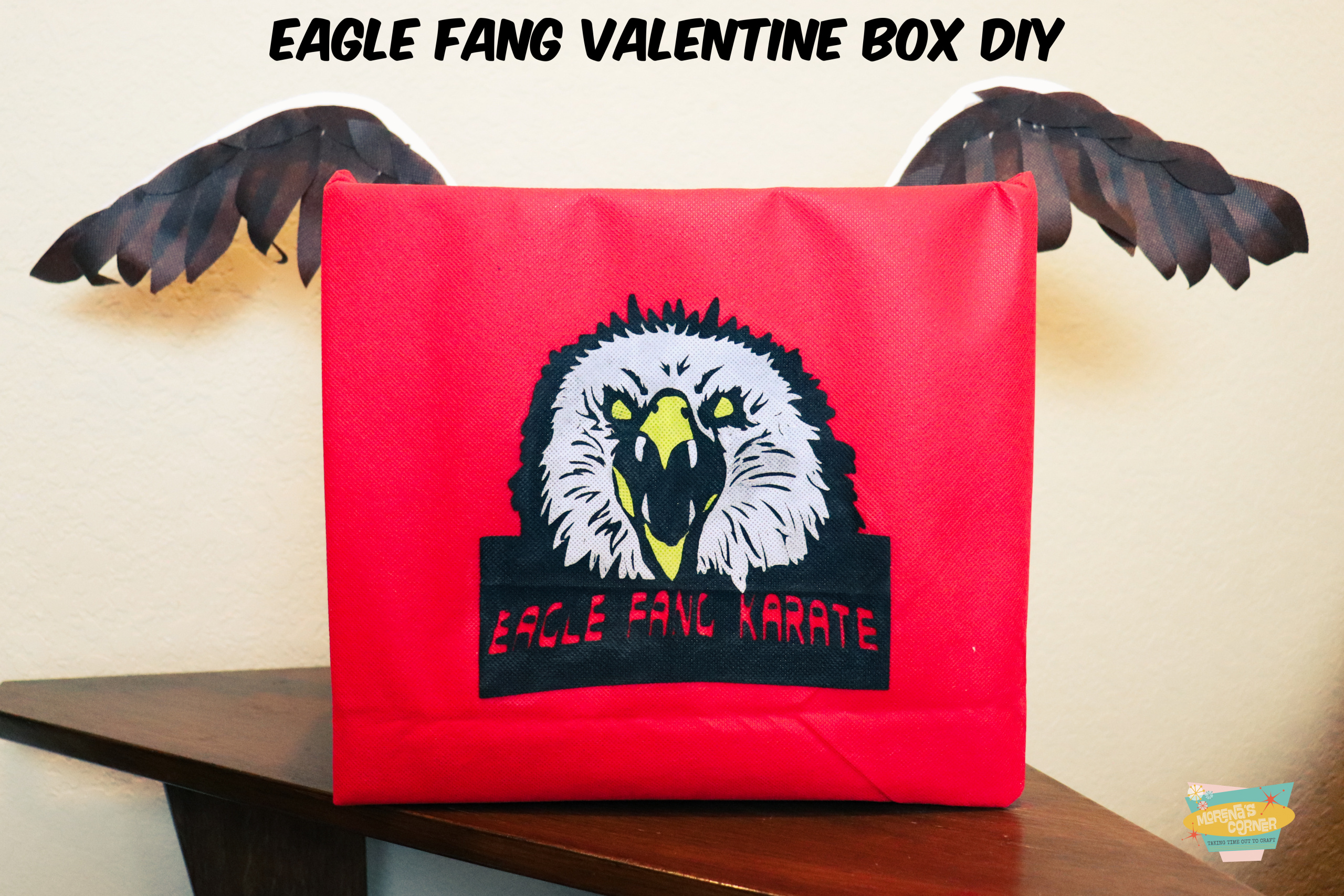 Karate Kid Themed Valentine Box Tutorial
Is your family obsessed with Netflix's Karate Kid series? This hilarious box, made with Oly-Fun fabric, was a huge hit at my son's class party last year. He liked it so much that he still has it displayed in his room!
Valentine Boxes Made with Oly-Fun Fabric
Oly-Fun fabric is perfect for Valentine card box projects because it doesn't rip like paper and it won't fray like fabric does. When I wrapped shoe boxes with regular construction they always came home in tatters after the party. Boxes covered in Oly-Fun last year after year!
Stitch from Lilo & Stitch Valentine Box
My daughter has always loved Stitch from the popular Disney movie, so I had to make her a Stitch Valentine box one year. I used Oly-Fun fabric, which is available in many vibrant colors, to craft this box.
This adorable camper Valentine box is almost too cute to take to school! Instead of cardboard use Structure One Sided Fusible Interfacing to make the cute camper durable.
Classroom Decor & Games
Teacher and classroom parents will love these fun ideas for decorating the classroom for Valentine's Day! Here are some school Valentine projects to help you decorate and celebrate this holiday.
Valentine's Day Ruffled OlyFun Heart Wreath
This beautiful DIY wreath will set the stage for a great month of Valentine themed fun.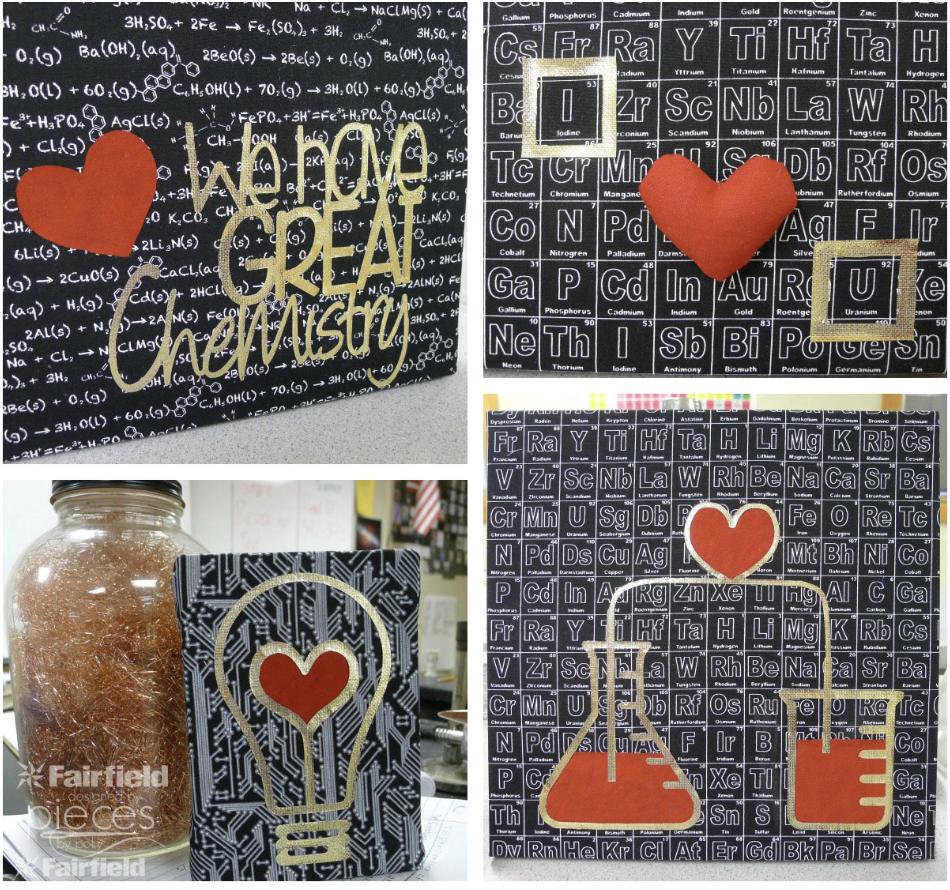 Share your love for science this Valentine's Day with these Easy Geeky Valentine's Art Canvases.  Gold metallic Oly-Fun and red pops of color against some Geeky Periodic Table and Chemical Equations fabric prints make these perfect for the science classroom!
Here's a great game for the class Valentine party! Bean bags are so easy to make, and you can recycle any canister to use as a bucket. Poly-Pellets Weighted Stuffing Beads are just the right size and weight for this cute project.
Kids of all ages love to play tic-tac-toe! This cute sewing project will be a fun activity at the Valentine class party. To keep the heart shapes from flopping around, use an interfacing like Stiffen to give the game a solid surface that kids can play on.
Teacher Gifts
Teachers get lots of chocolate and coffee mugs for Valentine's Day (I'm speaking from experience here!) While these gifts are thoughtful, if you have the chance to create a handcrafted gift it will be treasured.
This beautiful pattern can be used to create a scented sachet or a pin cushion. Mix in some lavender with Poly-Fil or Poly-Pellets to create a lovely sachet that can be used to add a cozy feel to any classroom.
Quilted Hot Pad and Mug Warmer
This thoughtful handmade gift will help teacher protect her desk and keep her coffee or tea warm while she tends to other tasks. Made with Solarize Liner, these Quilted Hot Pads and Mug Warmers are super helpful in keeping your items warm while looking great at the same time.
Show your love for the teacher with this beautiful sachet gift that you can sew. These hears are filled with fiberfill and lavender so they make a great little Valentine. Pair the sachet with one of the handmade cards suggested above and have a great gift!
Have fun crafting and creating these school Valentine projects!