A Row by row round robin group quilt was completed by the Fairfield Master Makers.  The row by row quilt is for a member of our home office undergoing Chemo Therapy.  The gal undergoing Chemo is an integral part of our behind the scenes operations and the Makers wanted to do something to let her know they were thinking of her.  That is when the idea of a round robin style quilt came into the picture.  The makers are spread all over the country and some are not quilters or even sewists and we needed a project that everyone would feel comfortable doing.
As the organizer and one of the non-quilters I wanted to pick fabric that was readily available if the Makers needed more.  I went to a big box store and picked up fat quarters and solid fabric for the backing and binding.  The precut fat quarters saved me time and allowed me to send everyone a bigger variety of colors.  It was a big bonus that they were on sale and I could add a few extra. I'm pretty sure I sent more than what was needed as I tend to over estimate.
Plus, we decided on a jelly roll style quilt like the popular row by row quilts.  Very little guidance was given to the designers, other than the fabric being provided and the general dimensions of the row.  Polly Carlson actually assembled the quilt and Chrisma Horton quilted it and then gave it back to Polly for the finishing steps.  We came up with a few tips to help you and if you choose to do a group quilt the tips are especially helpful with participants of different skill sets.
Tips to make your collaborative row by row quilt a success:
Give general guidelines, but be flexible.  A good target width for a row by row is 42 inches.  This is usually the width of most quilting fabrics. This leaves the option open for a participant to do a whole-cloth strip featuring appliqué or embroidery if desired.
Trim the rows if necessary.  Especially if participants have different skill levels, you may find that the rows vary in length…even if you gave everyone a particular length.  You may need to trim some rows down.  It's often best to trim equally off both ends.  (If one strip is 3″ too long then trim 1 1/2″ from each end to keep things centered.)
Add fabric extensions if needed. If you find one or two rows are shorter than all the others, you may want to add extention pieces rather than trimming everything down.  Similar to trimming, it will probably look best to add half the length to each end of the row.
Be sure to square the rows before sewing them together.
Relax and enjoy the process and remember this is a gift to let the recipient feel loved and appreciated.  Don't stress if there's a pucker or two, or if a seam doesn't line up, etc.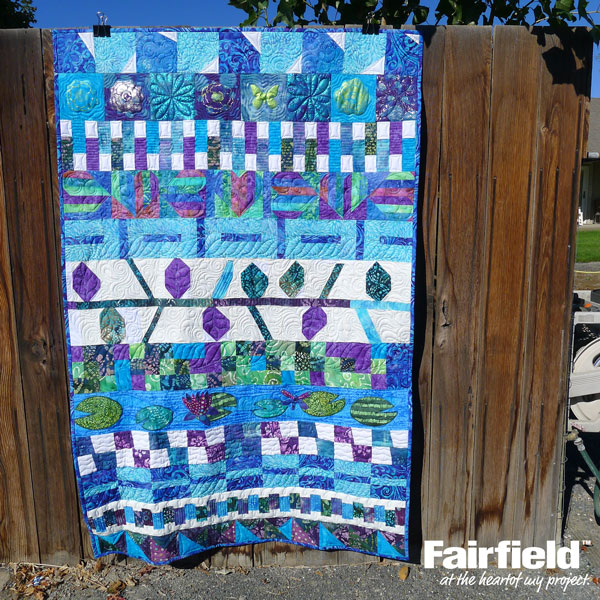 Click on the images for a larger view of the row by row quilt.