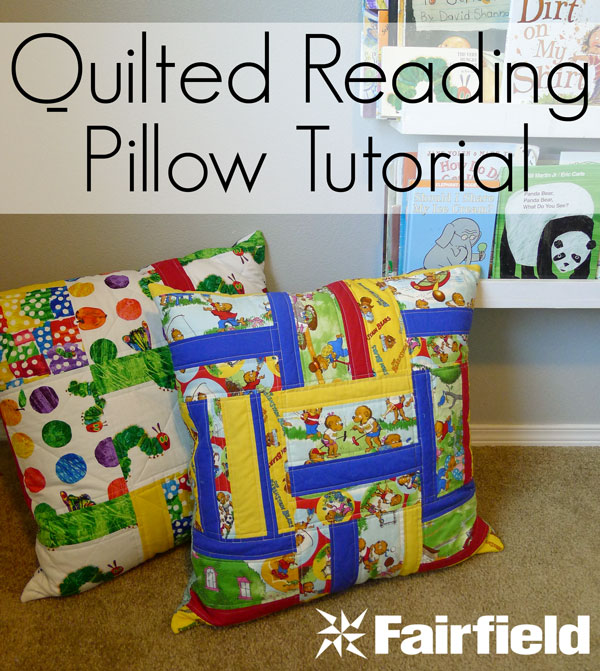 With school having just started up again, our kids are getting back into the routine of homework and for my kids, that means extra reading every night.  Having someplace comfortable and fun to read can really help draw those reluctant readers out.  I've been wanting to make some quilted reading pillows for our school library for a long time and finally got the chance.  Using some fun book themed fabrics can double the fun.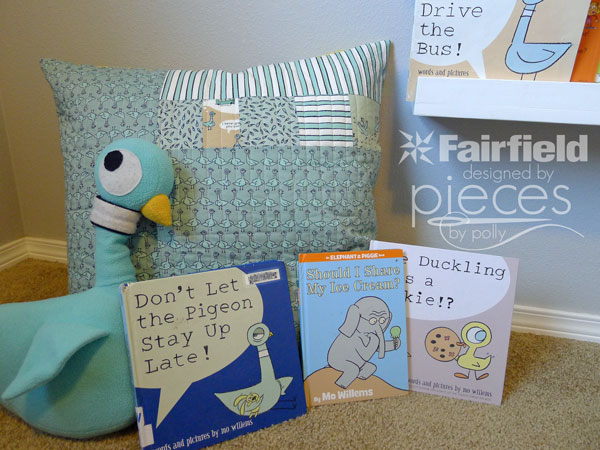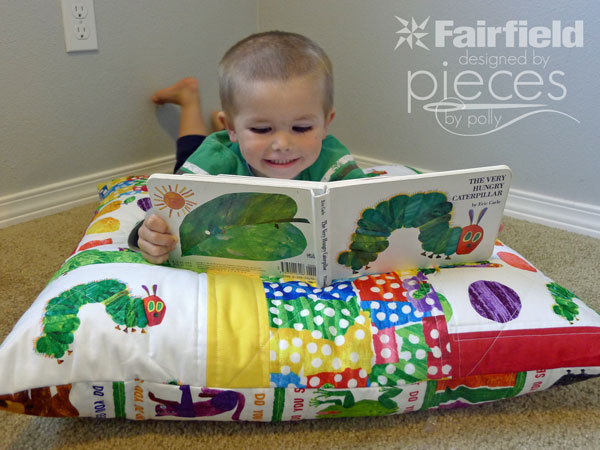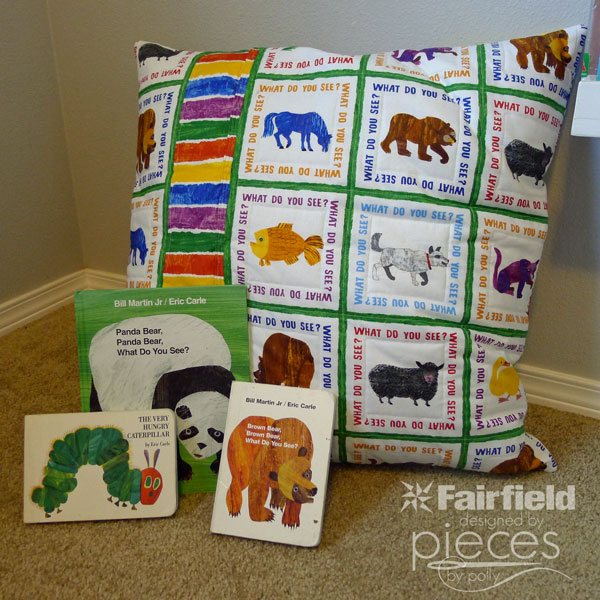 And as much as my kids absolutely LOVE these pillows, they were actually made with our elementary school library in mind.  Their library has a corner with pillows and chairs that are in sore need of some brightening up.
Quilted pillows are easy and a lot of fun to make.
Supplies needed for each Pillow:
1 Package Crib Size Cotton Batting or 3/4 yard of 60″ wide batting
3/4 yard of fabric for EACH side of the pillow or piece together scraps

1 1-2 yards lining fabric.  This fabric will be inside your pillow, so it can be plain or something ugly from your stash that you don't think you'll use for something else.
6 sew-on snaps or 24 inches velcro
Sewing machine and typical sewing supplies.
Rotary cutter and cutting mat recommended, but not required.
(Note:  Batting and pillow inserts were provided by Fairfield and I was compensated for writing this post.  However, all opinions and ideas are my own.  I purchased some of the fabric myself and some of the fabrics was provided by sponsors.)
Book Fabrics:
While I'm not a big fan of licensed character fabric in general, I have a real weak spot for children's book themed fabric.  Because I know someone will ask where to get some of these fabrics…
Instructions:
Start by making your piecing your front and back.  You can either piece it from scraps or a pattern or you could use a whole piece of fabric.  You'll want to make your pillow top square 1″ larger in each dimension than your pillow.  For my 26 inch pillows I made my top 27 inch on each side.  For your back, you'll want it to be 4 inches wider than your pillow, so for a 26 inch pillow, you'll want it to be 27×31 inches.  (More details on the back later.)
Preparing your pillow top is just like making a mini-quilt except you can skip the binding.  Lay your finished quilt block over batting and roughly trim around the edges.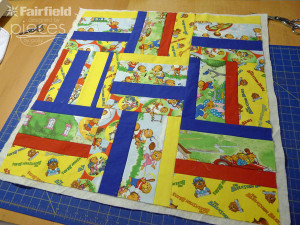 If I'm not using Fusi-Boo batting, then I like to use basting spray, although you could baste with safety pins if your prefer.  Be sure to protect your work surface if you're using basting spray.  Fabric tends to stretch a bit during basting, so I leave a bit extra to start with.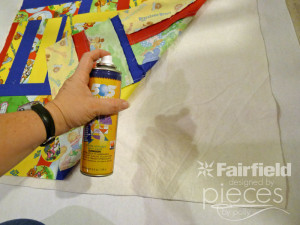 Once your top is smoothed and basted, trim the remaining batting.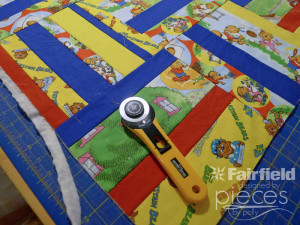 Flip your pillow top over and repeat process to use basting spray to the other side of the batting.
Machine quilt the your pillow top.  If you've never machine quilted before a pillow is a great project to practice on.  I prefer to use a walking foot on my sewing machine to avoid puckering. A regular presser foot will work as well, you just end up with a few small puckers.  I like to quilt by stitching 1/4 inch to each side of my seams and if the blocks are large, I also stitch an X through the middle of the block.
Now the back will be similar, but with a couple of differences.  We need to leave an opening in the back to slip our pillow through.
I cut my back rectangle to be slightly wider because we want some overlap between the two back pieces and because we'll lose a bit of width when we finish the edges.  For the pillow with Mo Willem's The Pigeon on the back, I just pieced scraps together until I had one large block that was 30″ x "27".  (That's 4 inches wider and 1 inch taller than my pillows measurements.)
Now we need to cut it into two pieces so we have an opening. You can do it down the middle or off to one side.  I decided to do it off to one side because the modern quilter in my just likes my lines off-center. (My fabric here is folded at the top.  When a piece of fabric is longer than my ruler, I fold it to make cutting easier.)
Baste each of the back pieces to your batting just like you did for your pillow top.
However, we treat the lining fabric differently.  This time we're going to lay the lining fabric RIGHT side UP on our table.  Then lay your back with attached batting FACE DOWN on top of it.  Trim extra from edges.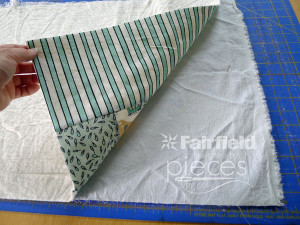 Pin along the edge that will become our opening.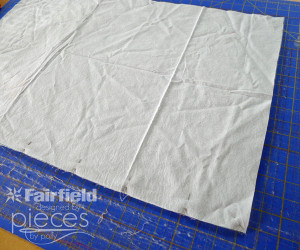 Sew with 1/2 inch seam.  (I often use traction gloves to reduce strain on my wrists pushing the fabric through.)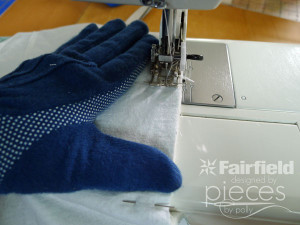 Iron seam open.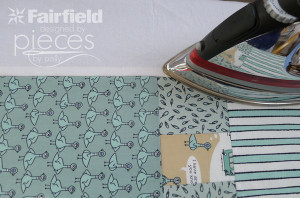 Then iron the lining around the other side of the batting.  Use basting spray to hold in place.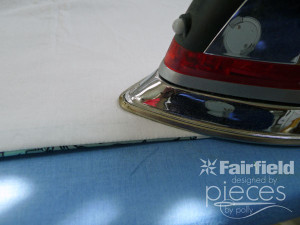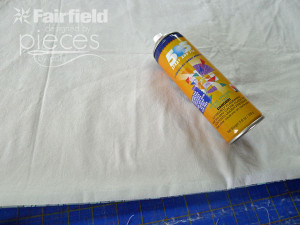 Repeat for the send backing section.
Machine quilt the two back pieces similar to how you did the top.  Be sure to stitch 3/8-1/2 inch away from the folded edges to ensure a smooth look.
If you know you want to add velcro as your closure, you can add that before sewing your pillow.  I chose to sew my velcro on after.
When you've got your pillow top and two back pieces quilted and ready, we're ready to sew our pillow together.  Lay your pillow top on your table FACE UP.  Lay the back piece that you want on the outside of the overlap FACE DOWN first on top of your pillow top so that raw edges are lined up and finished edge is toward the middle.  Lay your second back piece FACE DOWN, matching raw edges and overlapping the finished sides.  (My Brown Bear Backing only overlapped by about 3/4 of an inch because of size of fabric I was working with.  If you follow the rule to start with a rectangle 4 inches wider than the width of your pillow, you will have more overlap than shown in this picture.)
Pin well along all four sides of your square.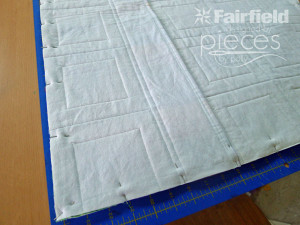 Stitch with 1/2 inch seam all around the edge.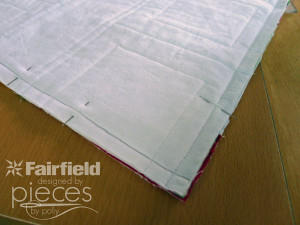 Trim extra seam allowance from corners.
Turn right side out.  Sew on snaps or velcro.  I found 6 snaps worked well for a 26″ pillow.  I found I prefer the results from the velcro.
Stuff your pillow insert in and enjoy!!
Happy Pillow Making!
~ Polly from Pieces by Polly.