Quilt Market Houston 2015
For Quilters and Sewists, one major highlight of the year is Fall Quilt Market  held each year in Houston, Texas.   Attendees are manufactures of goods in the industry along with store owners, buyers, artists and designers.  Each year the creativity, energy and inspiration grows.  It is truly amazing to see the handmade goods up close and personal.  We want to share images from the show.   It is not quite like being there in person, but close!
This quilt really caught our attention.  Not only is the subject or the piece an amazingly beautiful woman but the detail in each and every stitch is simply amazing.  We cannot imagine how many hours were spent creating this masterpiece or how many yards of thread  were used. Yes that is a quilt and not a photograph!
Images from some of the various manufacture's displays that caught our attention.
The weather during Market was rather rainy as the result of a tropical depression that was in the area.  There were flash flood warnings, tornado sighting and loads of rain the entire time.  But never fear our very determine team went through great lengths to make the best of a soggy situation.  One the second day it was so windy and rainy that umbrellas were of little use and rain boots would have sold for lots of money.  In order to stay dry our team got creative and used one of our new products Shield as a rain poncho.  The interlining was perfect.   Shield is a moisture & allergen barrier fabric and with some hand scissoring we stayed dry and looked simply stunning while doing it.  🙂
If you are interested in seeing or purchasing what we released at Quilt Market the images are below.
Metallic Oly*Fun in shimmery shinny metallic colors on the bolt will be available early 2016.  All new Oly*Fun™ innovative craft material will shimmer, sparkle and shine in hot metallic gold. Great for crafts, costumes, accessories and playful home décor. Easy to cut and sew. Does not fray. Spot clean. Do not iron.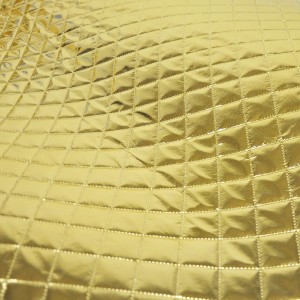 A fashionable and functional material! Beautiful, quilted layers of specialty material provide a thermal insulating barrier, keeping warm things warm, and cold things cold. The padding also protects and smoothes in accessory and home décor applications. Great for cosplay and Halloween costumes.  Easy to cut and sew. Spot clean. Do not iron.
We hope you enjoyed this recap of Quilt Market Houston 2015.  If you have any images you would like to share please let us know.