What better way to dress up the home for the holidays than by making this fun simple Pieced Holiday Pillow Cover. It takes but an afternoon to whip this up, and when the holidays are over the cover can be taken off and stored folded or flat for a clever and space saving storage solution!
Pieced Holiday Pillow Cover:
As you can see the supplies list is relatively short.
TIP: ALL SEAMS ARE SEWN AT 1/4″ SEAM ALLOWANCE
1. Prior to pinning and sewing, lay out your pieces to be sure you like the way the pillow front will end up looking once assembled.
2. Pin the two short panels to the front panel, stitch.
3. Press the seams to the outside. There are two reasons I do it this way, 1 – this keeps the excess bulk all going in one direction, away from the center and 2 – it keeps the seam allowances pressed against the darker fabric, this way it can't be seen through the front panel.
4. Pin the longer panels to the front panel and stitch into place, press seams just as in step 3.
5. To begin working on the back panels, fold down 1/2″ along one long edge. Press.
6. Fold in the raw edge and press again.
7. Stitch as close to the folded edge as possible, repeat for the second panel.
8.  Lay the panels onto the front panel, right sides together. Overlap the back panels as shown. Pin in place.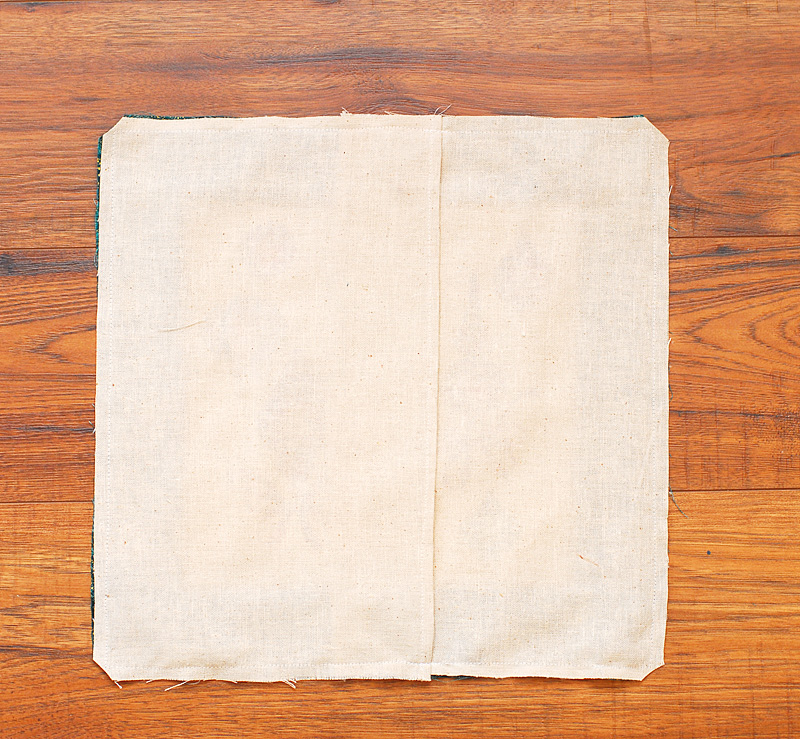 9. Stitch all the way around, remove the pins and trim the corners as close to the stitching as possible. Turn the pillow inside out and press.
10. Place the pillow form into the finished cover.
11. As you can see the back panels overlap and the pillow insert is fully encased in the pillow cover.
The finished project! Now go enjoy a nice cuppa cocoa or sip a glass of egg nog, you deserve it!
Keri Lee