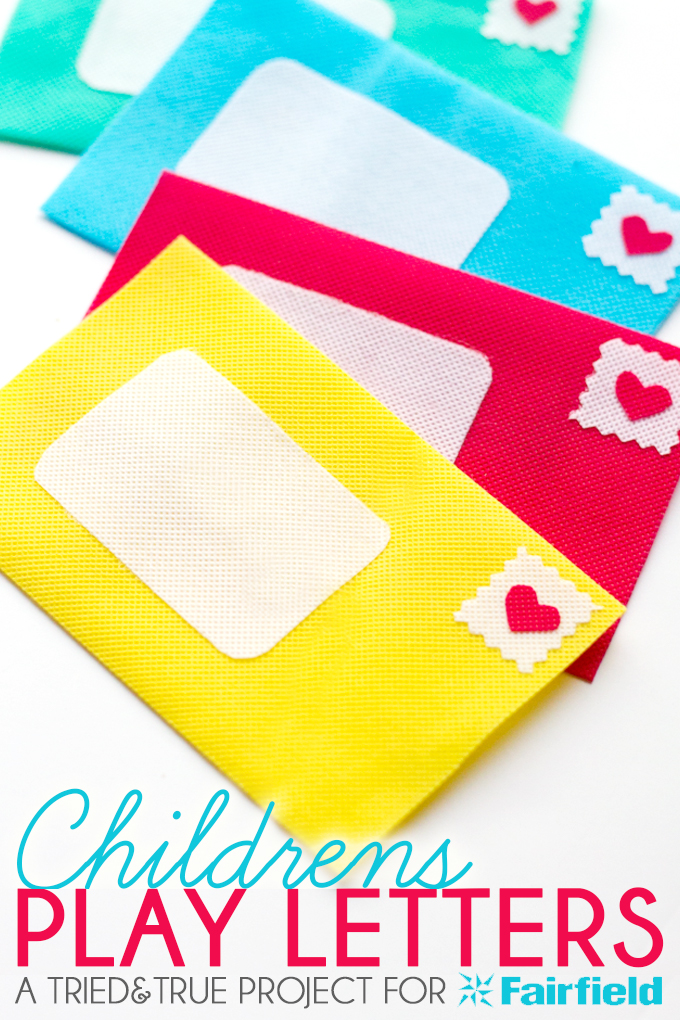 Do your kids like to pretend they're mailing letters? I've got a super easy and fun project for you! These No-Sew Childrens Play Letters come together quickly and can be made in a variety of colors. If your kids want, they can even write addresses directly on the Oly-Fun material for an extra level of fun.
No-Sew Childrens Play Letters
Materials:
Step One. Use the free pattern to cut the envelope, stamp, and label shapes. Use a craft knife to slice the small incision on the back of the envelope shape. Use pinking shears to trim the stamp.
Step Two. Fold the envelope and press the seams by running your fingernail back and forth a few times. The Oly*fun creases perfectly! Apply two strips of the Crafters Tape along the edges, fold and press to secure shut. Stick the label and completed stamp in place with either more adhesive tape or Xyron Sticker Maker.
Step Three. Cut a small piece of paper to fit inside the envelope and let your kid have fun pretending to write out their very own letters! If you want something a little more permanent, you could also cut out a white piece of Oly*fun to put inside the envelope and have them reuse that.
I absolutely love having all these different colored envelopes for my boys to play with! I'm planning on making a hanging mailbox out of the Oly*fun for them to drop off their "letters" in so make sure to visit my blog for that tutorial. Hope you have fun making these super easy kids play envelopes and that your kids have even more fun playing with them! Feel free to comment here if you have any questions or concerns about the pattern and I'll definitely try to help.