I love to create with strips cut from fabric scraps leftover from previous projects. Recently I was plundering through my stash looking for fabric to use for some oly*fun scraps to make an apron. I realized I had several shades of muslin. The idea for some muslin make dos immediately popped into my head.
How to Make Muslin Make Dos
Here are the materials you will need to create muslin make do's
Muslin scraps in various shades
Wood candle sticks (purchased at a craft store), wood tags
Fairfield's Crafter's Choice Poly-fil
Handmade embellishments
Hard embellishments of choice – I used self adhesive gem-stones
Soft embellishments of choice- I used hand dyed ribbon in pink
DecoArt Americana Acrylics- Baby Pink, Espresso
Hot glue gun and glue sticks
Staz-on ink and small rubber stamp sentiments
Rotary cutter and self healing cutting mat, scissors
Sewing machine and thread
Paintbrushes
Iron and pressing surface
So what is a "make do" exactly? Where did "make-do's" originate from? I did some light research on Google.com and was unable to find much. I do know that artists who design in the Primitive style create a lot of "make do's" in homage to the time when it was not always possible to run to the nearest store for decorative objects. My grandmother always preferred using what was around in order to "make do."
I cut the muslin fabric scraps into 2 1/2″ strips using a rotary cutter.
Then I sewed them together on the long edges using a 1/2″ seam allowance. I pressed the seams open and eventually ended up with a finished sewn piece that measured about 14″ x 9." Your finished size will depend on the size your want your stuffed shape to be. But be careful not to make it too big as the candlestick will only tolerate so much weight.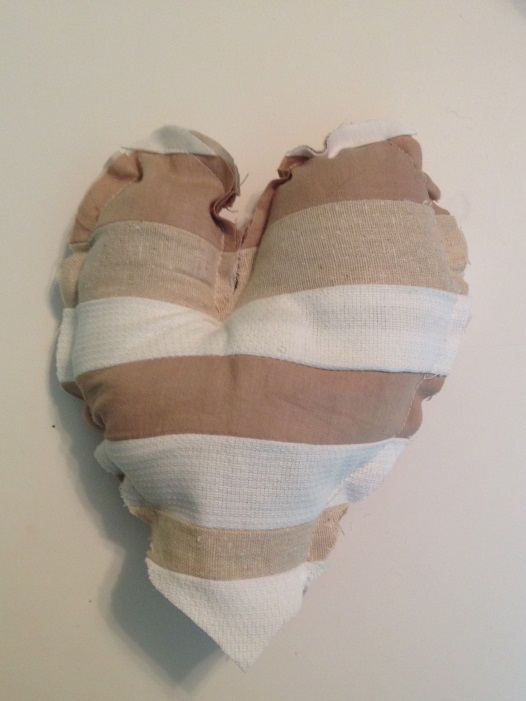 When I had two of these pieces (on for the front and one for the back) I freehand cut heart shapes and sewed them together using a 1/2″ seam allowance on the edges. Then I stuffed the shapes with poly-fil. Notice I left a small opening at the bottom for the stuffing and also to attach the shape to the candlestick.
To finish the muslin make dos, I used inserted the painted candlestick into the opening of the heart and secured it using a glue gun and glue sticks. The pearl embellishment that looks like a vintage brooch was created from inexpensive plastic pearls and a glue gun. A painted and stamped wood tag adds even more details to the make do.
If you don't want to make these using heart shapes, you can easily cut other simple shapes such as circles, ovals, birds or flowers. If you have large die cuts then they can be used as well. There are lots of options for customizing your make dos! Thanks for joining us today. We hope we inspired you.
Live Life Creatively,