This month, Fairfield World is pleased to introduce you to a fabulous designer as part of our "Meet the Pro" series.  Amy Reber Designs is an artist who we know you will enjoy as much as we do.  Her fresh, modern, bold designs illustrate that beauty is all around us.  
Amy draws from her love of nature and her love of mid-century architecture to create beautiful designs.  Her mantra is "never underestimate the power of a simple shape." And she illustrates that time and again in her unique, heartfelt designs. Using pen and paper as her initial design implements, Amy, a self-taught artist, is constantly looking to the world around her for inspiration.  Her "medium/craft" is textile design by way of hand drawn elements, and while she doesn't sew or quilt she has a remarkable knack for putting together collections of designs that quilters want to use. Her dream is to also design home décor fabric some day in the near future.
For Amy Reber, making a personal connection through her work is paramount. She explains that "It is getting harder and harder to make that personal connection these days. I truly enjoy connecting with individuals who love art and design and my goal is to make a connection strong enough with my fans that we would feel comfortable enough to get together and talk color and design over a hot cup of coffee. My art and design is therapeutic, soothing and gives me great joy and I hope that my designs evoke those feelings in others."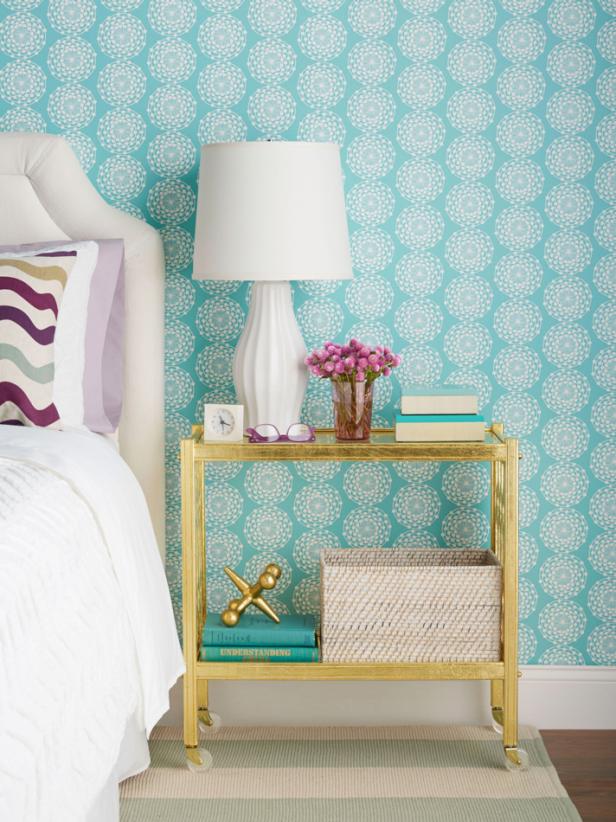 Amy Reber has been featured on HGTV multiple times.  In this image you can see her Floral Circle Mix design, now available on fabric.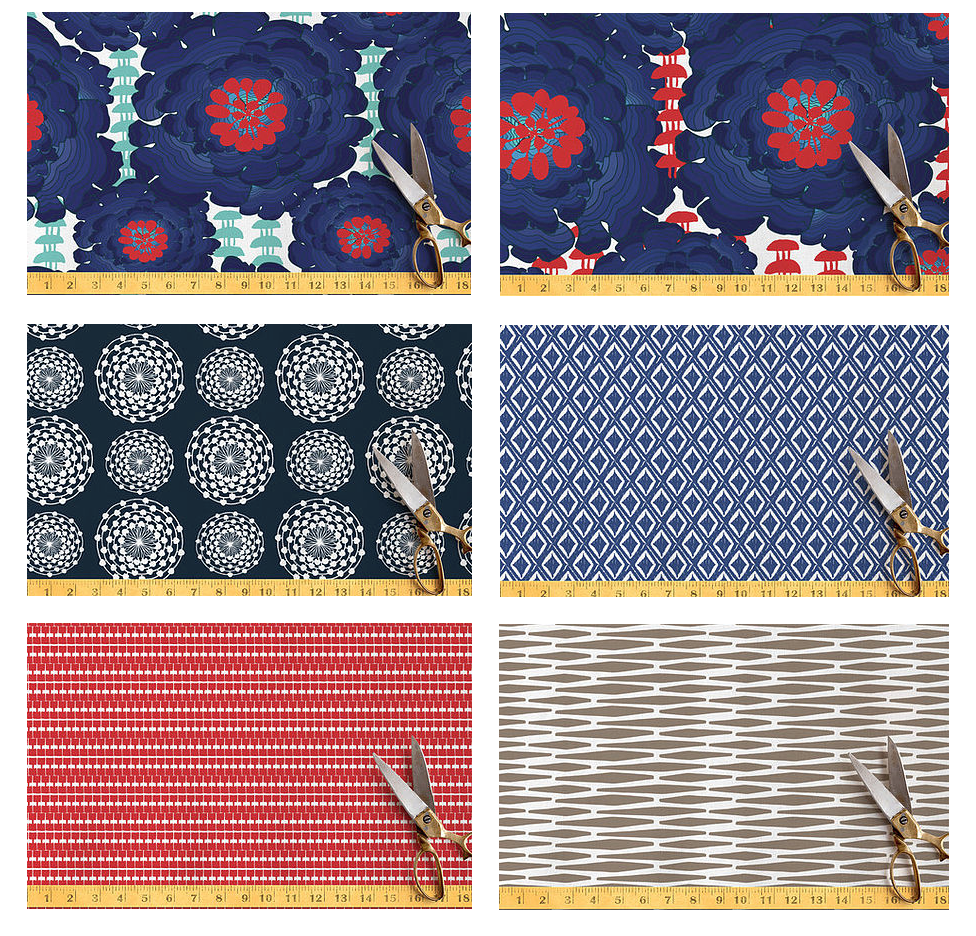 You can some of her fabric designs at Minted by clicking HERE.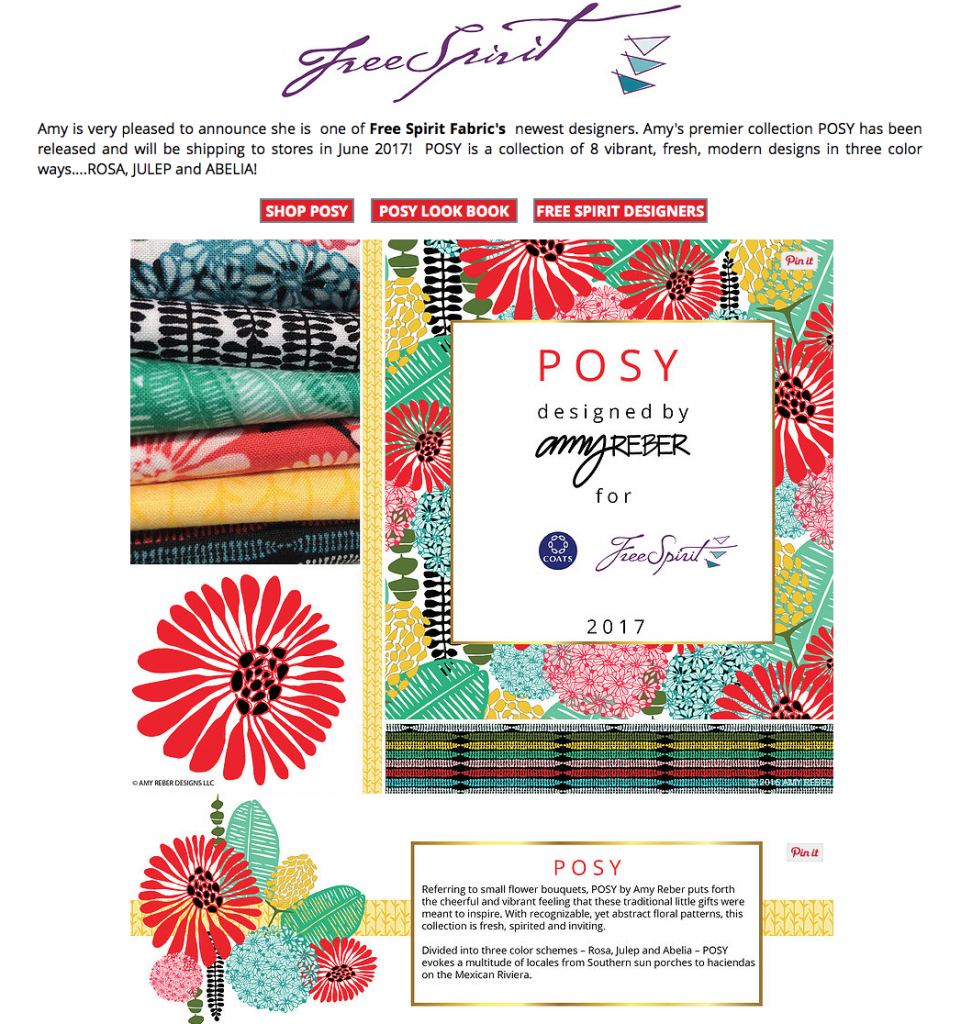 Amy is also one of Free Spirit Fabric's newest designers.  Her premiere collection, caled POSY has been released and will start shipping to stores in June 2017.  This collection features 8 vibrant, fresh designs in three color ways.  You can get a peek at this collection by clicking HERE.
We got to chat with Amy recently, and these are some fun things we learned about her.
FFW:  What is your favorite project or tutorial and why?
Amy:  I am a self taught artist and my medium is a sketchbook, pencil and pens (micron and prismacolor brush pens specifically)…. about five years ago I realized that my drawings would translate well on to product like textiles, but I didn't know how to really do that.  So I took many online computer tutorials for Adobe Illustrator and taught myself what I needed to know in order to provide production ready files for clients/companies; I also loved the website Pattern Observer, and it was a great resource for me early on.
FFW:  What would be a perfect crafternoon for you?
Amy:  I thoroughly enjoy sketching outside, especially at a beach where I can hear the waves and have fabulous natural light.  I would have with me my 11×14 sketch book, my favorite mechanical pencil, the pens I mentioned above and an eraser!
FFW:  If you could invite four creatives to dinner, who would you choose and why?
Amy:  1. Jennifer Paganelli because she was a HUGE cheerleader of mine when I was first starting out and it was a huge confidence booster for me, and she continues to be very supportive of my work.  2. Jonathan Adler, Interior Designer – his use of color, his style, the shapes he uses in his design….I would have my entire house done by him if I could.  3. Melissa Shulz of Art Licensing Info because she is my fabulous agent an we have only met in person once before she was even my agent! She is a large part of why I'm now designing for Free Spirit! 4. Patti Sokol (surface designer), we met at Surtex in New York in 2015 and we have kept in close touch via social media and are on the same path.
FFW:  Can you share one quote or saying you love?
Amy's own quote:  "Never underestimate the power of a simple shape."
FFW:  If you could replay a big moment in your career, what would you choose?
Amy:  When I successfully took a hand drawing into Adobe Illustrator and made my very first repeat…..it was like the heavens had opened and I had found what I was meant to do with my gift of art.  I truly knew it was going to be a huge part of my life from that moment on.
FFW:  What technique/project would you try if you knew you couldn't fail?
Amy:  I would learn to sew a little bit since, maybe a nice weekender/duffle bag (Amy Butler pattern!).  I'm starting to accumulate fabric having become a designer with Free Spirit Fabrics.  I can see why quilters are fabric fanatics!
FFW:  Describe your blog or your creative style in six words.
Amy:  heartfelt, fresh, modern, but with a touch of retro/vintage, unique, prolific, colorful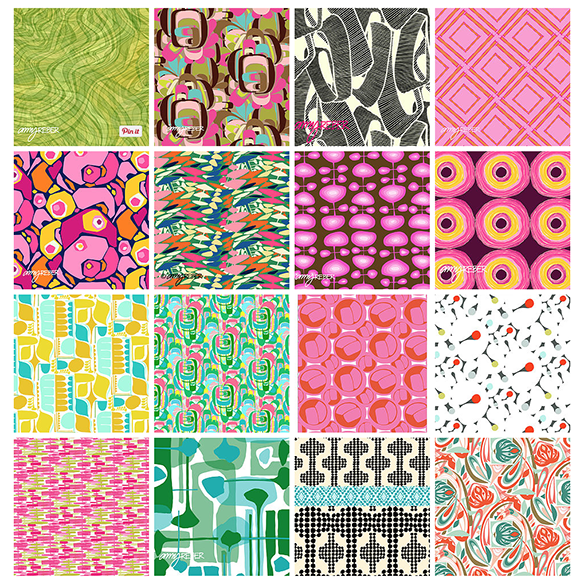 To learn more about the work of Amy Reber and to keep up with her latest collections, visit her website and follow her on social media!
Website:  www.amyreber.com
Twitter: https://twitter.com/amyreber
Instagram: https://instagram.com/amyreberdesigns/
Pinterest: https://www.pinterest.com/amyjoreber/
Facebook: https://www.facebook.com/amyreberdesigns