This month the Fairfield World team is delighted to introduce you to an artist who is truly one of the best quilters in the world.  Maria Ferri Cousins is an award winning quilter whose most recent honor was having her piece, "Eye Remember", named Best of World at the 2017 World Quilt Competition.
Maria specializes in fine art quilting, which is a technique that combines the arts of silk painting and free motion quilting.  The fusion of these elements produces quilts which present an impressionistic view of reality, movement, texture and dimension. In addition to being a skilled artist, Maria is dedicated to raising awareness of the plight of endangered animals.  Many of her fine art quilt pieces are of animals from the Castellar Rescue Zoo in Southern Spain.  Many of the animals in the zoo were from Africa and confiscated at the ports and given to the zoo to care for. Through her work, Maria is able to highlight the plight of these animals.
We were flattered to have the opportunity to learn more about Maria Ferri Cousins and her work, and honored that she offered to share a peek at how she creates her art using our Fusi-Boo batting.  To see more of her work, please visit Maria's Website, Fine Art Quilting.  Without further ado, here is Maria in her own words:
From a young age being creative was always a big part of my life. Growing up, my sister and I would have our own little art studio in the basement of our home. My mother who emigrated from Italy worked in a sewing factory in Queens, NY, so she taught us how to sew and embroider. I made my own embroidery designs of landscapes and even won awards for them when I was 15.
My schooling took a turn for adventure and I received a BS degree in Aviation and earned my commercial flying license. With a young family to care for I decided to work in the field of Airport planning and doing aerial photography. I started quilting in 1998. Most of my work was in art quilts using fusible appliqué and confetti. In 2013 I collaborated with a Spanish artist  to create some beautiful pieces especially with rescued endangered animals. Presently I am painting my  own art and collaborating with other artists .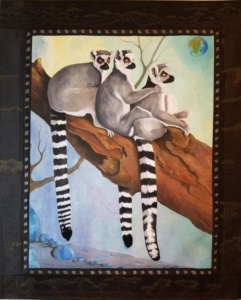 What is your favorite project  and why?
I love thread painting and free motion quilting. It gives so much dimension and texture to the quilt. I made a miniature quilt and incorporated hand embroidered Braille messages so the blind can experience and feel the art. It was donated to the Quilt Alliance for their fundraiser.
What would be a perfect crafternoon for you?
First I'd go for a walk on a bright sunny day and take amazing photos of landscapes and animals, go home and transfer the photo onto fabric by tracing the photo. Then paint it with fabric dyes, layer the quilt and thread paint it. The process takes weeks to prepare and months to quilt. If I could do it in an afternoon. That would be perfect.
Can you share one quote or saying you love?
"My quilting objective is to piece the individual to form a collective"…Maria Cousins
Describe your creative style in ten words or less.
Make it beautiful in the least amount of steps.
 Exclusive Tutorial courtesy of Maria Ferri Cousins
One of my current projects "Hawaiian Flora" is painted by my sister Angela Posatiere. She lives in Hawaii and her silk painting portrays many of the local floras found in her community. I have included step by step images of how I use Fusi-boo in my work using her painting as an example.
In this silk painting "Hawaiian Flora" I want the flowers to pop out. Instead of doing a traditional trapunto, I am going to add layers of batting using Fusi-Boo only in the specific areas I want to stand out.
Using a clear plastic sheet or tracing paper trace the image you want to stand out.
Place the traced image onto a piece of Fusi-Boo batting. (I save my small scraps for this)
Pin all around inside and outside the image and then trim.
Place on the wrong side of the quilt painting and line up the cut batting to the image you traced .
Iron on using a silicone sheet and follow directions on the packaging of Fusi-Boo. You can add a few layers of cut batting to achieve your desired thickness.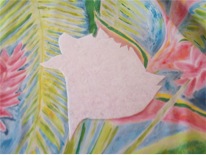 Repeat the process for the rest of the flowers. Then add a full piece of Fusi-Boo batting and then your backing fabric. Iron on and start quilting your project. The Fusi-boo will remain in place and you have your extra layering only where you want it without glueing or spray basting.