Make Someone Smile!
That is the philosophy of Marcella Lacerda our featured designer in this segment of Fairfield's "Meet the Maker". Marcella is the owner and designer for Marcella Dolls. I recently had the pleasure of visiting with Marcella and her husband Andre at their home-based studio in Jupiter Florida.
Believe it or not, these beautiful dolls are the creations of someone who has been sewing for only four years!
Marcella spent the early year of her career in her native country of Brazil and also after relocating to Florida, as a hairdresser. She comes from a family of very creative people and has always enjoyed working with her hands.
Shortly after moving to Florida with her husband Andre, Marcella started having devastating headaches, and difficulty with her vision. At the age of 24 years old, Marcella spent eight months in pain and in bed with what was eventually diagnosed as Intracranial Hypertension.
Intracranial Hypertension is referred to as a pseudotumor that builds up fluid in the brain and creates extreme pressure behind the eyes. With a diagnosis in hand, doctors were now able to focus on controlling the pressure build up and relieving Marcella's pain.
Relieved to have a diagnosis and a plan, but still suffering symptoms, Marcella realized that returning to her old career as a hairdresser was not an option. Some days her vision is still not good, and she still has days when she does not feel well enough to get out of bed. She wanted to do something where she would be able to control her own schedule… to work when she feels up to it and rest when she needs to… but she also wanted to continue to use her creative talents.
Marcella comes from a family of crafters and creative people. In the past, she had done knitting, crocheting, and embroidery, but she had never sewn on a machine. Four years ago, as part of her recuperation therapy, Marcella bought a Brother sewing machine, and with the help of YouTube videos, she taught herself to sew.
Although she began sewing four years ago, Marcella Dolls started up just a little over one year ago. Through trial and error, Marcella has put together a selection of designs for her hand painted faces, has perfected the shapes of the bodies and created a system for design, creation, and assembly of the different dolls she offers.
Marcella draws from her experience as owner of a hair salon, to systematically plan out and price her work. She has determined how much time will be spent cutting, stuffing, sewing and painting each doll. She also knows exactly how much fabric and fiber each doll will use.
Marcella selects from Fairfield's fiber collection for filling the dolls. Her favorites are Ultra Plush, Royal Silk TM, and The Original Poly-fil® brand fiber fill. Each of these brands has its own unique feel which enables Marcella to achieve different levels of softness and flexibility appropriate to the style of the doll.
Don't let her assembly line system fool you… each of Marcella's dolls is an individual work of art. She offers a variety of sizes, styles, softness and skin tones to choose from. Marcella will also customize your doll's physical and facial features upon request. Marcella's doll assortment includes dolls for babies, toddlers, small children and even collectors.
Marcella's studio would make most crafters and sewers jealous. Marcella has transformed two rooms of her home into a bright, clean and beautifully organized studio. No wasting time hunting around to find things. Efficiency and organization are high priorities. "When I am feeling good, I want to work, and I want to know I have everything I need right here and get to it easily." Says Marcella.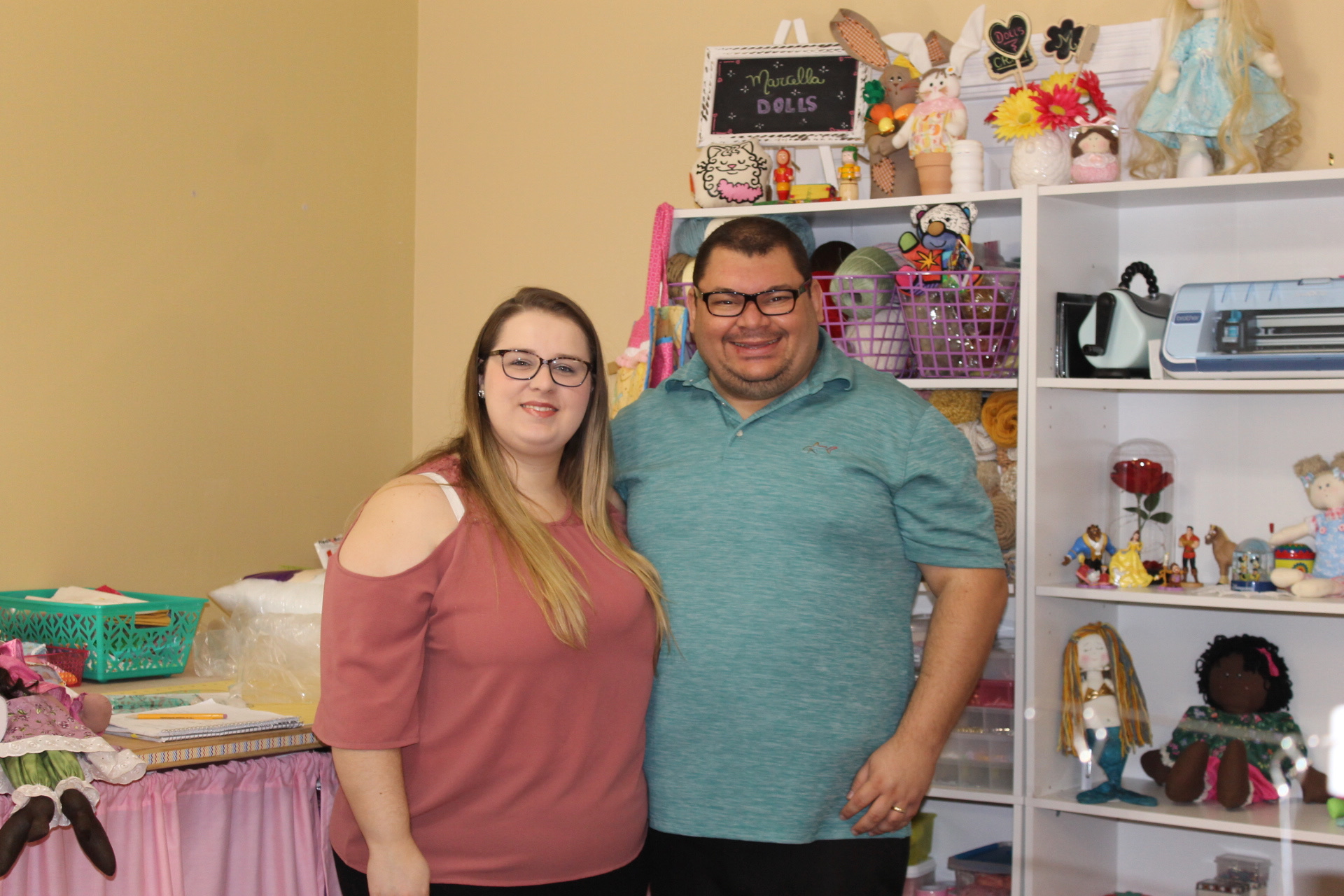 She and Andre head out every other week to shop for the supplies to keep the studio well stocked and ready for Marcella to work her magic. They make the rounds to Joann's, Michael and the new Hobby Lobby as well as the local quilting and fabric stores for specialty fabrics and trims. Marcella's family in Brazil sends her specialty lace, trim and buttons that she has been unable to find in the US which help to make each doll truly unique and special.
Marcella offers a wide variety of dolls ranging from rag doll style for infants through collectibles. And of course, If you don't see exactly what you are looking for custom orders are always welcome.
To see Marcella's work and her latest collection of dolls you can visit her website at www.marcelladolls.com or follow her on Instagram @marcelladolls.