The Craft Yarn Council is back with their second annual Lemon Drop in New York City and we are proud to be a supporting Sponsor.  We would love for you to get involved too.  Read below on how you can participate if you knit or crochet or even if you want to learn to knit or crochet. The patterns are easy to learn.
Make Lemons Into Lemonade:
Knitters Dropping Thousands of Handstitched Lemon Stress Balls in NYC to Ease Tax Day Blues, Highlight Stress Awareness and Health Benefits of Their Craft.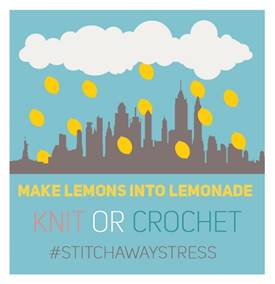 New York, NY 
(March 
30
, 2016) — 
Make
 lemons into lemonade. This is the motto of a group of ambitious knitters who will drop thousands of hand-knit/-crocheted lemon stress balls into the hands of frazzled New Yorkers on one of the most stressful days of the year, Tax Day (which ironically happens to land during National Stress Awareness Month). On Monday, April 18
th
 people rushing last-minute to the James A. Farley Post Office Building in Manhattan to wait in line to mail their 2015 Tax Returns by the due date and filing deadline will be met with a sunny surprise and important message… knitting and crochet are good for you. 
Confirmed by numerous studies and reports and 
personal stories
from knitters and crocheters around the world, and highlighted in national and international press including recent New York Times 
article
 titled "The Health Benefits of Knitting") and 
Yahoo!
, 
CNN
, 
Daily Mail
 and more, the stress-busting crafts are known to reduce blood pressure, decrease anxiety and stress, boost mood, increase mindfulness, elicit the relaxation response and much more. These remarkable health benefits are what triggered the non-profit Craft Ya
rn Council (CYC), a group responsible for sponsoring a wide range of educational programs, to start a health initiative and spread awareness about the positive effects these crafts bring through its Stitch Away Stress campaign and host the 
NYC Lemon Drop… Campaign for Stress Awareness
 on Tax Day.   
"Upon discovering all the studies out there that prove these crafts reduce stress and boost mood and hearing so many personal stories from knitters and crocheters on the topic, we felt it was important to draw more attention to the subject and help more people who are stressed out find a way to relax and feel happier," said Craft Yarn Council Co-Executive Director, Mary Colucci. "Since April is National Stress Awareness Month and Tax Day is historically one of the most stressful days of the year for Americans, April 18
th
 seemed like the perfect day to stitch away stress." 
Those lucky enough to receive a lemon stress ball on April 18
th
 will not only have the chance to squeeze away stress on the spot, they will also have the opportunity to learn how to "stitch away stress" and join 85% of people who report stress reduction and 68% who report mood improvement from knitting and crochet, as seen in a recent research 
survey
conducted by the CYC. Tags attached to the lemons will direct recipients to the website 
www.stitchawaystress.com
 where they can go to learn how to knit and crochet, download the free lemon stress ball pattern to make one themselves, explore all the health benefits of knitting and crochet and more. Those waiting in line may have the chance to learn a stitch or two from the knitters and crocheters handing out the lemons as well. 
Dr. Carrie Barron, psychiatrist with the Columbia College of Physicians and Surgeons and co-author of 
The Creativity Cure: Building Happiness With Your Own Two Hands
, 
praises knitting as an effective way to alleviate anxiety and depression stating "the rhythmic, mathematical nature of the craft keeps the mind absorbed in a healthy way, ridding it of stressful thoughts and allowing for internal reflection." Barron calls knitting "a powerful, preventative medicine like an anti-depressant that seems to be doing something antidepressants and psychotherapy cannot do."
Knitting has been a crucial outlet for Athena Wallis, a 33-year-old mother of three, who upon being diagnosed with depression taught herself to knit and uses it to calm her brain. "It only takes me 10 or 15 minutes to feel the effects," said Wallis. "Once you start doing it, it's so rhythmic that it becomes a meditative thing. It really makes my brain calm down."
The 2,000+ lemon stress balls were all handmade by members of knitting and crochet guilds across the U.S. who wanted to be 
part of this health movement and give back through their beloved crafts. The pattern for the lemon stress ball was designed by 
Twinkie Chan
, popular 
San Francisco-based crochet designer known for creating deliciously fun, food-themed accessories. The CYC partnered with Chan in April 2015 to launch its first Stitch Away Stress campaign and highlight the stress-reducing benefits of knitting and crochet during National Stress Awareness month.
About The Craft Yarn Council
The Craft Yarn Council (CYC) is a non-profit that represents the leading yarn companies, accessory manufacturers, magazine, book publishers, and consultants in the yarn industry. For more than 30 years the Council has sponsored a wide range of promotional and educational programs, including its highly acclaimed Certified Instructors Program, Discover Knit and Crochet classes, and its popular annual I Love YARN Day event, which offers a virtual meeting place for the nation's knitters and crocheters.