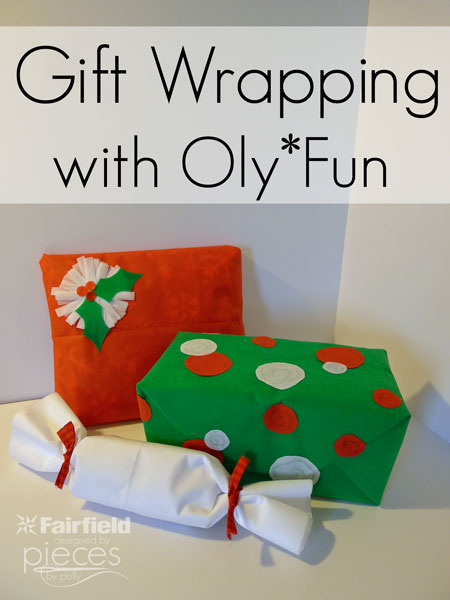 Several years ago, I was introduced to the idea of gift wrapping with a glue gun by Rebecca from Older and Wisor.  (She's a creative genius when it comes to gift wrapping and can make a gift look amazing using anything.)
Anyway, I though it was high time that I tried out some gift wrapping with Oly*Fun.  All the bright colors just make it irresistible.
Oly*Fun is especially well suited to wrapping gifts that have an odd shape and you don't want to put in a box.  The Oly*Fun provides great coverage and best of all, it won't rip and tear when kids handle it or when you're travelling.
Supplies:
Oly*Fun in your choice of coordinating colors.  I used Grab and Go Packs.
LOW TEMP Glue Gun, or multi-temp glue gun set to LOW and glue sticks
Scissors,
An iron set on the lowest setting possible
Gifts to Wrap
Instructions:
You may want to iron your Oly*Fun a bit to remove wrinkles.  You just want to be really careful and iron on your iron's lowest setting.  Even then, test your iron on a small bit of Oly*Fun, just to be sure your iron won't melt it.
Wrap your gift the way you normally would.  Instead of tape, use your LOW temperature glue gun.
Have fun decorating with cut out shapes and embellishments.
These fun gifts made their way to the Giving Tree at the kids' school today.
Some other fun ideas that would look great in Oly*Fun wrap…
Creeper Weaves from Older and Wisor.
From Mud by Nest via Pinterest