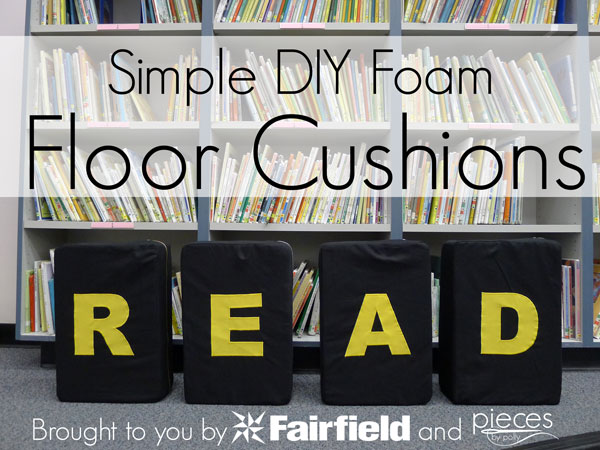 Our elementary school's library's reading corner has been in sore need of some new cushions and pillows, so I thought it was time to make some Simple Foam Floor Cushions.
The piece of foam I was using easily split into 4 pieces, so I thought making them spell something would be fun.
And I debated between using some really fun bright prints and solids, and ultimately decided to do them in our school colors.
Of course, when they're in use, you can't see the letters…
…but they do make a fun visual for the library.  Because of course the goal is to make the library an inviting place for the kids to come.
It's easier to make your own cushions than you might think.
Supplies to make 4 Cushions
1 Piece of Foamology 5″ Project Foam 24″x36″
2 1/2 yards cotton fabric or home decor fabric
4 Heavy Duty 22″ Metal Coat Zippers
1/4 yard accent fabric for letters (optional)
1/2 yard Heat'n Bond or similar iron-on adhesive or fusible webbing
Matching thread
To Cut:
2 – 19″x13″ Rectangles cut from your fabric
1 – 6″ Strip the width of your fabric
1 – 3 1/2 inch strip the width of your fabric, cut in half to give two pieces approx. 22″ x 3 1/2″ inches.
4 – Pieces of foam measuring 12″ x 18″.  (You cut  your foam into 4 equal pieces, in half each direction.  Most people say to use an electric carving knife to cut foam.  I don't have one, so I used a sharp serrated bread knife and it worked great.)
Cut the 3 1/2 inch strip in half, down the center fold.
To Make Applique:
I used Ariel Black Font and printed out the largest size letter that would fit on one piece of paper.  I print them out in outline, so it uses less ink.
For letters that are not symmetrical, you either need to print them in reverse or trace the letter into reverse on the back of the paper.
Trace the backwards letters onto the paper side of paper-backed fusible web.  (I used Heat'n Bond Lite available at Wal-Mart and most craft stores.)  Cut out your letter.
Iron your letter onto your accent fabric and cut out again.
Peel the paper backing off of your letter.
Use a ruler to make sure your letter is centered on your rectangle.
Iron your letter onto your rectangle.
Using matching thread, do a tight zigzag stitch around the edge of each letter.  I usually set the stitch length to halfway between 0 and the next closest number.
Instead of back-stitching, when you start and stop, I like to leave long tails.
Then I pull them through to the back and tie a knot.
Putting in the Zipper
You could possibly get away with using a shorter zipper, but I find foam can be difficult to fit into cushions if the opening isn't large enough,  so I went for big ones.  There are lots of ways to put in a zipper, but this is how I did it.  I lined my fabric and zipper up as shown in this picture because you need about 1/2 inch of fabric on each size of the zipper starting and stopping.
The I used my zipper foot to sew my fabric as close to the zipper as I could…a little less than a quarter-inch away…with right sides together.
Iron the fabric open.  Trim this so it is 6″ wide.  You should have something that looks like this.  (Note that the zipper seems to stick out one end a bit.

Sewing the Cushion Cover
Sew one end of your zipper strip to your 6 inch strip.
Wrap this long around the sides of your cushion, so they're snug.  Pinch the two ends together to figure out where to sew them together.
Stitch your zipper strip and 6″ strip together at the place you've marked.  This should make a big loop.
Using a pencil, mark the center of zipper at each edge of the strip.  Then mark the loop in quarters.
Mark the center of each side of each of your rectangles.
Matching center markings, pin the rectangle to the 6″ loop.
At each corner, you'll need to cut a small notching in the 6″ strip to help it ease around the corner.
Stitch around the edge with a 1/2 inch seam, rounding the corners a bit as you go.
Repeat for both the top and bottom of the cushion.
When you sew the second side of the cushion on, be sure to leave the zipper open just a bit, so you can turn your cushion cover right side out.
Then slip in your pillow, and you're all done.
All done!