"Love is in the air…"  And now is a great season for crafting! Today I wanted to share with you a fun DIY  wall art tutorial on how I made my Burlap & Design Foam Wall Art piece. As you can see, it does have hearts and "love you's" on it so it fits with the season, but I feel this is a piece I can either hang on my wall or sit on my mantle the whole year through. And perhaps the red and black simply doesn't go with your decor…Switch up the colors! Make it your own.
Supplies Needed:
1 12″ Square Rigid Design Foam – Foamology
Black, Cream & Tan Cardstock – Bazzil Basics
Cherry Pop oly*fun – Fairfield
Heart Dies – Spellbinders
Cricut Cutting Machine for Cut Sentiment
Burlap
Black Buttons – Buttons Galore & More
Glue Runner & Low Temp Glue Gun – AdTech
1. To begin trim the tan cardstock and use a Glue Runner to adhere it to the front of the Design Foam.
2.  Flip the Design Foam onto a 15″ square of burlap. Wrap the edges up around from the front and pull just a bit of the paper backing away to reveal the adhesive. Press the burlap firmly onto the revealed adhesive. Repeat on all four sides.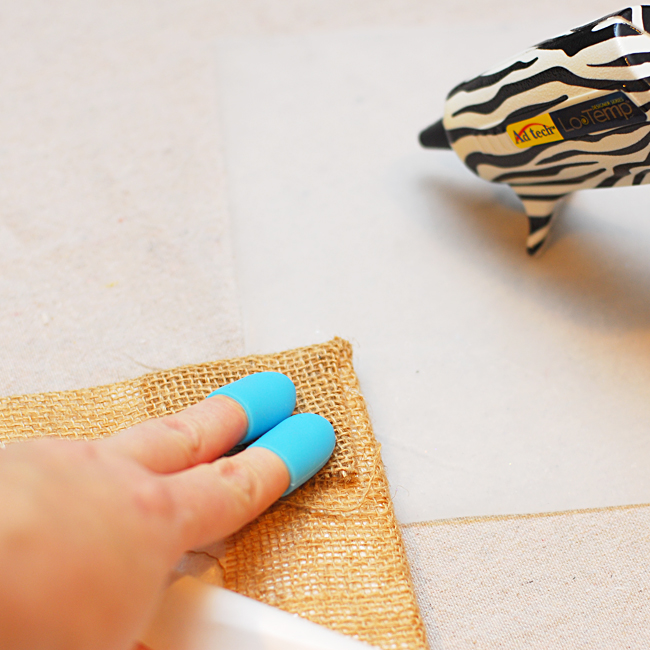 3. Use the hot glue gun to adhere the overlapping corners. Repeat for all four corners.
4. Use hot glue to adhere the cream cardstock to the back, covering the edges  of the burlap.
5. Use a Glue Runner to adhere the die cut hearts and the sentiment in the design as shown.
6. Press and burnish each piece as you adhere it to be sure the pieces adhere well.
7. Use hot glue to adhere a line of black buttons to the top and bottom of the piece.
And here is the finished embellished Burlap & Design Foam Wall Art piece. I already have plans to make an Easter piece, since this one was so easy and fun! Enjoy!