Teachers Gifts.  It's Back-To-School time! We know you have a million things on your mind like school lunches, bus routes, and an endless list of supplies to buy so we're making it easy for you with these 9 Easy & Practical Teacher's Gifts. Most of these come with free labels that you can just print out and stick to a gift. How easy is that?

1. School Supply Cake Tutorial (A Pumpkin And A Princess) – This impressive gift looks more complicated than it actually is since everything is held together with just rubber bands and ribbon. A totally useful gift that any teacher would appreciate.
2. Hand Soap Teacher's Gift (Simply Kierste) – I love the classic design of this free label that you can just print out and attach to a bottle of hand soap. There's even a blank space to add your name and number so that the teacher knows you're ready and willing to help.
3. Customized Notepad Gift (How Does She?) – Can a teacher ever have too many notepads around? This tutorial includes instructions for making your own but you could always decorate the sides of a store bought one!
4. Highlighters Back-To-School Gift (The Tomkat Studio) – Another print-and-go teacher's gift. Just print out the free label, color it in, and attach to some highlighters. Done and done!
5. Ice Breaker Teacher's Gift (Tried & True) – Any teacher would appreciate breath mints. This one includes a free printable label that introduces your child as well!
6. Pretty Wooden Rulers (Smart School House) – Why is it that you can never find a ruler when you need it the most? Help a teacher out by customizing a plain wood ruler into something adorable!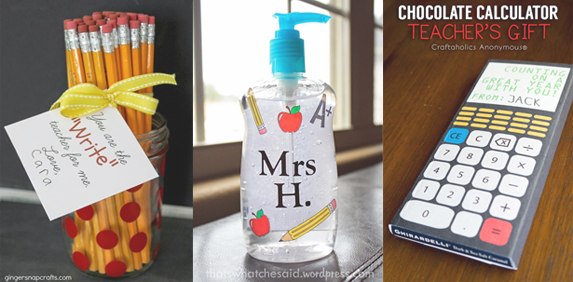 7. "You Are The Write Teacher" Gift (Ginger Snap Crafts) – You can either make the cute polka dot mason jar in this tutorial or just wrap the free label around a box of pencils if you're short on time.
8. Hand Sanitizer Teacher's Gift (That's What Che Said) – Being around so many kids all day, hand sanitizer is a must for teachers! Make an quick customized bottle for the teacher with some scrapbook stickers.
9. Chocolate Calculator Gift (Craftaholics Anonymous) – When in doubt, there's always chocolate! Just print, stick, and sign. Couldn't be easier!
Hope you found this round up of easy and practical teacher gifts useful and that this upcoming school year is a great one for you and your kids!