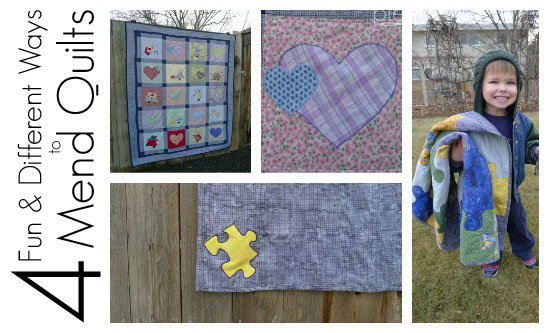 How to mend quilts. I've made lots of my own quilts, as well as many quilts for other people, and in my opinion, the highest compliment a quilt can receive is to be loved and used so much that it requires some repair.  Depending on where the damage is, though, or how extensive it is, it can sometimes be hard to know how to fix it.
So I wanted to share a 4 of my favorite ways to mend well-loved quilts and extend their life.
Before you start you DEFINITELY want to check with the quilt's owner and see what kind of changes they're willing accept.  Is it necessary for repairs to be invisible?  If you're adding a patch, does it need to blend in or stand out?  What characteristics of the quilt do they most treasure?
Add an Applique Patch
When there's no way to do a really discreet patch job, I kinda figure you may as well let it stand out and let it add character to a quilt.  Applique patches are a great way to do that.  Hand-stitching is always an option if it's important to you for the stitching not to show through to the second side, but I love the speed and durability of machine applique.
Needed Supplies:
Fabric Scraps
Paper Backed Fusible Webbing
Coordinating thread
Start by choosing the size and shape of your patch.  It's fun to find a simple shape one that goes with the theme of your quilt in some way. Google image searches can be great, and you can trace the image right off your screen if you want.  In my case, there was damage to the back of my son's baby quilt…the result of getting caught under the stroller wheel and going unnoticed for a while.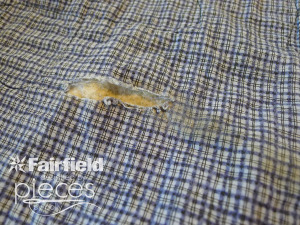 Since the front was a puzzle quilt, I thought it would be fun to make the patch a puzzle piece.
Once you've chosen the size and shape of your patch, you'll need to cut it out in REVERSE (mirror image) from your favorite paper-backed fusible webbing.  Then iron that onto the BACK SIDE of the fabric scrap you're turning into your patch. (And in this case, I still had some of the original fabric from his quilt.)
Cut out your shape again.  Peel off the paper backing and apply to your quilt, ensuring that the damaged area is completely covered.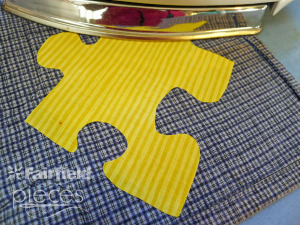 Do a tight zigzag stitch all around the edge of the patch.  I usually choose thread to match the fabric that I am appliqueing.  In this case, though, since the patch was going on the back and I didn't want the stitching to be distracting on the front, I opted to have the thread match the front…so I used dark blue.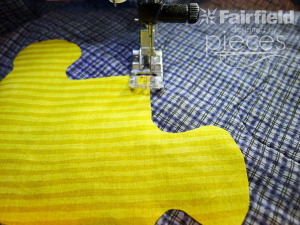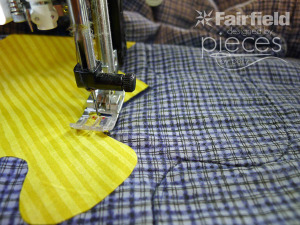 Leave a long tail at the beginning and end, so that when you're done, you can pull all the threads through to the back side, tie them securely in a square knot, and then hide the threads inside the quilt.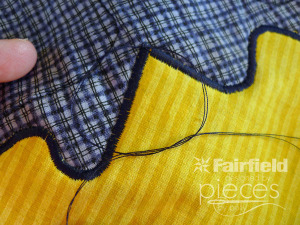 And in the end, the quilt back looked like this…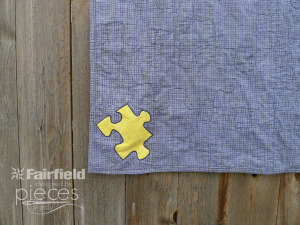 And the front looked like this.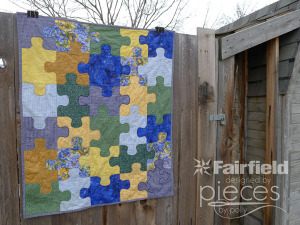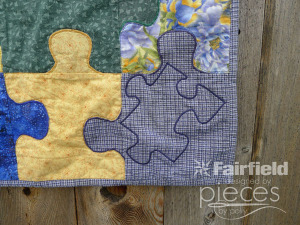 And my almost-three-year-old looked like this.  He is thrilled with the new puzzle piece on the back of his quilt, and he looks for it every night before going to sleep.
Replacing the Batting and Binding
Needed Supplies:
Nature-Fil Blend Quilt Batting to fit your quilt
Basting Spray (My favorite brand is 505, but there are lots of other great options.)
New Binding Fabric for your quilt (1/2 yard for a double binding on a throw size quilt)
Any supplies needed for necessary patches.  (See previous section)
If the original quilt used low-quality batting and/or was too loosely tied, it may end up baggy and lumpy.  This is exactly what happened to a quilt I made 10 years ago for my oldest daughter's birth mom.  I didn't know as much about quilting at the time and I used a low-quality batting.  I've never been a fan of tied quilts, but I didn't have the time to hand-quilt it and I didn't know anything about machine quilting…so I tied it with as few ties as possible, so the ties wouldn't interfere with the appliques.  Now 10 year later after my daughter's birth mom has used it for years and her little girls now play with and on it, many of the ties has pulled through the backing fabric and the batting was thin in some places and lumpy in others.  There were also several places where the appliques were coming loose.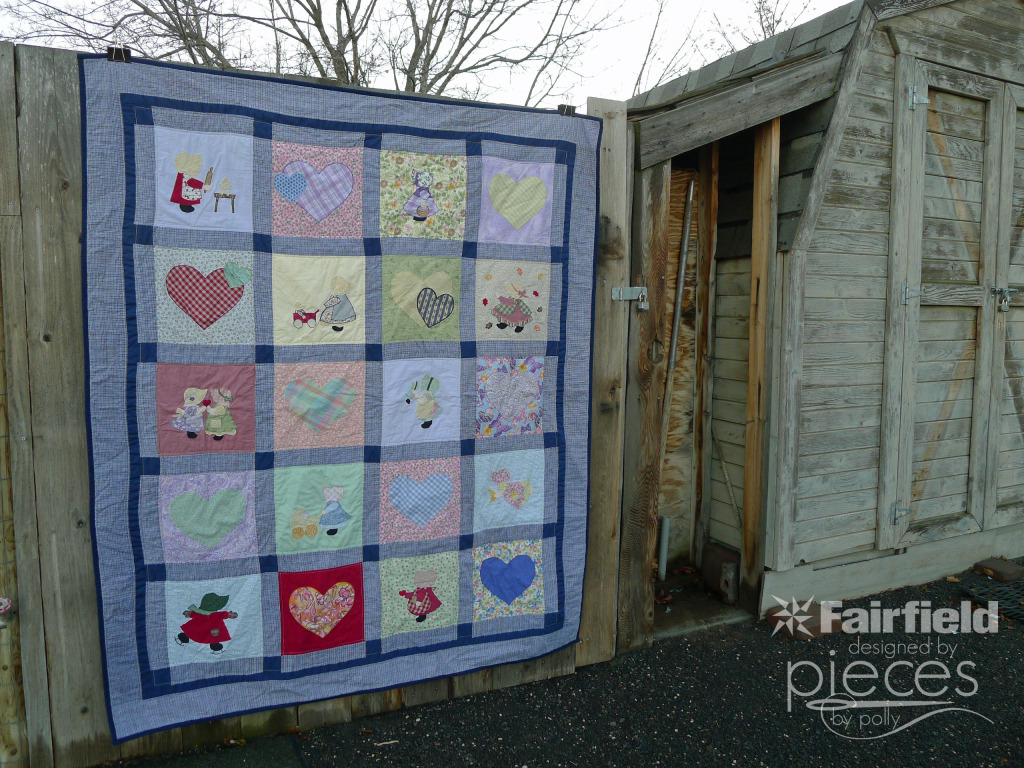 To fix this, I started by taking the quilt completely apart.  I carefully removed the binding and cut free any of ties that were still in place, so that I could work with the quilt top.  I checked with my daughter's birth mom, and she wasn't particularly attached to the backing fabric, so it was decided to give the quilt a whole new back, batting, and new binding.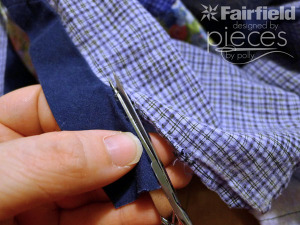 Next I had to repair the appliques.  (I'll be honest…I was actually really surprised to see how well they'd stood up in general since the zigzag stitching I did back them is about half the width I use now for appliques.)  Since the places that needed repairs were on the large hearts, I was concerned that trying to re-sew the hearts would make them look weird and lopsided.  So instead I opted to and some new smaller hearts as patches.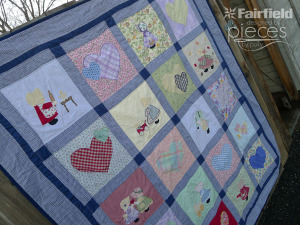 The quilt is so heavily appliqued that they fit in well with the character of the quilt.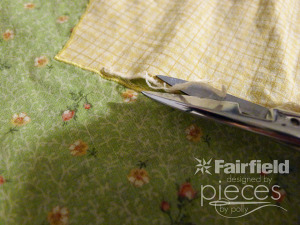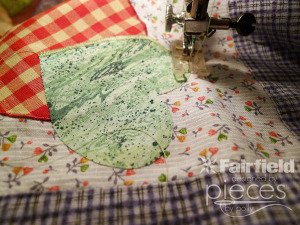 I even used some of the discarded backing fabric as for one of the patches.
Once damage had been repaired on the front of the quilt, it was time to re-quilt it.  I typically use 100% cotton batting in my quilts, but because this quilt top was so soft and worn, I wanted the batting to be super soft, and to keep as much of the "worn to softness" feel of the quilt as possible, so I used Nature-Fil (a cotton/bamboo blend).  It's amazing, and really was the perfect for this project.
One thing to keep in mind if you plan on re-quilting a quilt is that when you go to baste it, you may find that some parts of the quilt have stretched or shrunk a little unevenly and it's likely that your quilt will not square up properly the way a new quilt would.  I did end up with a few more puckers in my quilting, and you may have to do a bit of trimming to the final edges to get the edges straight and ready for binding.  (Although I guarantee the few puckers look a whole lot better than the condition this quilt was in when I started.)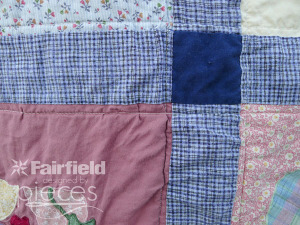 When I did the binding, I wanted it to match the original fabric…but of course that fabric was long gone from my fabric stash.  So I pulled out my Kona Color Card and found a nearly exact match…Kona Cotton in "Storm."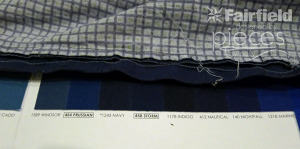 (Seriously, I love my Kona Color Card for knowing I'm getting the right color when I order online.)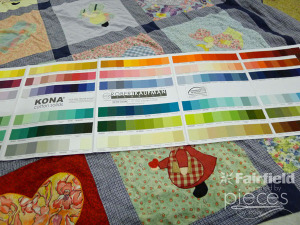 And once I put the new binding on, it was ready to send back home with Katie's birth mom to be loved for another 10 years…or hopefully more.
Resizing the Quilt
Needed Supplies:
New binding fabric.  Amount depends on the size of your quilt
While, all my kids love their blankies, my oldest daughter is obsessed with hers.  She sleeps in a literal nest of blankets in her bed, and favorite among them all is the one that she has called "White" since she was two.  (Yes, truly loved blankets in our house get names and are referred to as he or she.)
Meet "White."  It has been drug around EVERYWHERE and has been loved a LOT.  It's hard to tell from the picture, but beside  that big ragged chunk, most of the binding has separated from the quilt on the bottom and left.  It is not an easy mend.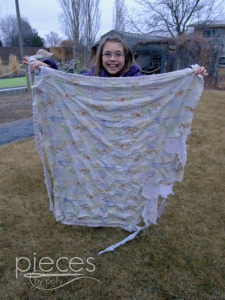 Let this be a warning to you about what happens when blankets don't get repaired as soon as they should.  (I think I was hoping it would get so worn out we could get rid of it, but no luck.)  It had gotten so tattered, that we'd taken to washing it inside a mesh bag.  We'd also told Katie that "White" had to stay in her bed…we were afraid of what would happen to it if one of her siblings accidentally (or on purpose) gave part of it a big tug.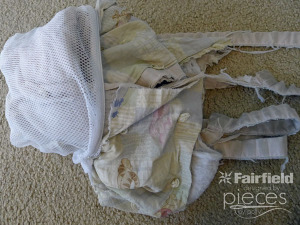 "White" was quite literally in tatters, so we took desperate measures…desperate measures that you will surely want to check with the blanket's owner before attempting because there is no going back.
We cut "White" down to the largest rectangle we could find where the fabric and batting was still somewhat in tact.
You'll want there to still be some batting, so that when you sew on the binding, there will be enough structure to handle sewing the binding on (because this fabric was REALLY thin.)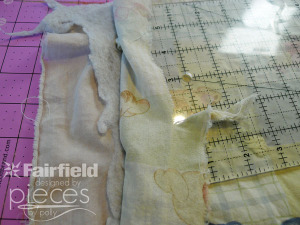 Then we gave "White" a new binding.  It was a bit of a challenge looking through my stash to find a suitable color (and truth be told I'm still not sure we found it.)  When you have a blanket this ratty and faded absolutely EVERYTHING looks too bright and vibrant next to it, but we did the best we could with off-white.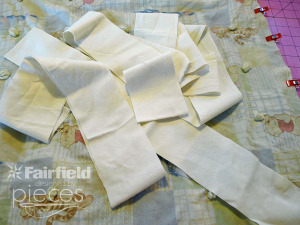 While it still might not be the most beautiful of quilts, what's left of "White" is sure to last much longer than if she'd stayed in tatters, and Katie is thrilled to be able to take her out and about.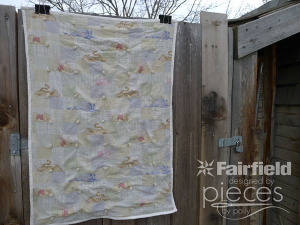 And having made a full recovery from what Katie, called her "surgery," "White" has rejoined the other blankets in Katie's nest.
(Believe it or not…you can't even see her twin size quilt that is supposed to be "the" bed quilt she sleeps under.)
Recreate the Original Quilt
And my final idea is perhaps cheating a little…and is an option that is rarely available since most fabrics go out of print after a couple years…but if you still have or are able to find the original fabrics, you can recreate a new version of the quilt.
I blogged about this a year or so ago, but another of Katie's favorite baby quilts (This one is named "Pink.") was falling apart.  This quilt was made for her by my sister…who happened to have quite a bit of the fabric left over.  (Hooray for fellow fabric hoarders!).  She gave me the fabric and I recreated a larger version of the quilt last year for her birthday.
Be warned though…remaking a new version of a blanket may NOT convince your child that the original blanket can be discarded.  Now "Pink" and "New Pink" both live jumbled up in that next of blankets on her bed.
Do you have other ideas for fun and different ways to do quilt repairs?  Please share your ideas in the comments.
Happy Quilting
~Polly from Pieces by Polly