The Sterling Silver Soirée featuring Sterling Silver Cuddle Cakes.  A package of Sterling Silver Cuddle Cakes and Charm Cakes plus a yard or two of Mar Bella Cuddle Fabric were delivered to our Master Makers by Shannon Fabrics.  They were asked to create something with the silver and color of their choice of pattern from the Mar Bella collection and a product from the Fairfield World product line. Each of the Master Makers has shared their creations in the images below with a link to their blog so you can learn how to make them too.
Materials for the Sterling Silver Soirée:
Cuddle Cake Squares in Sterling Silver and Mar Bella in a variety of colors.
To see the projects and instructions click on the highlighted name.
First up on our collection in the Sterling Silver Soirée is:
Morena's Corner Mud room Makeover not only did she use it for a cushion but in two pieces of art work.  She has really outdone herself with the wall art.  And to think that very cool wood grid came from the thrift store.  We are very impressed!
Carolina of Always Expect Moore created a quilt with the pieces she was sent.  She did fantastic. She was sent the supplies during her move and the  Master Maker coordinator Niki, picked the accent fabrics for her.  Nice to know she can rise to any challenge. 
Polly of Pieces by Polly  used Violetta with her Sterling Silver Cuddle Cakes to create a luxurious patchwork quilt.  Not only is the quilt awesome but she can show you how to make it in a day.  Pretty amazing right?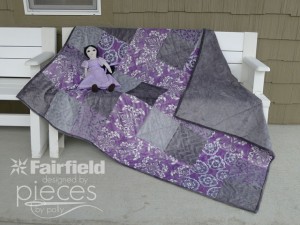 Vanessa at Tried and True created a monster tail travel pillow for kids.  Pretty sure there are a few adults who would like it too.  More that a few for sure because it is so much fun.  Be sure to order enough material for several so the adults, I mean kids are not fighting over it.
Lorine of It's Sew Lorine created a floral pillow that is full of texture and dimension that you know you want to touch not just because of the soft cuddle fabric.  This is a great accent pillow and there is a pattern on her site too.

Niki of 365 Days of Crafts  started a guest bedroom makeover and the first piece created for the room is a pillow with an accent stripe of cuddle cakes.  She will show you how to create a simple pillow that looks more complicated than it really is.
Pin the image below to come back.