I'm excited to share a super simple gift idea with you today…an easy Monogram Shirt, sure to delight your  favorite child.  My little guy is 2, and he know's  his name starts with A.  He loves searching out A's on signs everywhere we go, so I thought it was time for him to get an A shirt.  I'm not sure why it took me so long to get around to it, since this really only takes about 15 minutes to make.  If you're looking for a fast Christmas Gift that is sure to hit the mark with a toddler (or older child) this will be a winner.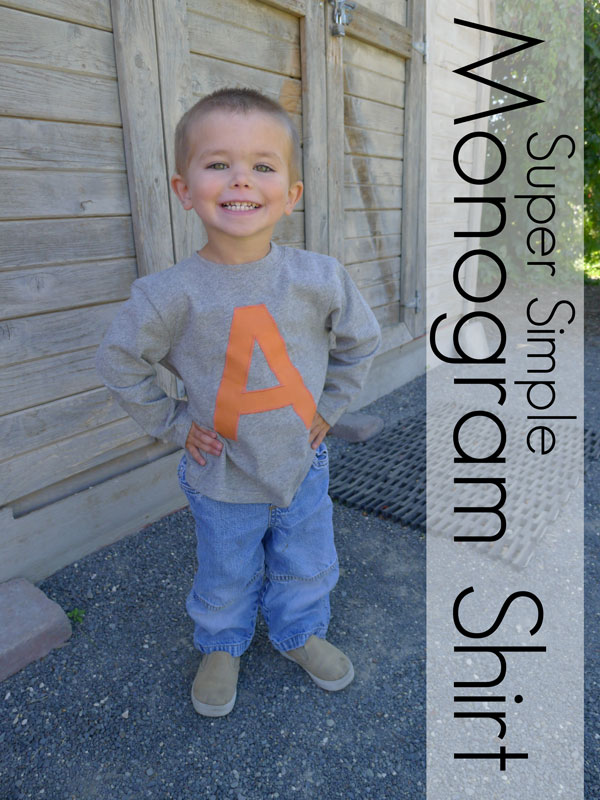 It was also the perfect opportunity to try out Stick from Fairfield.  Stick is part of an exciting new line of inter-linings coming out early next year.
This little guy absolutely loved his shirt…so much so he was willing to have me take pictures of it.
The only hard part was getting him to take the shirt off later.
Supplies
Shirt
Fat Quarter or fabric scraps
Matching Thread
1/4 Yard of Stick (fusible web) from Fairfield
Sewing machine, scissors, etc
Instructions
Draw or print a large block letter to use as a pattern.  I used the basic "Arial Black" front in Word.  You want a basic block letter without too many fancy curly cues that make it difficult to cut out.
Cut one copy of your letter out of your fabric, and one out of your fusible web.
Carefully center your fusible web on your shirt.
Then carefully place your fabric letter over the fusible web.
Iron over your letter with a damp cloth.  This both helps fuse the web, as well as protects your iron from any bits of fusible web that may be poking out.  (I actually used damp paper towels rather than a damp cotton cloth, and it worked great.)
Set the settings on your sewing machine to do a wide zigzag with a very short stitch length.  DO NOT back-stitch at the beginning and end since this would lead to some really bulky parts.  
INSTEAD leave long tails of thread…
…then pull them through to the back or use a needle to get the threads to the back.  Then tie several secure knots.
And then you're done.  Your shirt is all ready to wrap up and put under the tree…or immediately put on a cute little one.
Prepare to be thanked with many smiles.
Happy Sewing!
~ Polly from Pieces by Polly.
This is a great start to a hand made gift – If you are looking for more inspiration click on the links below.
The hosts of the hop are giving away a gift card if you are interested in entering.