A rag quilt is a nice starter quilt and I consider myself a beginning quilter. Yes, I sew but I have never made a quilt.  When a blogger friend, Kimbo from A Girl and a Glue Gun asked me to participate in a blanket fundraiser I almost said no.  Then when I realized the quilts were going to kids in a hospital I changed my mind.  I am a perfectionist and making something to give to another person is a scary event.  I don't like being judged.   Not that they are judging, but in all reality that is what my minds thinks.  My kids think I make the best stuff ever and it is always perfect to them.  But a stranger is a different story.  Luckily, kids are not judgmental and they love getting gifts.  Selfishly I thought this was the perfect reason to make one and it would be a win-win.  I would learn how to do a basic quilt and a child would get something special to use during their hospital stay.  How could I say no?  Then, as I prepared my supplies to make the quilt, I thought tweens and teens might need them too and that most people would select fabric for little kids.  So I went with one of my favorite fabrics called Urban Nomad and solids from Kona.  I learned a lot of lessons along the way.  A 4″ square is the ABSOLUTE smallest I would ever go.  I made a bazillion and one squares.
Now for the important information about Luke's Loves and Project Linus.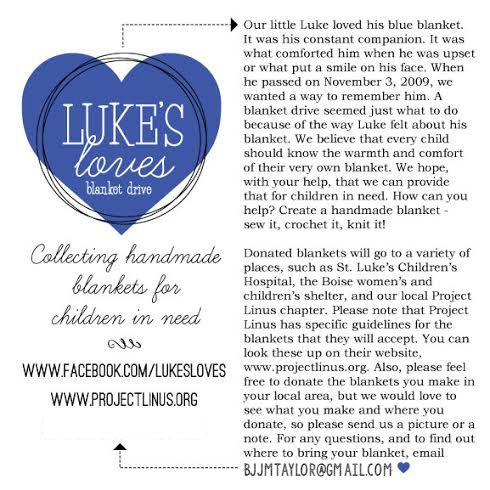 There are a couple ways YOU can participate!
A. Make a blanket! They accept NEW, HANDMADE, WASHABLE, blankets and afghans for giving to children ages 0-18 years. Many sizes are appropriate depending on chapter need. For example, blankets could be as small as 36″ × 36." The majority of Project Linus blankets are about 40″ × 60″, or what is called "crib size." Blankets could be as large as twin size for teens. (You can head HERE and click on FAQs.)
You can either go HERE and find out where you can donate Locally (just click on your state)–Or you can mail it directly to Kimbo.
ATTN: Luke's Loves
4552 Independence Ave
Chubbuck Idaho 83202
(Either way –we are trying to keep a heads count! and would love to see the blanket! If you want to email us and let us know…or send a picture ([email protected]) Link up at the linky party below, or tag us on instagram with #lukesloves)
You could have a blanket making party. Get the gals together to tie a fun quilt. Teach your daughter to sew a simple baby blanket. I personally love blankets. Only straight lines! Nothing tricky about it!
B. Donate —Let say you lack the time—or maybe even the skill but still want to get involved–You can easily donate money HEREon the project Linus page–or even donate fabric!!!
C. SHARE SHARE SHARE and a lastly! Share ! We would love any extra exposure we can find! You can save any picture on here or just add a link to any social media you have! Pin! Facebook! Instagram (#lukesloves) We need to get some word out and would love any extra push! Tell your friends, tell your friend's friends.
Materials for the Rag Quilt:
Fusiboo Fusible Batting
Fabric for backing
Fabric for front
Scissors
Sewing machine and coordinating thread.
Instructions for the Rag Quilt:
Plus a handy square cutting guide for rag quilts.
Select your size of quilt and quilt square.  The larger the square is the quicker the cutting is and less sewing.  I wish I would have made mine bigger.  Lesson learned.  LOL
Each square for the quilt will need a top a batting and a backing.  Use a 1/2-inch seam allowance for the rag quilt.
The stacks should go top fabric face up, batting then bottom fabric face out. Slide a few straight pins through the stack to hold fabrics together. (Fusiboo is ironed to the back side of the fabric. With the top layer, batting and bottom layer forming a sandwich.)
Make as many pieces as you need for the size up quilt you are using.  (guide below)
Make your pattern and stack in rows according to pattern placement.

How to Sew the Rag Quilt
Gather the first two blocks in the first row. Place the stacks backing sides together, noting which edges should be connected. Sew along the aligned edges with a 1/2-inch seam allowance. Some people like to sew Xs in the center of each square.  I did it on the center and not the outer bands. I like the X look better.  You decide what you like.
Add the next block, again placing backing sides together.
Finish sewing the blocks in each row together. Attach rows to each other, placing rows backing sides together and matching seam intersections. When the quilt is complete, sew a seam  around the entire quilt, 1/2-inch from each side. If you stop 1/2″ from ends, backstitch at each angle of the corner.
Once the pieces are sewn together you will need to clip the edges. Make perpendicular cuts about 1/4″ apart along all seams. Do not cut too close to the seam lines. I did this on a few and had to go in and repair them after the washing.  Lesson learned.I made this handy guide for your use.  Take my advice and go with bigger squares unless you enjoy the cutting process.  Some people do and I am not one of them.



1 yard = 90 four inch quilt squares

1 yard = 36 six inch quilt squares

1 yard = 12 ten inch quilt squares

2 yards = 28 ten inch quilt squares