Quilt Artist Caryl Bryer Fallert-Gentry has demonstrated over the decades that a quilt can be both artistic and functional.  Her quilts are on display at many galleries around the country and information about her two latest exhibits is below.  If you have an art quilt or information about a show we would love to hear from you too.
Quilt artist Caryl Bryer Fallert-Gentry has a show open in Port Townsend. She has two pieces in this show which features interpretations of water by various artists.  The show is Liquid Planet, by the Surface Design Association: North Peninsula Chapter.
Pippa's Real Tea, 636 Water St
Show Dates: July 28 – September 27, 2015
Her two works in the show are:
Reflections of Eldean #1  and Reflections of Eldean #2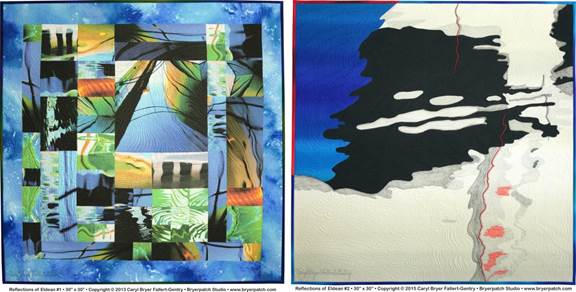 Caryl Bryer Fallert: A Retrospective opens today at the  New England Quilt Museum.
August 20 – October 31, 2015
Hours: Tuesday through Saturday, 10 AM – 4 PM / Sunday, Noon – 4 PM
18 Shattuck St, Lowell, Massachusetts 01852 / phone: 978-452-4207

The exhibit includes her very first quilt (1976) and her most recent major work (2015). The 35 quilts in the show are examples from various periods in her 39-year quilting-art career and include all three of her AQS Best of Show quilts.  The quilts are on loan from the National Quilt Museum.  The show also includes her  2009 IQA Best of Show quilt.
If you have any quilts on display or an event that would interest our readers we invite you to share with us. We enjoy promoting this great art form and life skill.  You may reach us by leaving a message here.  Leave a message on our Facebook page.  Or you may send an email to [email protected]
If you need more inspiration for everyday projects please view our project gallery.  If there is something you would like to see more of  please let us know.  We value your input and love to have feed back.