Last month we co-sponsored a Quilt for Kids Sew-in with Spoonflower.  Quilt for Kids transforms discontinued, unwanted and other fabrics into patchwork quilts that comfort children in need.  They are –a 501(c)3  nonprofit- and their  MISSION STATEMENT: Transforming fabrics into patchwork quilts that comfort children with life-threatening illnesses and children of abuse.  
If you are not familiar with SpoonFlower and are a lover of fabric, and even wallpaper and paper too, then you must really check out the awesome selection they provide.   And the best part is that if you cannot find what you are looking for, you can design your own and order it.  YES, you read that right… print on demand fabric and other materials too.  But back to the wonderful event that was held.
Energy filled the air recently at this workshop held at Spoonflower Greenhouse in Willow Spring, NC.  Rebecca McCoy sent us an exuberant email telling us that 20 volunteers of all ages attended, and 30 quilt tops were finished in addition to 15 donated by Spoonflower employees.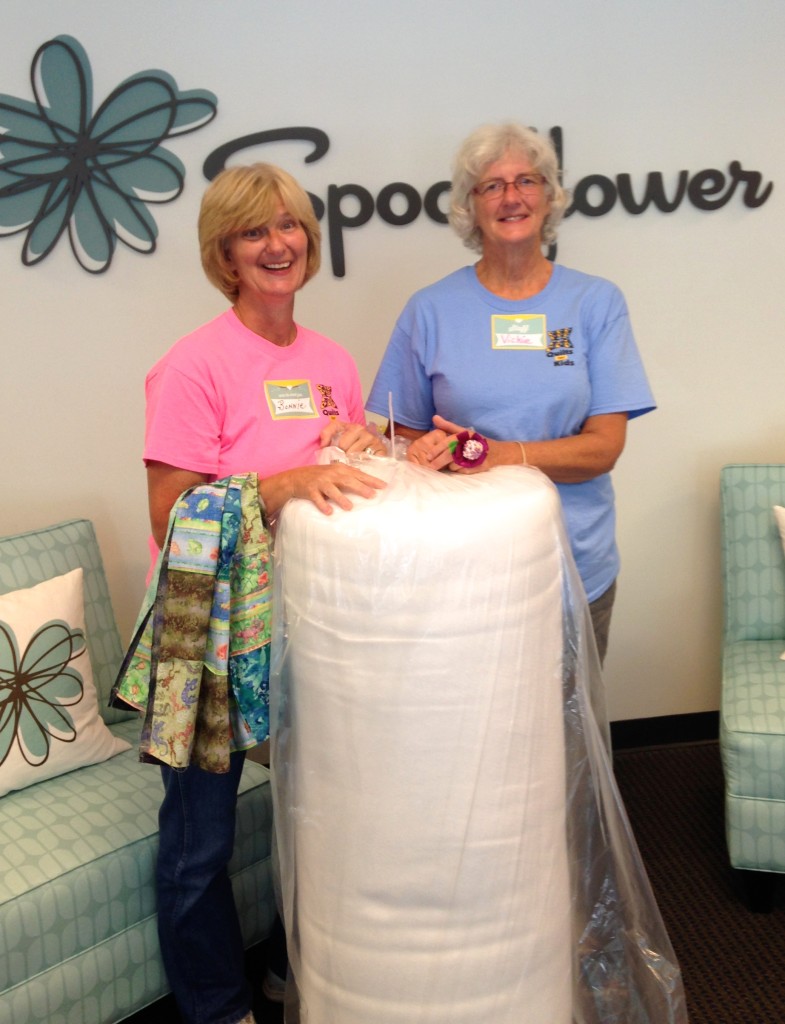 Sisters Bonnie and Vickie, the local organziers, have coordinated the donation and quilting of over 2710 quilts in the past four years–no small feat! They donate 60 quilts each month to 8 different hospitals in central North Carolina – See more at: http://blog.spoonflower.com/2014/09/sewing-for-good-quilts-for-kids-sew-in.html#more 
"Bonnie and Vickie, organizers of the Willow Spring, NC chapter of Quilts for Kids, did an amazing job wrangling quilt kits, volunteers, and explaining more about their work with Quilts for Kids, letting everyone know exactly where these quilts would be donated–their energy is amazing!"
Thank you, Spoonflower, Vicki, Bonnie and Becca…and all of your wonderful volunteers in the Tar Heel state!
"Everyone was so excited to learn more about how to help Quilts for Kids! "
The morning spent assembling the pre-cut quilt kits they continuously (and expertly!) prepared throughout the year. These quilts are donated to various organizations and hospitals that take care of children facing serious illness and children of abuse. Spoonflower made the call to their amazing Greenhouse community for volunteer sewers for this worthwhile cause, and it was a full house.  Spoonflower donated the fabric and we donated two large rolls of batting for use in finishing the quilts, and together we completed over 30 beautifully coordinated quilt tops!  The volunteers also took kit home to complete and return to Quilt for kids for completion.
The beautiful thing about Quilts for Kids is that there are so many ways to help with this charity, no matter where you are located–no longarm quilting machine necessary. Just take a look at the "How to Help" section of the Quilts for Kids website. You can request a quilt kit from the national headquarters or a local chapter or donate your time, fabric or quilting materials. And if you're interested in donating to our local chapter, Bonnie and Vickie will happily finish your quilt for you.   We are so grateful to everyone who came out to support Quilts for Kids! And a huge thank you to our friends at Fairfield for donating the batting to finish our quilts and make them extra snuggly! You can catch more photos of our sew-in on the Spoonflower Greenhouse Facebook page, along with our upcoming schedule of events. The generosity of the crafting community never ceases to amaze us, and we'd love to hear your stories of crafting for good, too! If you have an organization that is near and dear to your or if you have a sew-in or event coming up, please do let us know if the comments!
Some of the pictures from the event.  We were extra excited to see so many young people being introduced to not only quilting – but volunteering for the greater good.