The Designer Craft Connection accepted the challenge to an  accent pillow fight.  The Artists and designers in the group designed pillows and pillow covers to inspire you.  They were sent inserts and asked to let their creativity flow and to have fun creating colorful accents for their home.  Each design is unique and is representative of the artist who made them.  The designs are a varied as the designers themselves.
Rita creates a fabulous doodled cover with a sentiment and design that is near and dear to her.

Michelle creates a brightly colored and trendy trio with Oly-Fun hand cut feathers.
Sue hand dyed pillow covers that were pre-made to create beautiful accent pillows.
Debra used contrasting fabrics to create bold contemporary pillows.

Julie used Oly*Fun and decorative trimmings  to make fun and whimsical accent pillows.
Lisa, used new stamps by Ann Butler to customize her fabric for the burlap accent pillow.
Larissa used a similar set of Ann's stamps to create monogram on her cover.
Lisa created a personalized pillow for the new pup joining her family.  Suzie the pup is so adorable.
Marylin made the most adorable pocket pal that is not only super site but it is extra functional too.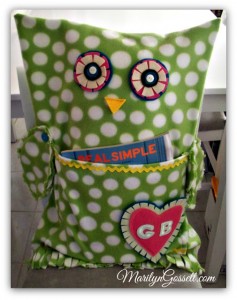 Lorrie really out did herself with the proggy technique on her rainbow home accessory.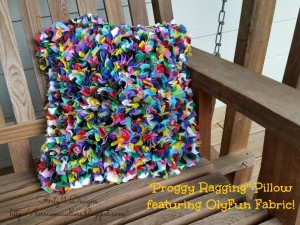 Lorine made a beautiful and practical accessory for her hammock.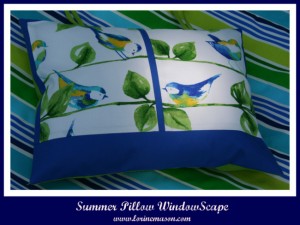 Lastly, Lisa has another fun accent pillow to share a needle felted butterfly.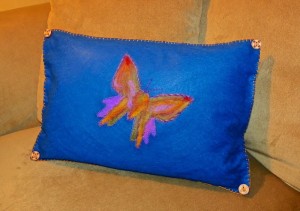 We hope you enjoyed this collection of pretty covers that work great with our inserts.  You can find more inspiration here on our site in the project gallery or join us on Pinterest. Where we share hundreds of projects gathered with you in mind.   We would love for you to share anything you make with us.  You can link here or share on Facebook.