Learn how to make a Peeps plushie toy for Easter by using fabric paired with Fairfield World's Poly-Fil Fiber Fill.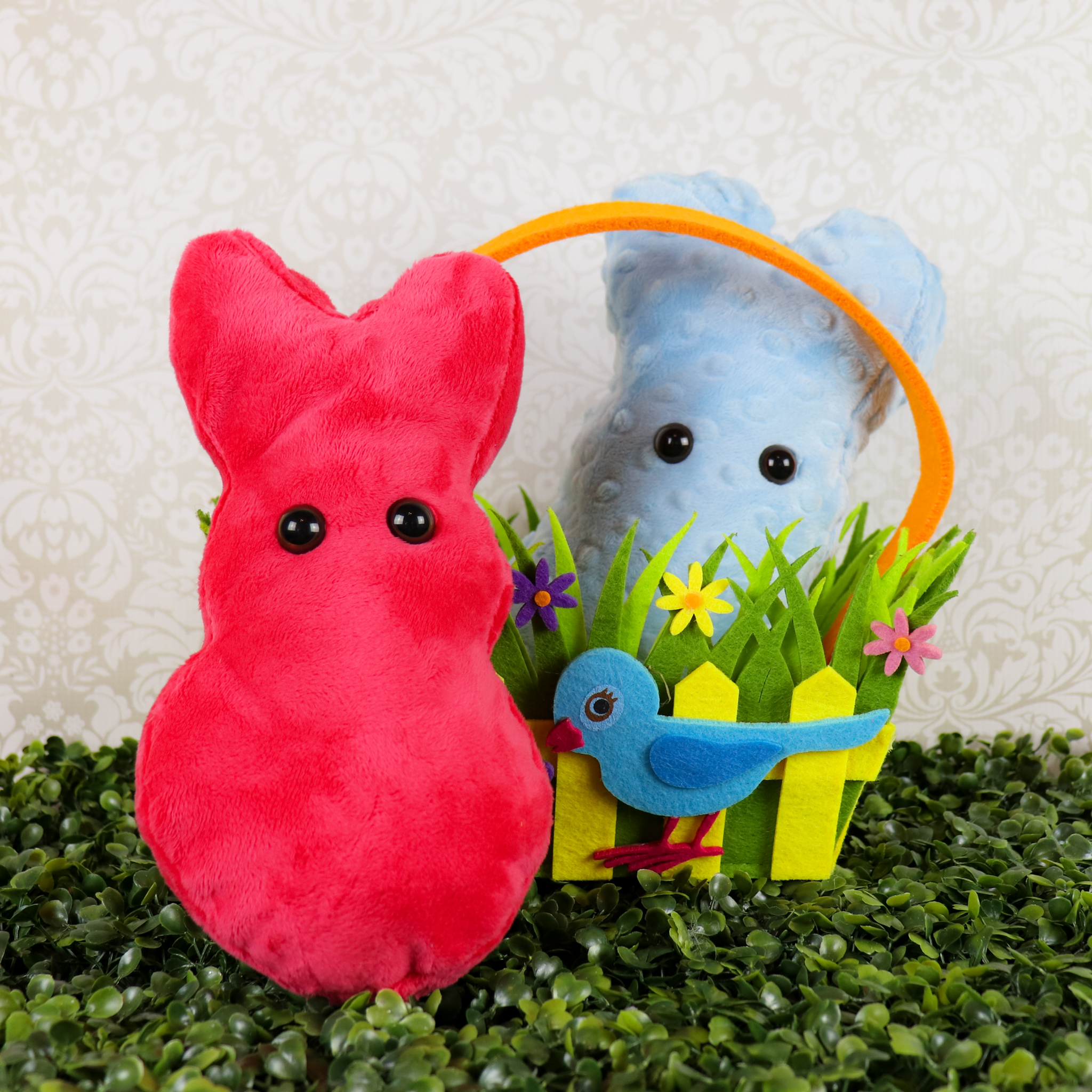 Every Easter basket needs a cute and cuddly plush toy in it. Candy and chocolate are fun, but a snuggly stuffed toy can be cherished long after all the treats have been consumed! This project will help you craft a cute Peeps plushie that you can make in any color or pattern that you like. You can even customize it to match your style or sense of humor (like I did!)
Peeps come in an amazing range of colors, shapes, and flavors. This year I even found Dr. Pepper flavored Peeps that I nabbed for my child who loves the drink. The creators of these puffy sweets have fun coming up with new ways to make their candy, so feel free to make yours in any fabric or pattern that you love!
Peeps Plushie Supplies
Fabric of Choice (1/2 yard)
Plastic Safety Eyes
I've created a short video tutorial that shows how to make your own Peeps plushie toy. Here's an overview of the steps to take:
Print the pattern onto a regular sized sheet of paper. (Feel free to enlarge it as needed to make a larger plush toy).
Trace the pattern onto the fabric twice, making one bunny for the front and one for the back.
Cut out the shapes. Also cut a strip of the fabric that is 2 inches wide by 32 inches long.
Use the pattern to mark where the eyes go on one of the fabric bunnies. Cut a hole and insert the plastic safety eyes.
Pin the strip of fabric to the front of the bunny with the right sides of the fabric facing each other. Stitch around the edge.
Place the back of the bunny plush onto the sewn bunny with the right sides together. Pin the edges in place and sew. Leave an opening at the bottom of the fabric strip edge.
Fill the Peeps plushie with Poly-Fil Fiber Fill. Fill the ears first, then the rest of the stuffed toy.
Hand sew the bottom opening closed.
These adorable little bunny peeps are snuggly and unique! Have fun crafting your own plushies, and don't forget to tag Fairfield World on social media. We love to see how you use our products at the heart of your projects.