When I was recently commissioned to create some award ribbons for a project at my day job, the first thing I asked myself was "What type of material can I use?" The obvious answer- oly*fun! Making 50 of ANYTHING is quite a task so if I can find a material that is easy to cut, requires no hemming and super easy to sew- I'm THERE! Here is how I created these simple oly fun award ribbons.
Supplies for oly fun Award Ribbons:
recycled cardboard
double sided adhesive
rubber stamps of choice and Staz- On ink
embellishments of choice
Sewing machine and thread
Scissors
Instructions for oly*fun Award Ribbons:
When I was creating these award ribbons, I immediately realized they were the perfect way to dress up a simple card or wrap a package. oly*fun is very lightweight. In started by cutting 1″ x 1 1/2 yard strips of oly*fun.
Then I sewed accordion pleats with my sewing machine and matching thread.
Next, I cut 3″ circles from recycled cardboard and adhered double sided adhesive strips to the back. You could also use a stapler and staple the inner edges of the strip to the circle.
I simply placed the strip on the adhesive to create a round award ribbon and cut two 2 1/2″ x 6″ strips of oly* fun with forked ends to complete the base.
I needed a center for my oly*fun award ribbons, so I cut a 5″ square and stamped it using Staz-On ink.
I cut another cardboard circle out- this time a 2 1/4″ circle and trimmed the stamped fabric so that is was slightly larger than the cardboard circle.
Again, I used the double-sided adhesive placed on the edges of the backside of the cardboard to adhere the fabric.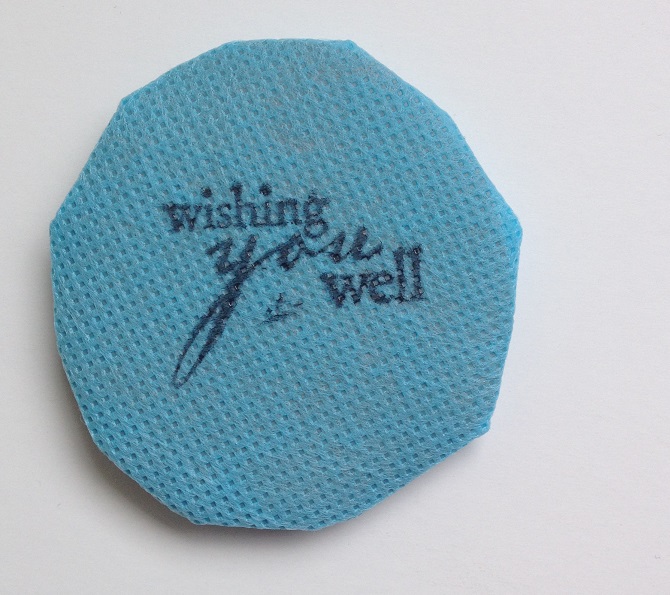 Finally, some embellishments create the finishing touches!
oly*fun is an excellent choice for paper crafts. Although I am working up the energy to complete 50 more of these, I really am glad I discovered that!
Live Life Creatively,
Melony