Mini Charm packs are a great way to get a variety of fabrics with little investment. If you are making your own it is a fantastic way to use up your scraps.  Who knew you could buy a whole collection of fabric for less that a fancy drink.  The mini charms are generally less than $5. If you are turning your left overs into useable pieces a mini charm square is sized 2.5×2.5 while their bigger sister the charm squares measures 5×5. You can use the same patterns for both with adjustments for size.
Mini Charm Pack sewing ideas you can make:
The rainbow striped pillow below features a simple strip of mini charm squares and our new Bench pillow that measures 16″x38″.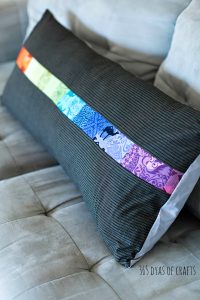 The pattern can be as simple as adding fabric between the squares as in this cushion.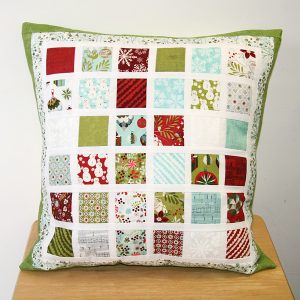 Create captivating totes like the Sewing Loft using a fun patchwork pattern.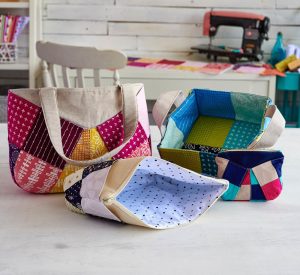 A unique use for the fabric mini charms – create the wings of butterflies. The wing flaps add fun dimension and texture to the pillow.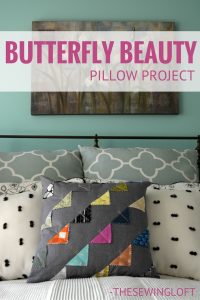 Create cute mini charm coasters and give them as a thank you gift.
Make a Wonky Star baby quilt using the tiny fabric squares. Select fabric that coordinates with the nursery or travel baby gear.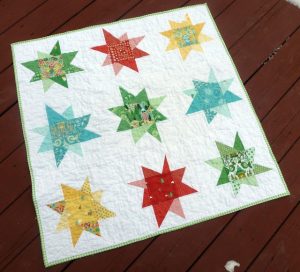 This adorable patchwork Elephant Stuffie uses Polyfil and can be made with the free pattern provided.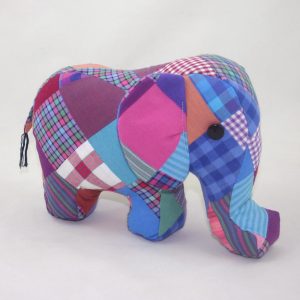 Needle books are a handy travel companion and they also make great gifts.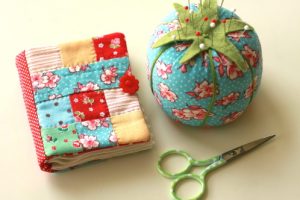 We love how Diary of a quilter turned her charm pack into a mini charm pack for this sweet Scrappy Nine Patch mini quilt.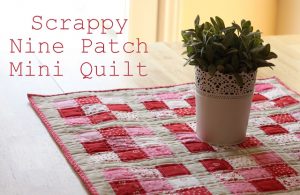 This sweet mini quilt featuring fun fish could be made in a day.

The table topper would look great in any decor with the classic styling and lines.  Anka's treasures has many patterns that are fun and fresh.