Here at Fairfield World we love to celebrate the designers who inspire us.  For this month's Meet the Pro we'd like to introduce you to the delightful Heather Valentine, the creative genius behind The Sewing Loft.  We're in awe of her creativity and the ease with which she explains a multitude of sewing techniques and projects.  Keep reading to learn why we love her, then head over to visit her at The Sewing Loft!
After earning a degree in fashion design and pattern making from New York's Fashion Institute of Technology, Heather took her talent to some of the top name brands in the apparel industry. She worked hand in hand with factories to develop new products, achieve the perfect fit and produce quality garments.
After 20 plus years in the industry, she created The Sewing Loft, an on-line sewing community filled with sewing enthusiasts of every skill level, from the small business owner to the occasional stitcher. Her main goal is to promote awareness, provide education and above all encourage the community to move the needle forward.
These days, you can find her teaching at local shops and sharing her talent in online video classes. Her designs have graced the pages of several printed publications including: Fat Quarter Projects, Fun Size Quilts, Stitching Kitchen, and Crafts n' Things and can be found in a store near you with the Simplicity Creative Group.
This self-proclaimed fabric hoarder likes to stitch the night away and dreams of one day discovering a better way to detangle her thread collection.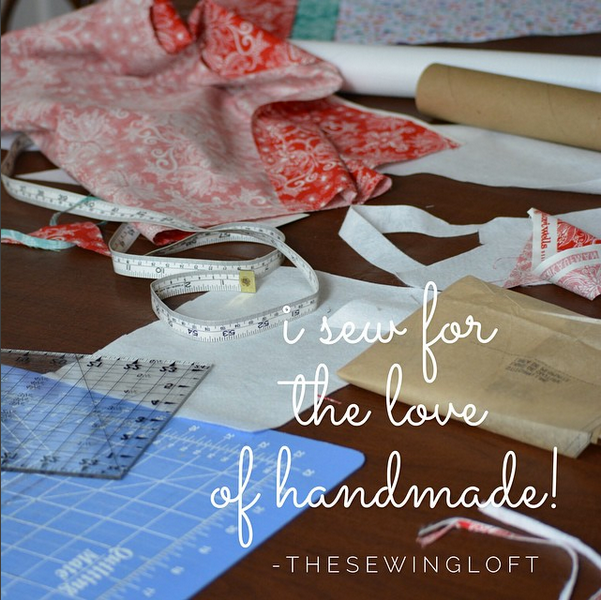 I had the chance to catch up with Heather recently and ask her a few questions.  Here are a few fun facts that I learned about her:
Heather's favorite color is blue
mismatched crazy socks are another fav of hers
freckles are fun
her power tool of choice is a sewing machine
She SEWS for the love of handmade!
 Meet the Pro Favorites:
When I asked her about her favorite project or tutorial, this is what she said:
I'm terrible at just picking one thing. It's like taking a child to the candy store and telling them to choose. So many options! There are two at the top of my list-

1. 

The scrap bucket

– Not only is it great for using up extra fabric pieces but it is perfectly sized to organize any space.

2. The

simple skirt

– This no pattern skirt is perfect for anyone. It is truly a make it today, wear it tonight type project.
I then asked what  would be a perfect crafter noon for her.
The perfect crafternoon for me would include a cup of tea, Chewie snoring under my desk, tunes cranking loud and the hum of my machine stitching away.
And to wrap up our conversation, I wanted to know if there was a quote or phrase that inspired her.  I love her answer!
One of my favorite quotes is by Master Oogway from Kung Fu Panda:

Yesterday is history, tomorrow is a mystery, but today is a gift. That is why it is called the "present."

 (Yes, it's a child's cartoon but something about living in the moment makes me smile.)
I couldn't agree with Heather more!  To learn more about her fun style and to see her fabulous creations, complete with tons of tips, instructions, photos, and patterns, visit Heather at 
The Sewing Loft
, 
on Instagram
, and 
on Facebook
.  Stop back each month and Meet the Pro!