Patchwork Posse is it! This month the Fairfield World Blog is thrilled to introduce you to the talented Becky Jorgensen at Patchwork Posse. Whether you're a beginning or seasoned quilter, you'll enjoy the variety of projects Becky shares on her site.
Becky is a mom to 4 and has been sewing since she was 8 years old!  She describes her sense of design as "quirky" and says this is what pushes her to try new things and explore different ways to use fabric.  She loves to design quilts and bags, but her favorite projects to make are dolls and stuffed animals.  Here is a sampling of some of the wonderful plush projects you can find at Patchwork Posse, which use Poly*Fil stuffing: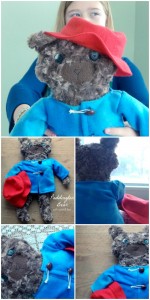 In addition to patterns and projects, Becky shares lots of practical, basic advice for quilters. Take batting, for example. With the myriad of options available, how do you decide which batting to purchase? In THIS post, Becky explains the various batting options available and which batting to use for different products.  The Patchwork Posse site also has a wonderful section called "Quilting 101" which covers several topics.  Some of the things she explains are how to use quilt templates and specialty rulers to cut fabric, ironing and pressing basics, and using a color wheel in your quilts.  If you've ever had a question about quilting, Becky probably covers it in her easy to follow posts.
Of course, I can't end this post without showing you some of Becky's fabulous quilts!  She shares tutorials, patterns, and quilt alongs on her site that you must see for yourself, but here are a few of my personal favorite quilts that Becky has shared at Patchwork Posse:
I love this "Quilts for Dads" round up because it's so hard to find projects to make for men.  Becky shares 16 awesome projects that you can make for the men in your life.
I'm crazy about fabric yo-yos, and the combination of appliqué with the yo-yos on this block is unexpected and gorgeous!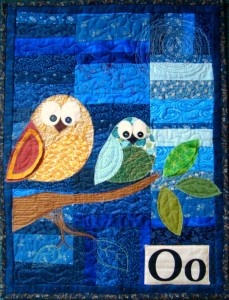 The owls on this quilt are simply adorable!  I love the way she combines different patterns and shades of blue fabric to create a stunning night sky.
Be sure to visit Patchwork Posse to see many more outstanding projects!  Becky is one of my favorite quilters, and I think she'll become one of your favorites, too.