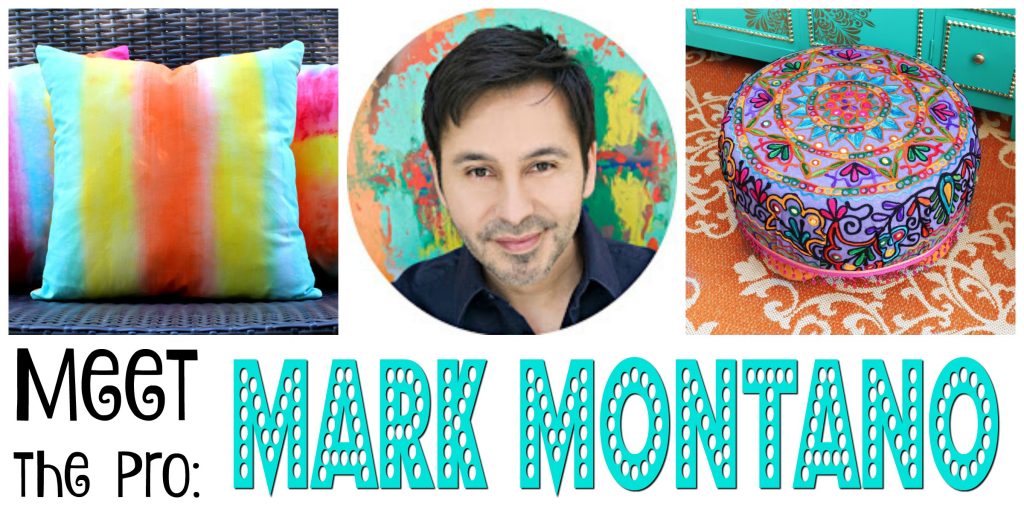 This month we are shining our spotlight on a leader in the crafting industry:  Mark Montano!  A designer, TV Host, and best-selling author, Mark writes  THE BIG-ASS CRAFT BOOK series.  Published by Simon & Schuster, his books are the best selling craft books in the US.
His television appearances include DIY shows like While You Were Out-TLC, 10 Years Younger-TLC, She's Moving In-WEtv, My Celebrity Home-Style, Tony Danza-ABC, My Home 2.0-FOX, and currently Make Your Mark! for PBS/APT. Currently, he is  a Creative Consultant for DecoArt and a Creative Director for Eclectic Products, makers of E-6000. Lately, Mark has featured several of our Fairfield World products in his video tutorials, and we couldn't be more delighted.  Here are some of our favorite projects from Mark Montano:
You'll have to click to see what this is all about!  Here's a peek at what Mark used to make these perfect-for-summer pillows:
Mark used our Tuffet Kit to create this fabulous furniture accent piece!  We love it, and we think you'll love how surprisingly easy it is to make your own tuffet when you have the right tools.
These fun little creatures are made with fabric scraps and Poly-Fil stuffing.  Let your creativity run wild when making these no sew monster dolls.
In addition to amazing furniture rehabs, Mark shares tips and techniques for creating your own custom fabric!  In this tutorial he teaches how to create celestial galaxy fabric.
This incredible makeover is NO SEW!  Seriously!
These designer inspired pillows aren't made using pricey Otomi fabric.  It's DIY fabric!  We think Oly-Fun Fabric would be perfect for this project.
Are you ready to update your front porch?  Use Mark's ideas with our foam cushions to give your porch furniture a makeover.

To keep up with Mark Montano and all of his newest creations, visit his website, www.markmontano.com, his YouTube Channel, and follow him on Facebook.