Every month Fairfield World delights in introducing you to some of our favorite designers in the industry.  This month we are thrilled to introduce you to the fun, colorful, unexpected style of Jonathan Fong.  His delightful personality and fun crafting style can be seen on his website, his video channel, and in his books.  Known around the world as the Pee Wee Herman of design, Jonathan Fong is the host of the web series "Style with a Smile" and the author of three books: Walls that Wow, Flowers that Wow, and Parties that Wow. Besides designing interiors, events and crafts, Jonathan is a popular fashion blogger.
Jonathan shares inspirational ideas for florals, crafts, weddings, events and home design. He loves to teach people how to create things themselves, and he makes it fun, too! He loves dogs, 18th century French decor, Andy Warhol, and Olivia Newton-John, and you'll see all those elements in his design and decor! Jonathan has had a long and successful career in the crafting business.  He dazzled as the host of DisneyFamily.com's "He Made, She Made," and currently stars in his own web series "Style With A Smile," Jonathan Fong turns D-I-Y into D-I-Wow. He truly believes that if he can do it, anybody can. His whimsical designs have been featured on HGTV, DIY, USA Network and Fox.
Jonathan Fong's other creations:
Jonathan recently designed a no-sew  Warhol pillow using our Structure fusible interfacing.  You can see his full tutorial with beautiful pictures by clicking HERE.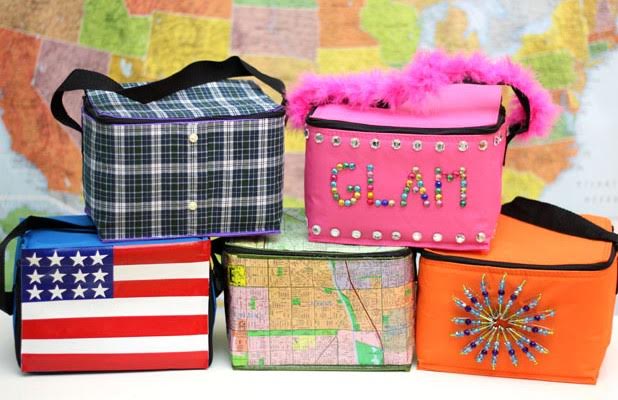 Make your own lunch boxes with Solarize and then embellish them with these fun decorated lunch box ideas by Jonathan.
The DIY fashionistas will love Jonathan's blazer make overs.  He has several tutorials on his site that show you how to make a plain blazer something that is "wow" worthy.  The bold colors and clean lines on this Mondrian inspired blazer make this jacket really stand out above the rest.
This hot air balloon centerpiece is unique and completely unexpected.  What a beautiful way to decorate tables at any event!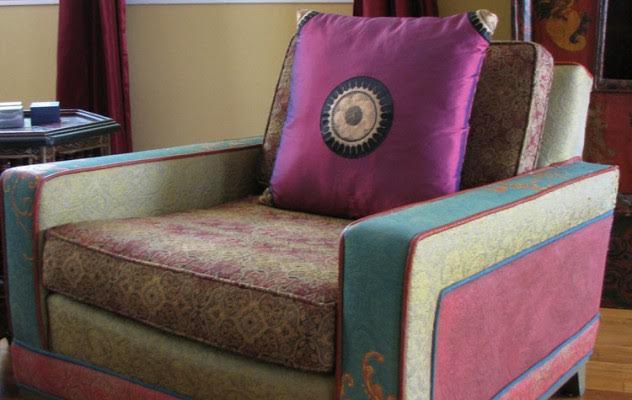 We love furniture rehab projects, and this vintage chair makeover is a great example of how you can update a drab, old piece of furniture and make it look new again.
I wanted to learn more about what inspires Jonathan, so I asked him a few questions.
What would be a perfect crafternoon for you?
I love crafting with friends, so an afternoon of us sitting around a table with a stash of supplies in the middle while we gossip and eat chocolate desserts would be my idea of heaven. There's no "creating" without "eating."
If you could invite four creatives to dinner, who would you choose and why?
I would first invite Eileen Hull and Lorine Mason because it was they who introduced me to the world of crafting. It's all their fault! Laura Bray, because I was a fan who stalked her for years before she became a friend. And Karen Burniston, because her mind is staggering, and she looks like Debbie Gibson.
Can you share one quote or saying you love?
"I'd rather be nine people's favorite thing than a hundred people's ninth favorite thing." – from the Broadway musical "Title of Show"
If you could replay a big moment in your sewing/blogging career, what would you choose?
It was when I learned to sew. I was afraid of the sewing machine. Lorine Mason convinced me that it was easy to thread a sewing machine, and when I did it and I sewed that first straight line, my world changed. Sewing opened up a new world of creative possibilities for me.
Describe your creative style in six words or less.
Andy Warhol Meets Martha Stewart
Jonathan Fong's personality and style are simply charming!  We love what he does, and we thank him for inspiring and encouraging us all as we learn and craft together.  For more inspiration and to see more of our "Meet the Pro" series, click here.